Al Majar Al Kabir: By the time I arrived in Kuwait at the end of May 2003, the war in Iraq was declared over and combat operations had ceased. As with previous conflicts, the Coalition Forces had entered the peace keeping and rebuilding phase of operations.
I was a Corporal in the Royal Army Medical Corps, my parent unit at the time was 9 Regiment Army Air Corps, but, having been annoyed at not deploying for the initial invasion, a twist of fate now had me in Kuwait as Company Medic for C Company, 1st Battalion The Kings Regiment.
We had deployed at fairly short notice, to replace troops from the initial invasion, desert combat equipment was sparse, and as a Company, we had already suffered a fatality before we had even left the UK. Cpl "Taff "Rees had unfortunately died following an accident whilst loading Armoured Vehicles for deployment at a port in Teeside.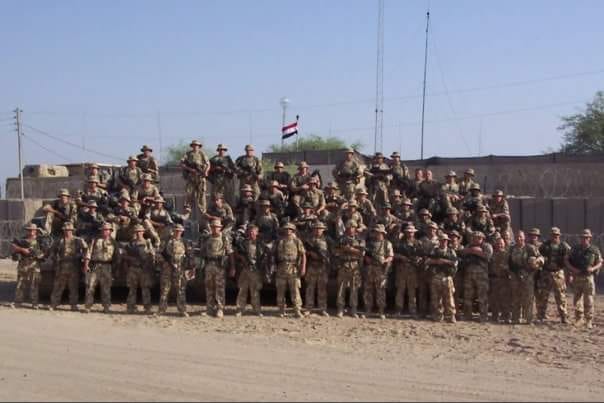 We spent two weeks in a tented camp in the Kuwaiti desert, acclimatising, training and zeroing our weapon systems. Heat casualties were commonplace, and I made plenty of trips to the UK field medical unit with casualties.
Eventually the time came to move forward to our new base in Basra City, we boarded coaches and headed to Camp Cherokee, an Iraqi Naval base on the edge of the Shat Al Arab river.
We spent a few days here, infrastructure was non-existent, no toilets, showers, etc. One working ceiling fan which we all sought solace under from the oppressive heat. We made the best of it. Eventually our armoured vehicles arrived.
Warriors mainly, I had a AFV432 ambulance variant, but it was already broken before it arrived. In fact it was never repaired for the entire tour, and I spent the whole time following the AFV's in a normal Battlefield Ambulance. This was full of bullet holes and had smashed windows. But the engine started, and the wheels turned around so it was classed as roadworthy.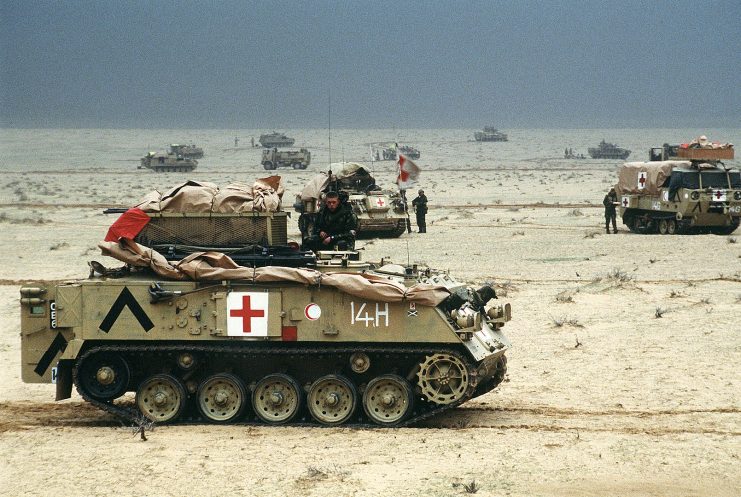 June 24th 2003 started the same as any other day, wash, breakfast and vehicle maintenance. Track bashing mostly.
Around mid-morning the OC came and called us together, 1 Para was in heavy contact up north and needed armoured support. As the theatre ops company, we were to prepare to move immediately. Pack for 24 hrs and load up. So far so good – however- we had no ammunition, not a bullet. I still had no filler for my body armour nor any medical equipment.
We loaded our vehicles, a mixture of armoured and soft skinned vehicles and headed to Camp Breadbasket. The fusiliers were here, winding down for the return to UK. Orders were to beg, borrow or steal something to fight with.
We were given containers of loose rounds, and other bits. I begged a few field dressings and crepe bandages. We acquired water and rations and headed north. The was still no ammunition for the 30mm cannons on the Warriors.
Al Majar Al Kabir
Traveling for a few hours, with frequent stops, we eventually arrived at a base occupied by Danish Forces. It was dusk. We had orders to wait here for an emergency resupply convoy to catch us up. I made myself busy taking a few heat casualties to the Danish medics for some IV fluids. I explained my desperation for medical equipment and the Danish rallied round and gave me what they could spare.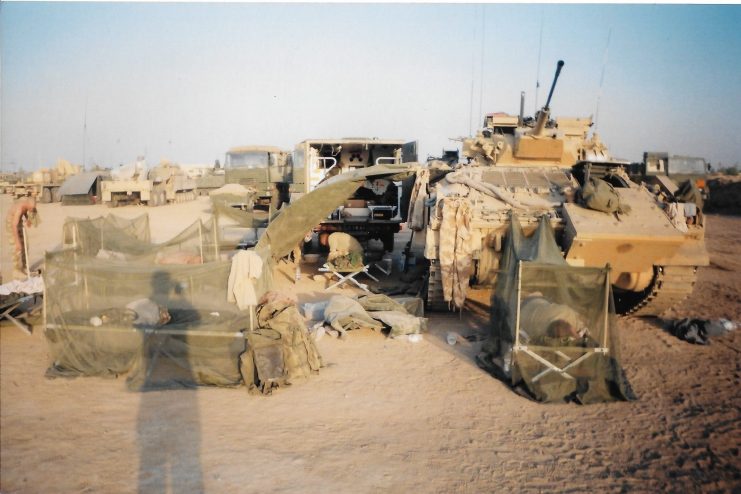 There was a call to form up for a briefing. The OC informed us that there had been a major contact in a town called Al Majar Al Kabir involving 1 Para, and sadly 6 British Royal Military Police had been killed, as had a number of the town's population. Also, the Quick Reaction Force Chinook Helicopter had been badly shot up, having to return to base with a number of severely wounded on board.
You could of heard a pin drop, stunned silence. The wars over for Christ's sake. The OC reiterated we were not here to play games, this was serious, and we were to be at the forefront of future combat operations.
As the briefing was being concluded, the resupply convoy arrived. I had never seen so much ammunition in one place, Javelin anti tank missiles, Grenades, 30mm for the warriors, 7.63 link for the GMPG and chain guns, 5.56 rounds in the tens of thousands, smoke grenades, flares, more than we could carry. The vehicles were filled to bursting, water and food also arrived.
"Any med kit mate?", I asked.
"Just this." I was thrown a box, inside was hundreds of Morphine Autojets. At least we can bleed to death painlessly I thought to myself. I was concerned now, as the med situation was pretty dire.
The OC asked me to issue the morphine, two per man, and to give quick brief on how to use it.
We stayed in the Danish Camp overnight and headed out at first light. The British base in the area we travelled too was Camp Abu Naji, an old Iraqi Army Base in the middle of the desert. On arrival we were met with stares. These were the men of The Parachute Regiment; they didn't fight with armour.
There was no accommodation for us, so we moved to a dusty football pitch and made the best of a bad situation. We had no overhead cover from the sun. Just camp cots and mosquito nets, unfortunately they don't keep the sandflies out.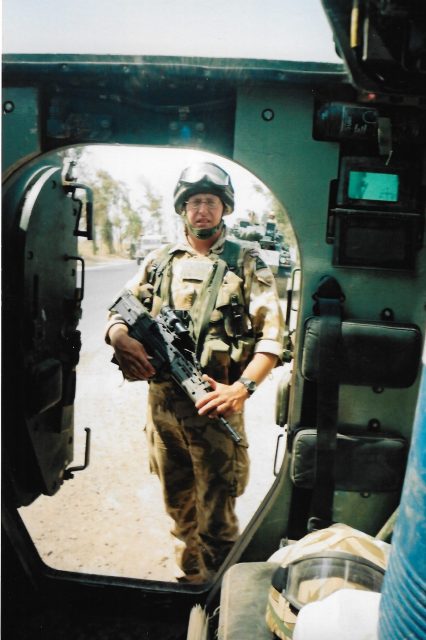 Over the next few days, we received the full details of the battle in Al Majar, how the RMP had been cut off with no radio communications in the town Police Station, surrounded by a baying mob, overrun and shot.Al Majar
We trained and planned to go back into the town in a few days time. The Paras were taught how to de bus from a warrior, we trained hard, attend briefings and understood the plans. The anticipation was high, this was going to be a major show of military force to the townspeople.
On the day we went back to Al Majar Al Kabir, we left just before dawn. I was in the OC's command warrior, the third vehicle in the convoy. Crammed in with me were Iraqi interpreters, Para Regt Officers and radio operators. I was by the back door but couldn't move. Hatches were battened down, it was hot as hell and there was no air.
Challenger 2 main battle tanks from Badger Sqn 2 RTR were providing a cordon around the town, Cobra Gunships circled above us and fast air made regular shows of force. The towns people had been told in air leaflet drops we were coming back, but not when.
We rolled into town, not knowing what to expect, but we were prepared for anything. I constantly went over casualty procedures in my head. Gunshot wounds, blast injuries etc. I had to get it right.
I looked out the small window in the door, instead of being met by a barrage of RPG's and small arms, the street were filled with locals ….. and the worlds press.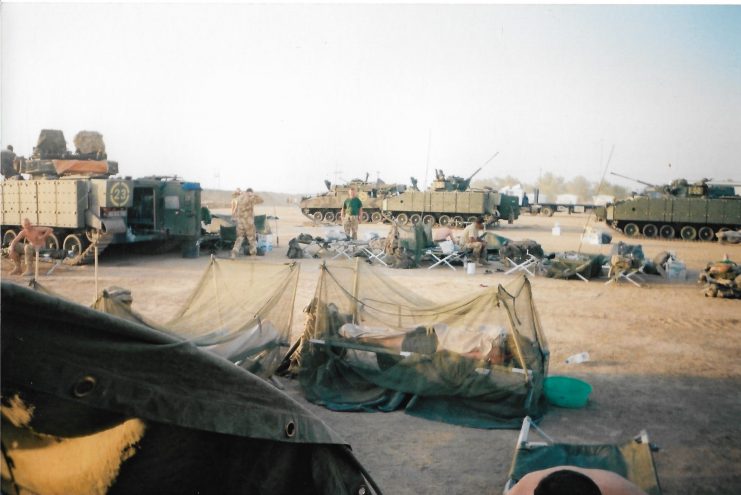 Journalists jostled to get pictures and footage of us rolling in. Regardless of this anti-climax, we stuck to the plan and took up our defensive positions around the police station. Once in place, the HCR and Paras arrived and started patrols. REME recovery arrived to clear the British vehicles destroyed in the battle.
We debussed our vehicles and took up positions. We were mobbed in seconds, kids mainly. "Give me mister give me". Trying to grab anything that wasn't tied down.
Within an few minutes my red cross armband had attracted unwelcome attention. It appears people thought I was a doctor and started to present their ailments to me, even going to the effort of carrying an elderly relative over in the hope I may have some miraculous western cure.
Within half an hour I had removed it, breaking the Geneva Convention rule that as medical personnel, I should display a red cross.
The main focus of today was to get Scenes of Crimes Officers into the police station to work at the scene of the murders. A number of locals had also been rounded up and taken to the police station for questioning. This was carried out by members of 22 SAS. I won't dwell too much on what happened with them, but if you want to know, google it.
The crowds around us had grown and I was starting to feel uncomfortable, as were others. All the lights for the back of the warrior had been stolen, the rubies, the bulbs and even the wiring. The locals were trying to steal anything and everything. We were soon resorting to aggressive tactics to keep the mob back.
Gunfire rang out. I raised my weapon and the crowds moved back.
"What the hell is going on?" I shouted. A guy approached me, he wore an RMP beret, but his attire and weapon system, were very different. SAS.
"You OK?" he asked.
"I'll be happier when we get the hell out of here." I replied
He laughed. "we're leaving."
We mounted up and pulled out back to Abu Naji.
Back in Camp Abu Naji, things had started to get more comfortable. We now had an old barrack block to sleep in. Too hot to sleep inside though, so at night cots were carried to the roof where it was cooler, and the sandflies couldn't reach.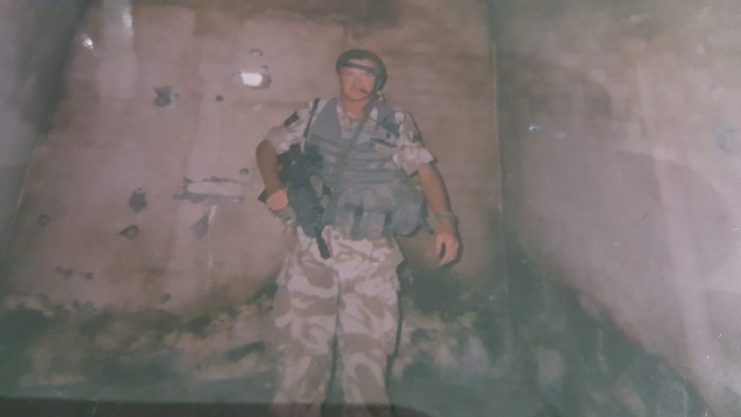 The sound of gunfire was a regular occurrence, and most nights we would watch tracer rounds gliding into the night sky. Closer to home, there was the periodic sound of a shotgun being fired. This was Op Mutley, a crazy idea to control the wild dog population. Basically, a land rover would drive around camp with a guy sat on the tail gate. Dogs would chase after the vehicle and when close enough get blown away with a shotgun blast. The corpses were collected and thrown in the burns pit.
I had also built up a rapport with some of the RAF Nurses from the Dressing Station, they often spoke of the bodies of the six arriving, and how it had affected them. It all sounded horrific, and now that plans were afoot to put us back in the Police Station, the want for revenge was strong.
The day before we left one of the Nurses came to find me, sad to say I don't recall her name, but she took the crucifix from around her neck and gave it to me to wear, telling me it would keep me safe and give me the strength to go on no matter what was to happen in the coming days.
So, the day came to roll back into Al Majar, except this time it would be just us initially. We were to occupy the police station and turn it into a patrol base.
Days had been spent gathering equipment, filling sandbags, working out how to deal with the radio communications blackspot – the downfall for the RMP. We were given state of the art satellite phone equipment as a fall-back measure.
We drove into Al Majar, hatches open this time. It was eerily quiet. We approached the front of the police station and Trevor reversed the Warrior so we faced outwards. Guys debussed their wagon's and took up all round defence. I climbed out the back and looked up at the front of the station. It was covered in bullet strikes and burn marks. Shell casings still littered the ground. The front door was a huge metal gate.
The OC Called out, "Cpl Turley, Open the [expletive] door."
"Yes Sir."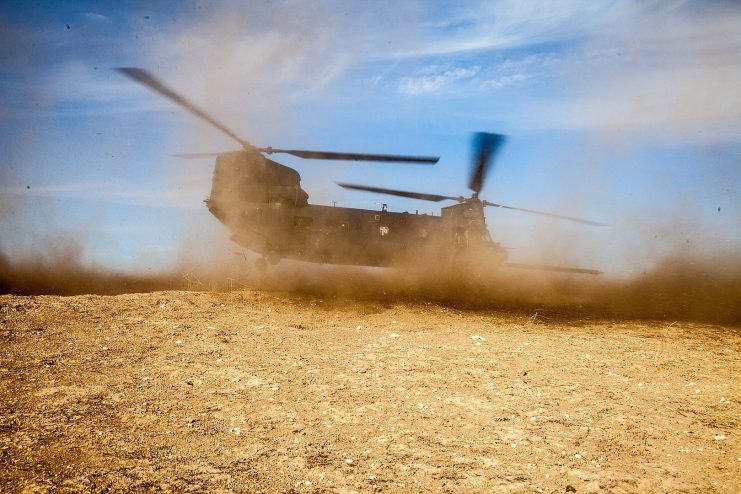 Weapon at the ready and adrenaline pumping I ran at the door and gave it a hefty boot. To my surprise the entire frame tore away from the wall. Shoulder barging it further I entered the building, followed by a young Kingsman.
We went room to room, weapons in the shoulder, ensuring they were clear. On going left through the front hall we entered a small courtyard, there was a distinct smell of burning. We cleared our way clockwise room to room, and came to a short dark passageway.
There were two rooms. One left and one right. I looked left and it appeared to be an office, burnt papers and ID cards littered the floor and hung from blackened metal filing cabinets.
I swung right and stopped. Jesus Christ, this is it. This is the room, It was fairly dark apart from a small window on the outside wall. It gave enough light to show me all I needed. I lowered my weapon and took in the horror before me.
Bullet holes were spread all over, there were signs of burning that crept about a third of the way up the walls.
I felt physically sick, those guys had surrendered and were huddled in this room.
We moved on, up the stairs, checking the roof, and then back out the front door.
"Building Clear."
Then it dawned on me, what the hell was I doing, I'm the bloody medic!
People started to move in and set up operations. We had bought in a huge mast which was attached to the side of the police station in the hope we could get comms with Abu Naji.
An RMP arrived and we set up an office for him by the front door. He was to recruit a new police force. Engineers arrived, and a detachment from my old medical unit 12 Medical Sqn.
We built bunkers on the roof, established a small Regimental Aid Post, toilets and showers were built. The engineers started to build Hesco walls. This was a huge team effort. We were back to stay, and the locals weren't going to like it.
Things seemed OK at first, but then we'd have occasional small arms fire. I recall watching an engineer jump from the Hesco as he came under fire. As he ran for cover, I watched the dirt being kicked up behind him as rounds struck the ground.

A routine was established, this involved patrolling, guard shifts and the constant fortifying of the new patrol base.
Now the area was classed as safe due to C Company's presence, I experienced something that disgusts me to this day. I can only describe it as gore tourism. The PB was getting a constant flow of visitors from Abu Naji. Most I guess had legitimate business, though a large number seemed to have come for one reason – The Room.
We saw numerous people going to the room to pose and take pictures, me and Matty found this totally abhorrent. To that end we took it upon ourselves to seal up the room. Using some engineer supplies we created some doors with which to close up the room. Before we did this, I walked to the small courtyard. In the centre of it was a lone flower.
I picked this and placed it in the room. I then removed the crucifix the nurse had given from around my neck and hung it from a nail in the wall, said a prayer for the six, one last look around, out and we fitted the boards. Job done.
I'm happy to say I never took a picture of the room, it felt wrong and disrespectful to the memory of those guys.
We continued operations in and around the police station for weeks to come, we set up ambushes, had many death threats, and had to keep the constant onslaught of people at bay, many trying to steal what they could. We resorted to using rubber batons to beat people to keep them away.
For an operation that was supposed to take 24hrs, we returned to Camp Cherokee 3 months later. 24 June 2003.
LEST WE FORGET
Sergeant Simon Hamilton-Jewell, aged 41
Corporal Russell Aston, aged 30
Corporal Paul Long, aged 24
Corporal Simon Miller, aged 21
Lance Corporal Benjamin Hyde, aged 23
Lance Corporal Thomas Keys, aged 20
C Company 1st Battalion The Kings Regiment Iraq June 2003
By Andrew Turley
Another Article From Andrew Turley: An Account of the Attack on Camp Bastion 14th September 2012