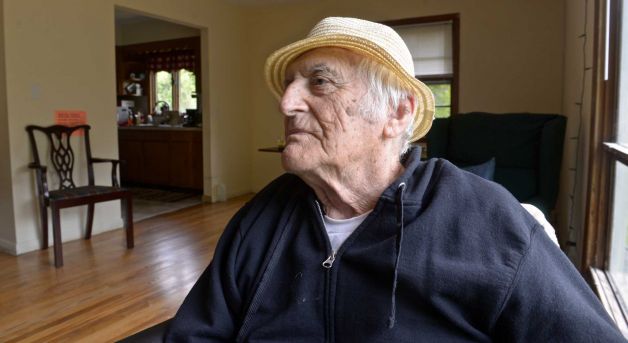 [Via]
The ordeal of a World War II veteran came to an end after a judge ordered that the war hero must be repaid $34,000. The 96-year-old veteran had filed claims against the mistreatment by a conservator appointed by the court, which attracted the attention and support of the people around the country. But now he is expected to receive the claimed money after a probate judge accepted his claims and ordered the money to be paid.
The judge's order brought some relief for the veteran Lou Russo, who lived in New Fairfield for a long time. Russo's fight at home started when he accidently fell at his house in 2013.
An apparently short stay at hospital turned into a long and torturous 16 months, when Russo's conservator exploited his savings of lifetime without Russo's knowledge. Mark Broadmeyer saw an opportunity in Russo's situation and sold out his construction vehicles and rented out his home. Mark did whatever he could to deprive Russo of his own money and property.
Russo has expressed deep resentment over the deception, however he affirmed that his resilience and combatant nerves helped him through this episode. He also urged that the egregious nature of his case demanded a fair publicity.
Russo's friends have been standing shoulder to shoulder with him in his fight for justice. A campaign was launched on Facebook and other social media platforms for independence and justice for Russo. The campaign drew the attention of a number of citizens who felt strongly about the veteran's situation, and expressed their support for his cause, the News Times reports.
For the relief of Russo and many of his supporters, a probate judge ordered the money to be paid to Russo on urgent basis. The judge, Mr. Martin Land grebe issued orders for Broadmeyers to repay Russo what he took from him in terms of his construction vehicles. Broadmeyer was also ordered to pay Russo for the tenants that he unlawfully evicted only to be replaced by his own tenants.
Broadmeyer had resigned as Russo's conservator, and now is fighting for his innocence and denies any charges against him. He was only given 30 days to file an appeal against Judge Land grebe's orders.
Russo is now hoping to get his life back and wants the money he was robbed off to be given back. Russo thinks that, though he lost a significant amount of money and had to endure depression and anxiety, however he now has much more precious and valuable thing in his life; a friendship of hundreds of people. A large number of friends up and down the country, who supported him throughout his fight, have raised $30,000 for his hospital bills and other expenses.