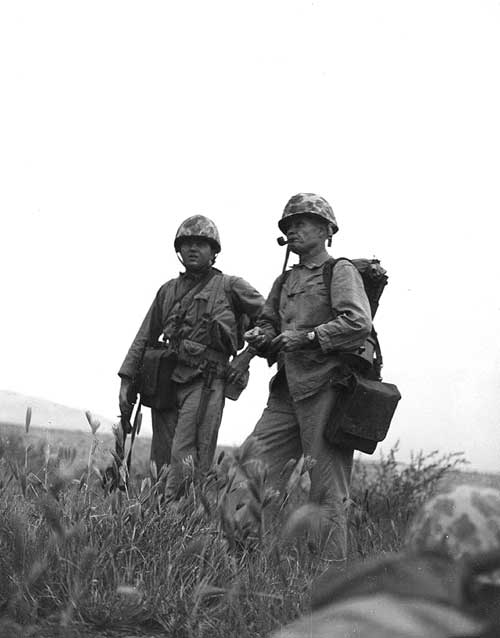 They are in front of us, behind us, and we are flanked on both sides by an enemy that outnumbers us 29:1. They can't get away from us now!" "Great. Now we can shoot at them from every direction." 
Puller: Hero of World War II and Korea The most decorated Marine in Corps History
Lewis Puller, nicknamed "Chesty" because of his perfect posture and the fact that his torso somewhat resembled a full-size beer keg full of lead bricks, raw muscle and horse steroids. In his thirty-seven years of service to the Corps, Puller would rise through the ranks from Private to General, and become the most decorated Marine in American history.
Born in the small town of West Point, Virginia. He enrolled in the prestigious Virginia Military Academy in 1917, but dropped out after a year to enlist in the Marines.  He was commissioned as a Lieutenant in the Marine Corps Reserves, but was placed on the inactive list ten days after his enlistment (WWI was winding down, and the government was scaling the military back).  Since nothing was going to stand between Chesty Puller and his mad desire to fight, Puller re-enlisted in the Corps, this time going in as a lowly Private.  After training Chesty was shipped out to Haiti.
Puller's mission was to maintain order in Haiti as the Caco Rebels were intent on the violent overthrow of the U.S.-sponsored Haitian government.  Over the course of five years, Chesty fought in over forty engagements against these rebels, where he gained valuable experience in small-unit tactics and taking the fight his enemies.  His toughness and discipline earned him rapid promotions, and by the time he was shipped out to Nicaragua in 1930 he was already back to being commissioned Lieutenant.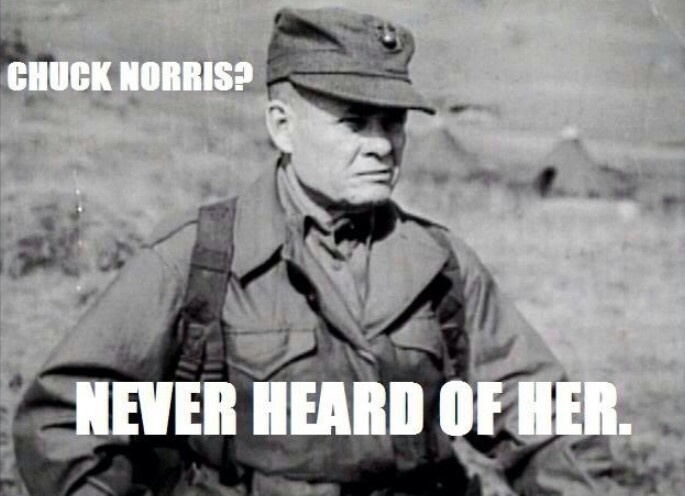 Lieutenant Puller first established himself as a Marine's Marine whilst killing rebels in the dense Nicaraguan jungles.  In one of his first missions of the campaign, Puller led his platoon up against a much larger force of heavily-armed rebels, charging the fortified enemy positions without even flinching.  Over the course of one week, Puller's men routed the enemy in five separate engagements, completely annihilating the rebel positions while sustaining minimal casualties.  For his bravery in combat, Puller won the Navy Cross – the Marine Corps' second-highest award for bravery (just below the Medal of Honor, and some say he got jobbed out of the MoH because he refused to play any political games).  Another time he was leading his unit through a treacherous mountain pass when all of a sudden these rebels ambushed him from all sides with machine guns, mortars.  Four of Puller's men went down under the initial attack, but he got his men to cover, directed their fire, and then led a flanking maneuver that resulted in the complete destruction of the ambushing forces.  Then, on the march back, he was ambushed twice more – both times resulted in the epic loss of everyone who took he and his men on.  For getting his platoon back safely with minimal loss of life, Puller received a second Navy Cross.  By the time that he left Nicaragua, Chesty was known as "The Tiger of the Mountains", a nickname he earned presumably by his great ability to destroy his enemy and was so despised by his enemies that the leaders of the rebel guerrillas had put a 5,000 peso reward on his head.

"All right, they're on our left, they're on our right,
they're in front of us, they're behind us.
They can't get away this time."
As the commander of the 1st Battalion, 7th Marines, Puller's men were tasked with making an amphibious assault near the Matanikau River on the sunny Pacific island of Guadalcanal and staking out a critical strategic Margarita stand.  Two companies of the 1/7 hit the beaches, and almost immediately ran into a force of Japanese regular infantry much larger and more well-prepared than anything the Marines were expecting to face there.  The invasion force was cut-off and surrounded by an enemy counter attack, and Puller quickly realized that he had to get his men out of there before they were cut to pieces.
Another group of Marines tried to break through the Japanese flank and reach the stranded men, but the enemy resistance was too strong and they were too well-fortified to be displaced.  The commander of the operation told Puller that it was hopeless, and that those Marines were lost.  Chesty Puller never resigned defeat for any reason.  He slammed his fist down on the table and immediately stormed out of camp toward the beach, where he flagged down a U.S. Destroyer that happened to be sailing off the coast.  Despite having absolutely no authority to do so, Puller boarded the vessel and immediately began organizing a second amphibious assault aimed at breaking through the Japanese lines.  From the deck of the ship he directed the Destroyer to fire everything they had at the enemy fortifications.  The shelling, coupled with the second landing, punched through the enemy blockade and cleared a path for the stranded Marines to escape.  One week after this defeat, Puller and his men would return to the mouth of the Matanikau River and obliterate all Japanese opposition in the sector.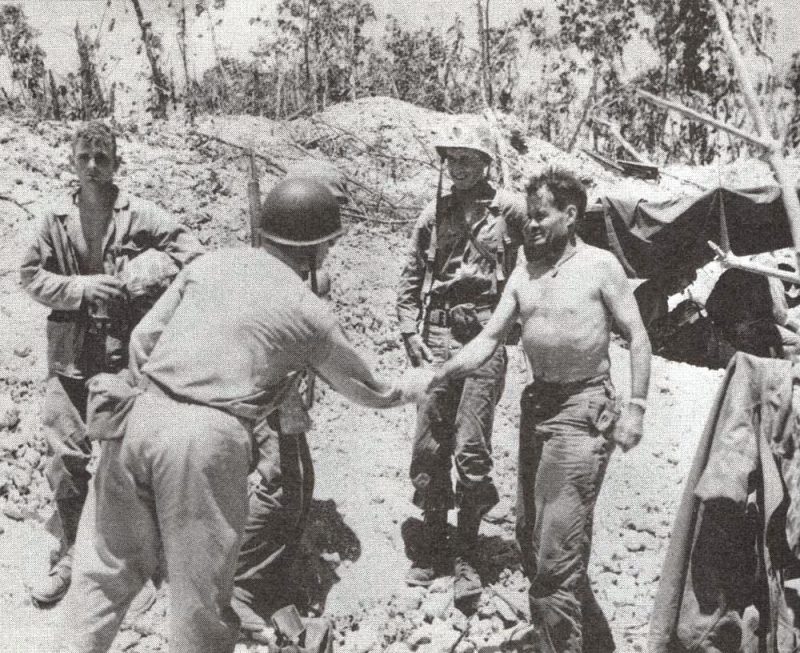 Marine Col Chesty Puller greets a Navy Admiral at the 1st Marines command post on Peleliu, Sep 18 1944.
During that same campaign, Puller would once again prove his leadership and courage by going above and beyond the call of duty by destroying any enemy he could find.  On the night of 24 October 1942, 700 men of the 1/7 were positioned in a thin, mile-long line, defending an American airfield that was critical for the success of the Guadalcanal operation.  They suddenly came under an intense onslaught from the seasoned men of the Japanese 17th Army, who came charging full-speed at the U.S. positions.
For over three hours in the middle of the night, Chesty Puller ran up and down the U.S. lines directing his men and giving orders to his company commanders.  When the smoke cleared the next morning, the hard-fighting men of the 1st Marines had killed 1,400 of the enemy.
Before he would leave Guadalcanal, Puller would be shot twice by snipers and hit once with shrapnel from an exploding mortar round.
Puller continued to fight in the Pacific Campaign, once again earning distinction at the Battle of New Britain Island.  This time, three separate Marine battalions had been hit hard by enemy fire and lost their commanding officers, so Puller himself ran up and down the American lines, re-organizing the men under heavy machine gun and mortar fire, and eventually leading an assault that would break the enemy lines – an action that would earn him his third Navy Cross.  Later in 1944, Puller led the 1st Marine Regiment in the Battle of Peleliu, an engagement that was one of the bloodiest battles in the history of the Corps.
After WWII, Puller returned stateside for a while.  He taught strategy and tactics at various military institutions until the out break of the Korean war.  Puller cracked his knuckles, loaded up his Colt 1911, and landed at the head of the 1st Marines at Inchon in September of 1950.  At the Battle of Choisin Reservoir, Puller and his men found themselves holed up in the town of Koto-ri, completely surrounded by ten full Divisions of Chinese Infantry hell-bent on killing every American they could find.  Heavily outnumbered, and fighting in sub-zero temperatures, Puller's troops broke the enemy lines, smashed through seven enemy divisions, and then stayed behind as a rear guard, bearing the brunt of the Chinese onslaught so that the rest of the Marines could complete their retreat (Puller refused to refer to it as a retreat, however, he preferred to call it, "attacking in a different direction").  The 1st Marines withstood fierce attacks by hordes of Communist soldiers but held their position, inflicted tremendous numbers of casualties on the enemy and managed to provide enough time for the Allies to evacuate all of their wounded men and salvageable equipment.  Sheer bravery in the face of intense fire and a seemingly win less situation earned Chesty Puller his fifth Navy Cross – an unprecedented accomplishment that has never been equalled.
Colonel Puller studies the terrain during the Korean War.
As it should be for any good military commander, Chesty Puller was admired by his men and feared by his enemies.  He always led from the front, fighting in the trenches with the men, and never flinched under even the most serious fire.  One time a grenade landed next to him, and when the rest of the guys around him dove for cover he glanced at it and nonchalantly said, "Oh, that.  It's a dud."  He inspired loyalty and courage in his Marines, treated his men well, insisted on the best equipment and discipline for his troops, and had a no fear, win-at-all-costs attitude that won him fourteen medals for combat bravery in addition to countless unit citations and campaign ribbons.  He is the most highly-decorated Marine in history, and a legendary figure amongst his brethren.  To this day, Marines at Parris Island end their day by saying, 

Citation:
"For distinguished service in the line of his profession while commanding a Nicaraguan National Guard patrol. First Lieutenant Lewis B. Puller, United States Marine Corps, successfully led his forces into five successful engagements against superior numbers of armed bandit forces; namely, at LaVirgen on 16 February 1930, at Los Cedros on 6 June 1930, at Moncotal on 22 July 1930, at Guapinol on 25 July 1930, and at Malacate on 19 August 1930, with the result that the bandits were in each engagement completely routed with losses of nine killed and many wounded. By his intelligent and forceful leadership without thought of his own personal safety, by great physical exertion and by suffering many hardships, Lieutenant Puller surmounted all obstacles and dealt five successive and severe blows against organized banditry in the Republic of Nicaragua."
Citation:
"First Lieutenant Lewis B. Puller, United States Marine Corps (Captain, Guardia Nacional de Nicaragua) performed exceptionally meritorious service in a duty of great responsibility while in command of a Guardia Patrol from 20 September to 1 October 1932. Lieutenant Puller and his command of forty Guardia and Gunnery Sergeant William A. Lee, United States Marine Corps, serving as a First Lieutenant in the Guardia, penetrated the isolated mountainous bandit territory for a distance of from eighty to one hundred miles north of Jinotega, his nearest base. This patrol was ambushed on 26 September 1932, at a point northeast of Mount Kilambe by an insurgent force of one hundred fifty in a well-prepared position armed with not less than seven automatic weapons and various classes of small arms and well-supplied with ammunition. Early in the combat, Gunnery Sergeant Lee, the Second in Command, was seriously wounded and reported as dead. The Guardia immediately behind Lieutenant Puller in the point was killed by the first burst of fire, Lieutenant Puller, with great courage, coolness and display of military judgment, so directed the fire and movement of his men that the enemy were driven first from the high ground on the right of his position, and then by a flanking movement forced from the high ground to the left and finally were scattered in confusion with a loss of ten killed and many wounded by the persistent and well-directed attack of the patrol. The numerous casualties suffered by the enemy and the Guardia losses of two killed and four wounded are indicative of the severity of the enemy resistance. This signal victory in jungle country, with no lines of communication and a hundred miles from any supporting force, was largely due to the indomitable courage and persistence of the patrol commander. Returning with the wounded to Jinotega, the patrol was ambushed twice by superior forces on 30 September. On both of the occasions the enemy was dispersed with severe losses."
Citation:
"For extraordinary heroism as Commanding Officer of the First Battalion, Seventh Marines, First Marine Division, during the action against enemy Japanese forces on Guadalcanal, Solomon Islands, on the night of 24 to 25 October 1942. While Lieutenant Colonel Puller's battalion was holding a mile-long front in a heavy downpour of rain, a Japanese force, superior in number, launched a vigorous assault against that position of the line which passed through a dense jungle. Courageously withstanding the enemy's desperate and determined attacks, Lieutenant Colonel Puller not only held his battalion to its position until reinforcements arrived three hours later, but also effectively commanded the augmented force until late in the afternoon of the next day. By his tireless devotion to duty and cool judgment under fire, he prevented a hostile penetration of our lines and was largely responsible for the successful defense of the sector assigned to his troops."
Citation:
"For extraordinary heroism as Executive Officer of the Seventh Marines, First Marine Division, serving with the Sixth United States Army, in combat against enemy Japanese forces at Cape Gloucester, New Britain, from 26 December 1943 to 19 January 1944. Assigned temporary command of the Third Battalion, Seventh Marines, from 4 to 9 January, Lieutenant Colonel Puller quickly reorganized and advanced his unit, effecting the seizure of the objective without delay. Assuming additional duty in command of the Third Battalion, Fifth Marines, from 7 to 8 January, after the commanding officer and executive officer had been wounded, Lieutenant Colonel Puller unhesitatingly exposed himself to rifle, machine-gun and mortar fire from strongly entrenched Japanese positions to move from company to company in his front lines, reorganizing and maintaining a critical position along a fire-swept ridge. His forceful leadership and gallant fighting spirit under the most hazardous conditions were contributing factors in the defeat of the enemy during this campaign and in keeping with the highest traditions of the United States Naval Service."
Citation:
"For extraordinary heroism as Commanding Officer of the First Marines, First Marine Division (Reinforced), in action against aggressor forces in the vicinity of Koto-ri, Korea, from 5 to 10 December 1950. Fighting continuously in sub-zero weather against a vastly outnumbering hostile force, Colonel Puller drove off repeated and fanatical enemy attacks upon his Regimental defense sector and supply points. Although the area was frequently covered by grazing machine-gun fire and intense artillery and mortar fire, he coolly moved along his troops to insure their correct tactical employment, reinforced the lines as the situation demanded, and successfully defended the perimeter, keeping open the main supply routes for the movement of the Division. During the attack from Koto-ri to Hungnam, he expertly utilized his Regiment as the Division rear guard, repelling two fierce enemy assaults which severely threatened the security of the unit, and personally supervised the care and prompt evacuation of all casualties. By his unflagging determination, he served to inspire his men to heroic efforts in defense of their positions and assured the safety of much valuable equipment which would otherwise have been lost to the enemy. His skilled leadership, superb courage and valiant devotion to duty in the face of overwhelming odds reflect the highest credit upon Colonel Puller and the United States Naval Service."
Distinguished Service Cross citation
Citation:
"The President of the United States of America, under the provisions of the Act of Congress approved July 9, 1918, takes pleasure in presenting the Distinguished Service Cross to Colonel Lewis B. "Chesty" Puller (MCSN: 0-3158), United States Marine Corps, for extraordinary heroism in connection with military operations against an armed enemy of the United Nations while serving as Commanding Officer, First Marines, FIRST Marine Division (Reinforced), in action against enemy aggressor forces in the vicinity of the Chosin Reservoir, Korea, during the period 29 November to 4 December 1950. Colonel Puller's actions contributed materially to the breakthrough of the First Marine Regiment in the Chosin Reservoir area and are in keeping with the highest traditions of the military service."
Namesakes and honors
In addition to his military awards Puller has received numerous honors due to his Marine Corps service:
The frigate Lewis B. Puller (FFG-23) was named after him.
The headquarters building for 2nd Fleet Antiterrorism Security Team on Yorktown Naval Weapons Station in Yorktown, Virginia, is named Puller Hall in his honor.
Route 33 in Middlesex County, Virginia, is named General Puller Highway. It is the county in which Puller is buried.
On November 10, 2005, the United States Postal Service issued its Distinguished Marines stamps in which Puller was honored.
The Marine Corps' mascot is perpetually named "Chesty Pullerton." (e.g. Chesty XIII). He is always a purebred English Bulldog.
In 2012, Military Sealift Command announced that a Mobile Landing Platform will be named after Puller, USNS Lewis B. Puller (T-MLP-3/T-AFSB-1).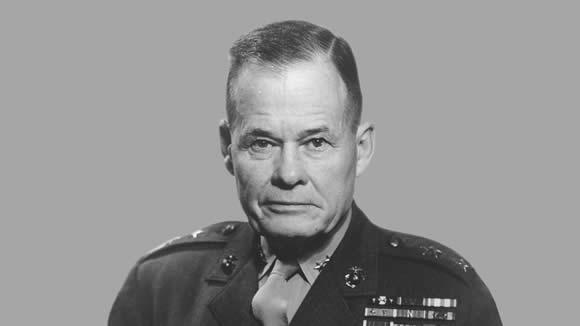 Puller in U.S. Marine Corps culture
Puller remains a well-known figure in U.S. Marine Corps folklore, with both true and exaggerated tales of his experiences being constantly recounted among U.S. Marines.
A common incantation in U.S. Marine Corps boot camp is to end one's day with the declaration, "Good night, Chesty Puller, wherever you are!" Another common encouragement is "Chesty Puller never quit!"
In U.S. Marine Corps recruit training and OCS cadences, Marines chant "It was good for Chesty Puller/And it's good enough for me" as well as "Tell Chesty Puller I did my best."—Chesty is symbolic of the esprit de corps of the Marines. Also, the recruits sing "Chesty Puller was a good Marine and a good Marine was he."
U.S. Marines, while doing pull-ups, will tell each other to "do one for Chesty!"
Puller is loved by enlisted U.S. Marines for his constant actions to improve their working conditions. Puller insisted upon good equipment and discipline; once he came upon a second lieutenant who had ordered an enlisted man to salute him 100 times for missing a salute. Puller told the lieutenant, "You were absolutely correct in making him salute you 100 times, lieutenant, but you know that an officer must return every salute he receives. Now return them all, and I will keep count."
While on duty in Hawaii and inspecting the armory, Puller fined himself $100 for accidentally discharging a .45 caliber pistol indoors, although the charge for his men was only $20.
Quotes
"Our country won't go on forever, if we stay soft as we are now. There won't be any America—because some foreign soldiery will invade us and take our women and breed a hardier race."
"They are in front of us, behind us, and we are flanked on both sides by an enemy that outnumbers us 29:1. They can't get away from us now!"
"Great. Now we can shoot at them from every direction."
"We're surrounded. That simplifies our problem of getting to these people and killing them." – November 1950, during Chosin Reservoir campaign
"Remember, you are the 1st Marines! Not all the Communists in Hell can overrun you!" (at the Battle of Chosin Reservoir)
"Take me to the Brig. I want to see the real Marines."
"Where do you put the bayonet on the damn thing?" (upon seeing a flamethrower demonstrated for the first time)
"You don't hurt 'em if you don't hit 'em.
"Good night Chesty Puller, wherever you are!"