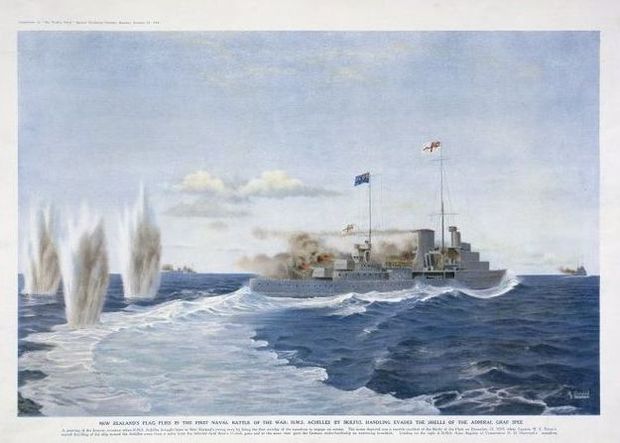 At the very beginning of World War II, New Zealand became the first Allied naval force to attack the German Navy head on. Today, the battle has become known as the Battle of the River Plate.
In December 1939, Allied naval forces were given the mission to find and destroy Germany's Admiral Graf Spee battleship in the waters off South America. The New Zealand contingent joined British forces aboard the HMS Achilles, the HMS Exeter and HMS Ajax on the mission.
At first they had been able to damage the German ship, but when it moored in Uruguay to review and repair its damage, the Germans spent four days in the port providing the Allies with an opportunity to continue the attack.
Just under one and a half hours later, Allied forces had managed to debilitate the Graf Spee even though it held more arms than the three Allied ships together. Nevertheless, all of the ships suffered damagewith injured crew. In total 72 Allied crewmen were killed, while 36 Germans lost their lives.
One of the New Zealand crew veterans is now 92, but remembers the battle well. Bob Batt said that it was loud and vicious as they despatched both six and four inch shells onto the Germans. Only 17 years old at the time, Batt said that many sailors wore earplugs, otherwise they would be temporarily deafened after the battle.
Another veteran, Bob Harvey, remembers how they were all well-prepared and trained for the battle. He recalls how they were too young to consider that losing their lives was a great sacrifice.  He says they all did their jobs to the best of their abilities and it wasn't until afterwards that they realised the impact of what they had done.
Bob remembers how Allied aircraft would circulate to report back on how well or bad the attack was going.
Historians now suggest that the Germans had few options. Since they believed they were surrounded by Allied aircraft and ships on the evening of the battle, the Germans evacuated most of their crew and blew up the Graf Spree, the Radio New Zealand News reports.
Survivors could see the flames in the middle of the ocean and the outline of the sinking vessel.
The New Zealand crew were highly commended for their role in the battle from HMS Achilles, with its commanding officer suggesting that the Achilles was able to cause most of the damage to the Germans. When the New Zealand crew returned home in 1940, they were treated to a welcome parade with thousands lining the streets of Auckland. The parade is being reenacted to honour the final four surviving veterans.