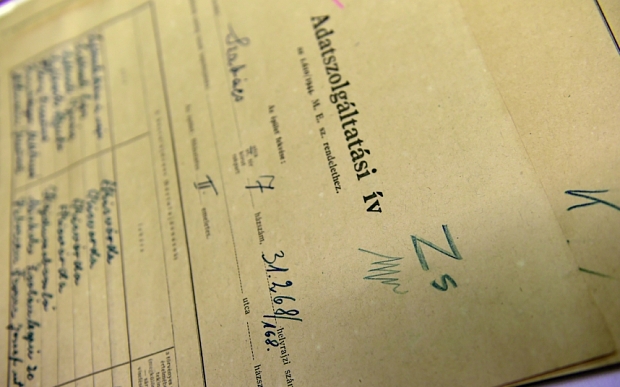 A new, huge collection of World War Two Nazi census documents has been discovered in a flat in Hungary. A couple living in the flat found the documents while they were undertaking renovation work on their apartment.
The papers were found behind a wall of the flat in Budapest and provide records of a Nazi census dating from 1944. The documents are in excellent condition after having been lodged in a wall cavity that had been covered up for more than 70 years.
There were around 6,300 papers in this hidden trove. They document the impending, intended destruction of Budapest's more than 200,000 Jews, who were to be evicted and transported to Nazi concentration camps.
One of the owners of the flat, Brigitte Berdefy, says that the flat looks over the Hungarian Parliament buildings, so it's no surprise that someone who had access to these kinds of documents would have lived or stayed in the apartment during the occupation.
During the renovation, a builder tried to put a screwdriver into the wall when suddenly the tool went straight through. They thought they had gone through the wall and out the other side into the neighbouring apartment.
But when Brigitte's husband, Gabor, looked more closely he could see the papers and the handwriting on them. The workers and the couple went on to carefully remove the wall-covering and surrounding brickwork to find more than 60 kilogrammes of documents. All were covered in dust, but had remained dry and in excellent condition.
The ink handwriting can still be read, and the documents have now been donated to the Budapest City Archives. A representative from the Archives said that the documents are in excellent condition for World War Two paperwork since most of the documents found after 70 years have become faded and rotten.
The Archives are excited to have the documents in their possession since the content is invaluable for filling in many gaps in the knowledge and history of the Holocaust in Budapest. Researchers are now studying the papers and documenting the information.
When the census had been taken the Nazis had occupied Hungary for just two months, and the evacuation and transportation of Hungarian Jews had commenced.
The documents contain building addresses and information on their inhabitants, including their religious affiliation.