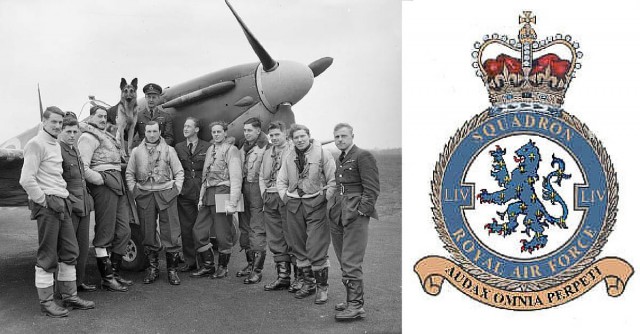 A squadron of British Spitfire pilots have been honored in Australia for their role in helping to protect the north of Australia during World War Two.
The Royal Air Force's 54 Squadron was first established during World War One where they were sent to the Western Front to support ground troops fighting.  The Squadron's aircraft were upgraded to the Spitfire Mark IIA as World War Two loomed and they were based at Rochford in Essex in the south east of England.
The Squadron was central to the air battles against the German Luftwaffe during the Battle of Britain in 1940. Two years later they were deployed to help protect Northern Australia and were stationed in Darwin. They worked alongside the Royal Australian Air Force to defend the region against the Japanese. But the hot conditions, engineering difficulties with the planes and inexperienced pilots played against them.
The 54 Squadron lost 19 pilots in the Northern Australia campaign.
Now, seventy years after the end of World War Two, the 19 pilots who gave their lives in defense of Australia are to be honored with a special silver plaque at Darwin Military Museum.
Many of the pilots who died had not even reached the age of 21 and were just normal men trying to do a job.
Menna Rawlings, the British High Commissioner to Australia unveiled the silver plaque this week at the museum, and commented that it had taken far too long for the honor to be made.
Darwin Military Museum said that the legendary Spitfires were brand new and inspiring when they were first used by the air force. Testament to that is their success over the skies of the UK during the Battle of Britain, the ABC News reports.
Nevertheless, squadrons around the world had to deal with leaking engine oil and engine fires. But the squadrons would just keep going. 54 Squadron had the motto 'boldness endures anything'.
The son of one of the pilots who flew in the Darwin campaign, Martin Norwood, said that his father Robin Norwood regularly flew over the Timor Sea, but that Spitfires weren't really made to fly long-ranges, so inevitably there were some disasters.
Robin kept daily diaries and had noted every time there was a crash and one of his colleagues didn't make it back. Martin Norwood was one of the proponents of driving the Darwin Military Museum to put up the plaque.
The Museum says that the plaque is just the beginning and that they intend to build on the actions and story of 54 Squadron to commemorate them further.