The death of actor Charles Durning on Christmas Eve brings into focus the wartime service of the ever dwindling 'greatest generation'. Here is a list, by no means definitive, of 50 notable people who served (with varying degrees of distinction) in uniform in WW2.
1. Charles Durning – American Actor
Charles Durning was drafted into the US Army in 1943 and landed on the French coast a couple of days after D-Day, he was wounded on 15 June 1944. He was severely wounded by a German anti-personnel landmine 9 days later at Les Mare des Mares, France, and was evacuated back to England for hospital treatment. He had suffered shrapnel wounds to his left and right thighs, right hand, head and chest.
2. Dirk Bogarde – English Film Actor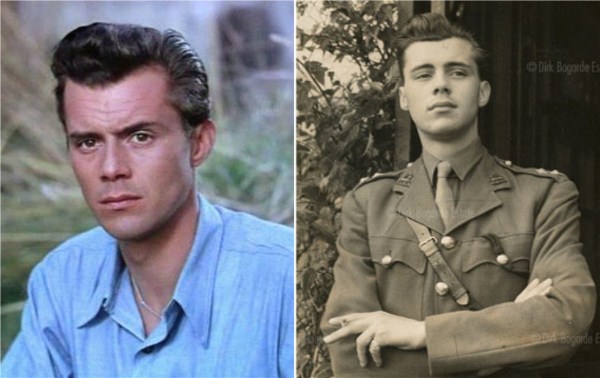 Bogarde was commissioned as an officer into the Queen's Royal Regiment in 1943. He reached the rank of Captain and served in both the European and Pacific theatres, mainly as an intelligence officer interpreting aerial photo-reconnaissance information. The war left him with a deep-seated hostility towards Germany; in the late-1980s he wrote that he would rather get out of a lift than ride with a German of his generation.
3. Ernest Borgnine – American Film Actor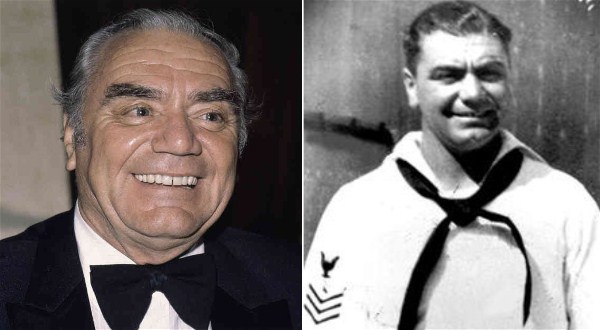 Ernest Borgnine initially joined the US Navy in 1935 straight from High School. He was discharged in 1941, but re-enlisted after Pearl Harbour and served until 1945, accumulating a total of 10 years' military service.
4. Charles Bronson – American Film Actor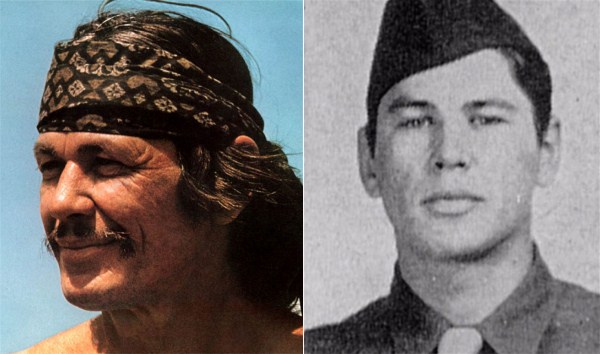 Charles Bronson enlisted in the US Army Air Forces in 1943 and served as an aerial gunner. In 1945 he was based on Guam as a B-29 Superfortress crewman and was awarded a Purple Heart for wounds received during his service.
5. Richard Burton – Welsh Film Actor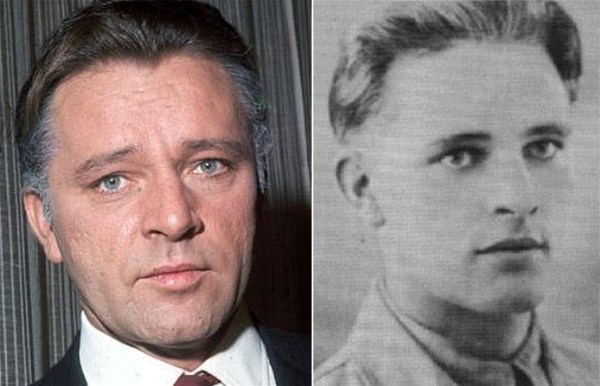 Richard Burton joined the Royal Air Force as a navigator at the age of 18 in 1944. He went to Canada for further training, but the war ended before he could gain any combat experience. A frustrated Burton had to endure a further 2 years waiting to be demobilized. He got involved in acting during periods of leave from the RAF.
6. Matt Busby – Scottish Football Manager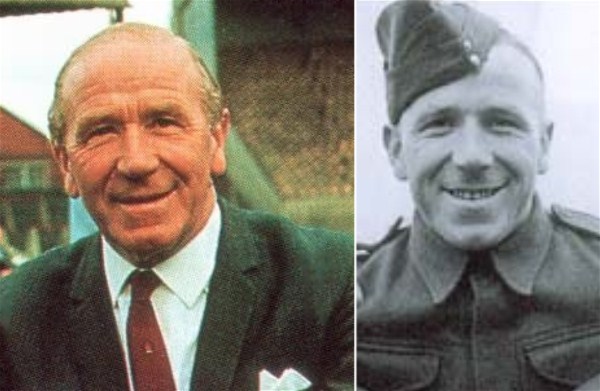 Matt Busby was most noted for managing Manchester United between 1945 and 1969. Before going into management, Busby was a also player for two of Manchester United's greatest rivals, Manchester City and Liverpool. During the war Busby did not see any frontline experience. His skills as a professional footballer saw him serve as a football coach in the Army Physical Training Corps, based in Kelso, Scotland. He signed a contract to become the manager of Manchester United in February 1945 while he was still in uniform as a Sergeant-Major, but he did not officially take over the reins until October. In the meantime, he took the Army football team to Bari, Italy, in the spring of 1945 for training and exhibition games.
7. George Bush Snr – President of the United States 1989-93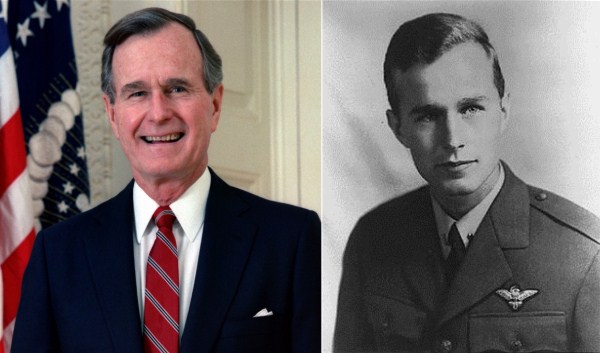 George Bush joined the US Navy following the attack on Pearl Harbour in December 1941 and became a naval aviator at the age of 18. He was assigned to a torpedo squadron on the USS San Jacinto and in 1944 was involved in one of the largest air battles of World War 2: the Battle of the Philippine Sea. During one mission against the Japanese in the Bonin Islands, Bush's aircraft was hit by flak and his engine caught on fire. Despite this he completed his attack and released bombs over his target, scoring several hits. Bush was forced to bail out of the burning aircraft and was rescued after 4 hours at sea, but both his crewmen were killed. During 1944, he flew 58 combat missions for which he received the Distinguished Flying Cross, and 3 Air Medals. He was honourably discharged in September 1945.
8. James Callaghan – Prime Minister of the United Kingdom 1976-79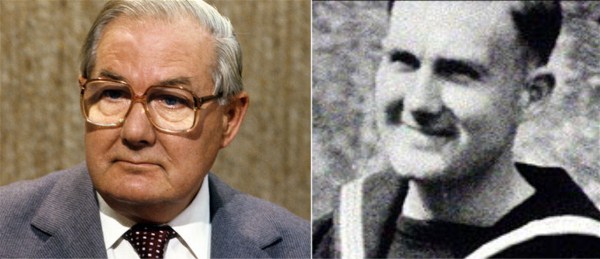 James Callaghan joined the Royal Navy Volunteer Reserve as an Ordinary Seaman in 1942 and served in the East Indies Fleet. He was commissioned and promoted to the rank of Lieutenant in April 1944. His time at sea was cut short by tuberculosis and he was admitted to the Royal Naval Hospital Haslar near Portsmouth. After he recovered, he was assigned to duties with the Admiralty in Whitehall. He was posted to the Japanese section and wrote a service manual for the Royal Navy titled The Enemy Japan. Whilst on leave in 1945, Callaghan was selected as a Parliamentary candidate for Cardiff South. He then returned to sea in the Indian Fleet and served on HMS Queen Elizabeth in the Indian Ocean. After VE Day, along with other prospective Parliamentary candidates, he returned to the UK to stand in the 1945 General Election.
9. Jackie Coogan – American Comic Actor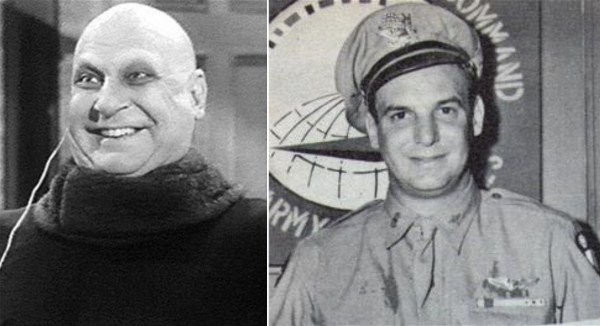 Already famous as a child star in the 1920s, Jackie Coogan enlisted in the US Army in March 1941. After Pearl Harbour, he requested a transfer to the US Army Air Forces as a glider pilot because he had civilian flying experience. After graduating from glider school, he volunteered for hazardous duty with the 1st Air Commando Group, and was sent to India in December 1943 to support the Burma campaign. In March 1944 Coogan flew British troops, the Chindits, at night into a small jungle clearing 100 miles behind Japanese lines.
10. Harry H Corbett – English Comic Actor
Harry H Corbett, best known for his starring role in TV sitcom Steptoe & Son::__IHACKLOG_REMOTE_IMAGE_AUTODOWN_BLOCK__::9, enlisted in the Royal Marines during WW2 and served in the Home Fleet on the heavy cruiser HMS Devonshire. After the Japanese surrender in 1945 he was posted to the Far East, where he was involved in quelling unrest in New Guinea. He reportedly killed two former Japanese soldiers there whilst engaged in hand to hand fighting. He was then posted to Tonga, but deserted and remained in Australia before handing himself in to the Military Police.
See the other 40 famous faces on ww.abroadintheyard.com