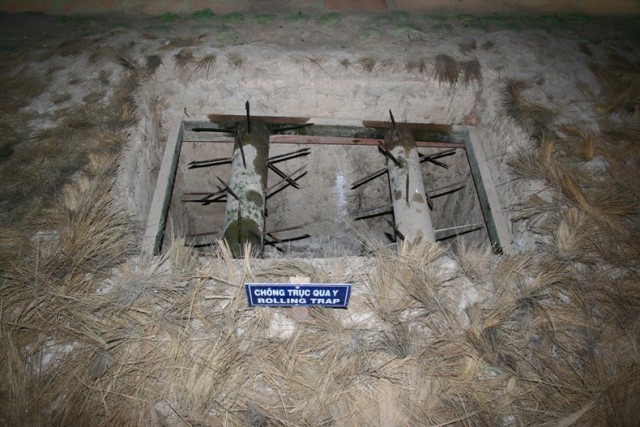 Booby trap. Photo credit
On the 40th anniversary of the end of the Vietnam War, the country is looking to commemorate and remember its violent history through various projects.
This includes the re-opening of the Vietcong tunnels, the renovation of key archaeological sites, exhibitions, parades and events.
A well-known tourist trail has emerged over the years in Vietnam where tourists from all over the world want to experience the Vietnam War. One of them is a secret cellar in a house in District 10 in Ho Chi Minh City. It had been dug by the residents of the house and was used to hide people and weapons for the Vietcong.
The My Son temples have recently been renovated after they were heavily bombed during the war. The Cu Chi tunnels are a maze reaching around 200kms of underground tunnels with hundreds of hidden entrances. They were infamous for the Vietcong's offensive against the south and American troops, The Guardian reports.
The War Remnants Museum in District 3 of Ho Chi Minh City displays remnants from and tells the story of the conflict. There is a photograph of a young Vietnamese girl running from a napalm attack, along with several other award-winning images from the war. They include images from photographer, Ishikawa Bunyo, whose exhibition is on throughout 2015 and is called, '50 Years in Vietnam – War and Peace'.
There are plans to reopen the UNESCO-listed site of the My Son Temples in Quáng Nam, central Vietnam. They are a complex of 70 Hindu temples – built between the 4th and 14th centuries. They were hit by US bombing during the war and over the years archaeologists have spent their time trying to rebuild them.
In Hua Lò Prison in Hanoi a new exhibition shows remnants of a US bomber shot down over the capital. Hua Lò was used as a prison for many US troops, who nicknamed it the 'Hanoi Hilton'.