Having gained a solid reputation as a military savant of the highest order, Rommel was promoted to Lieutenant General and placed in command of the newly formed Afrika Korps, which had been created with the intention of being sent to Libya to assist Italian troops struggling to cope with British advances into Axis territory in North Africa.
Ignoring orders to assume a defensive posture, Rommel immediately launched a lightning assault on the startled British forces and his Afrika Korps advanced rapidly, driving General Waverley out of his fortified position at Benghazi.
In an attempt to take advantage of the confusion that resulted from the fall of Benghazi, Rommel continued to press forward, driving the British before him and finally enveloping the enemy within Tobruk. Rommel place Tobruk under siege but met with stiff and resolute resistance from British and Australian soldiers.
In June, 1941, Wavell launched an Allied counterattack, Operation Battleaxe, but was severely mauled by Rommel's Afrika Corp. After that, Rommel notched up a string of victories, more often than not against vastly superior forces, including Tobruk, Gazala, and El Alamein. In the process, he not only earned a formidable reputation for personal bravery and strategic genius but also for gallantry and mercy, as he amply demonstrated when he sent medical supplies to New Zealand forces within the Allied lines.
With a lack of reinforcements and supplies hampering his ability to complete a knockout blow to the Allied forces in North Afrika, Rommel was forced to go on the defensive and then later pull out his remaining forces from the North African theatre.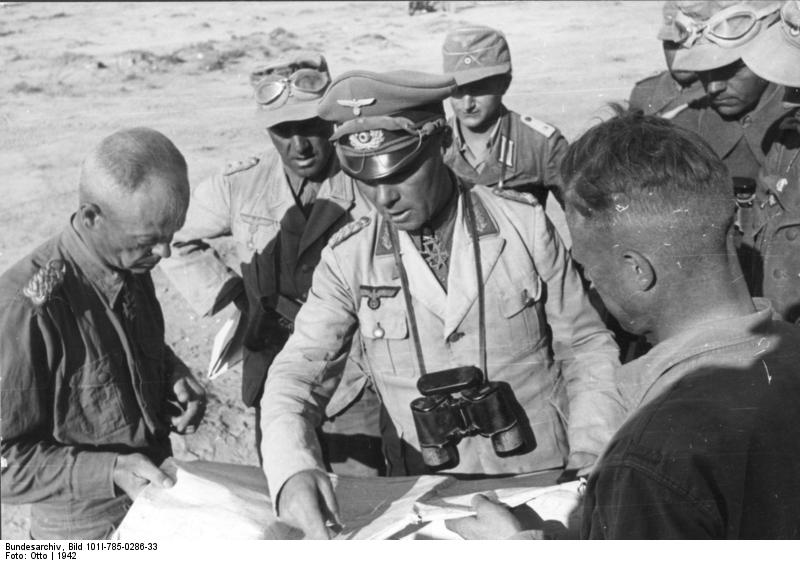 In February 1940, Rommel was named commander of the 7th Panzer division. The following year, he was appointed commander of German troops (the Afrika Korps) in North Africa.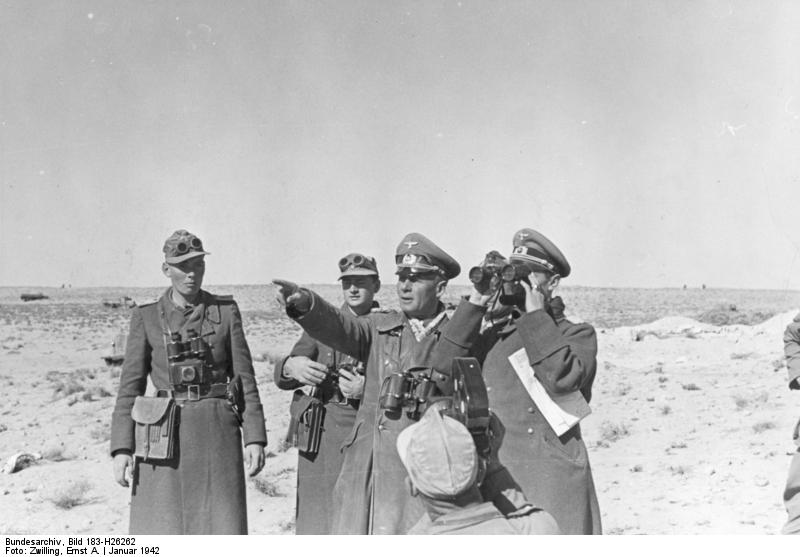 Colonel General Rommel inspecting German defensive positions, North Africa, Jan 1942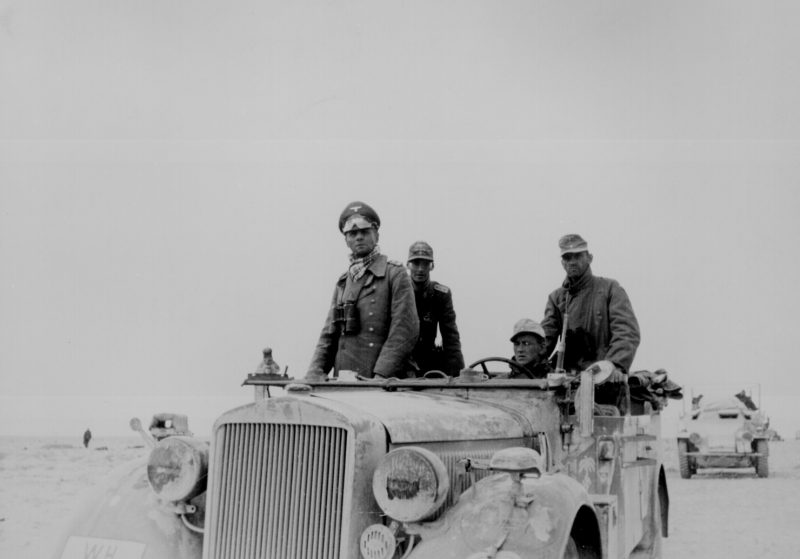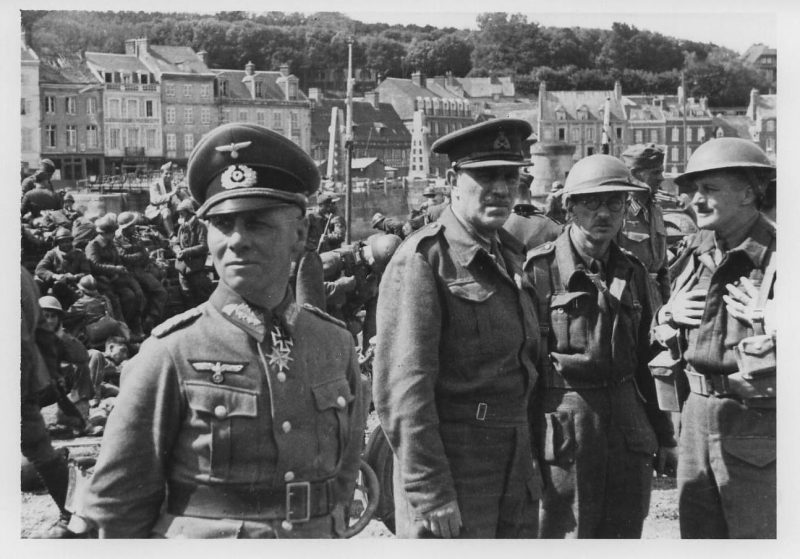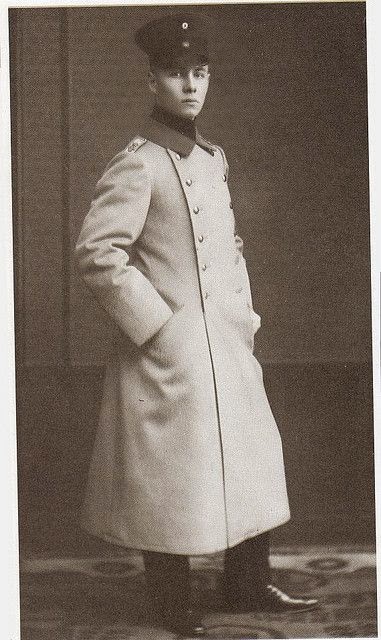 Rommel as a young man
Italian losses to the British in North Africa led Adolf Hitler to send Rommel to Libya, where he laid siege to the port city of Tobruk from April to December 1941. Repulsed by the British, he returned with the Afrika Korps in June 1942 and finally took the city; this attack became known as the Battle of Gazala. Not long after, Rommel was promoted to field marshal by Hitler.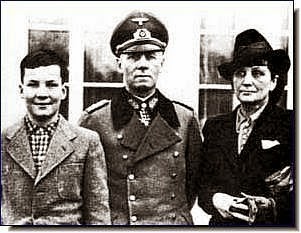 Rommel with his son Manfred and wife Lucie. Rommel's son, Manfred, was 15 years old and served as part of an anti-aircraft crew near his home. On October 14th, 1944 Manfred was given leave to return to his home where his father continued to convalesce. The family was aware that Rommel was under suspicion and that his chief of staff and his commanding officer had both been executed. To protect his family and staff, Rommell would commit sucide and be given a hero's burial.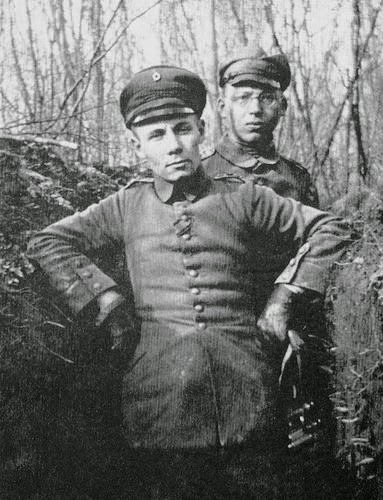 In 1915, after recovering from his first wound, Rommel returned to the trenches in France's Argonne forest. During the war he won Germany' highest decoration by capturing a mountain and thousands of Italians stationed there.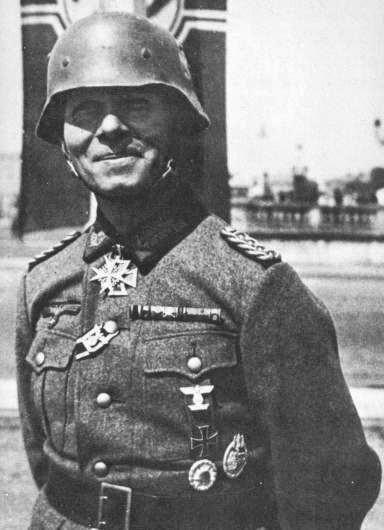 Rommel during the 1930s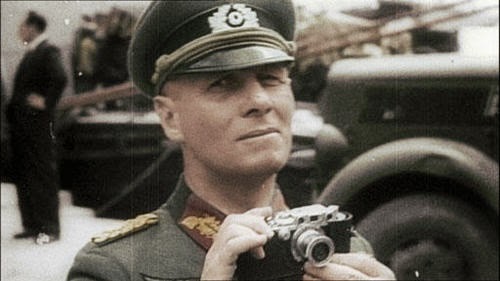 Erwin Rommel, pictured with his Leica III rangefinder camera. Rommel is reported to have been given such a camera by his friend/patron, Joseph Goebbels, before the 1940 Western campaign; many 'photos of his authorship or probable authorship survive, and crop up with a fair degree of frequency in propaganda/publicity contexts.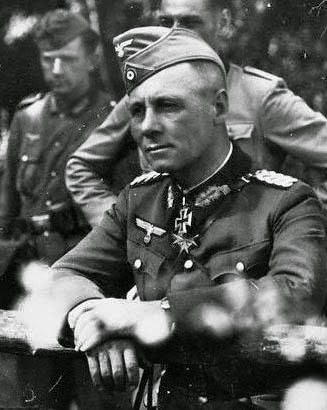 A rare photo of General (later Field Marshal) Erwin Rommel wearing a forage cap. With men of the 7th Panzer Division, France 1940. Rommel almost always wore his peaked cap or Schirmmütze. This was a gesture of commonality that the men would understand, part of being an effective leader.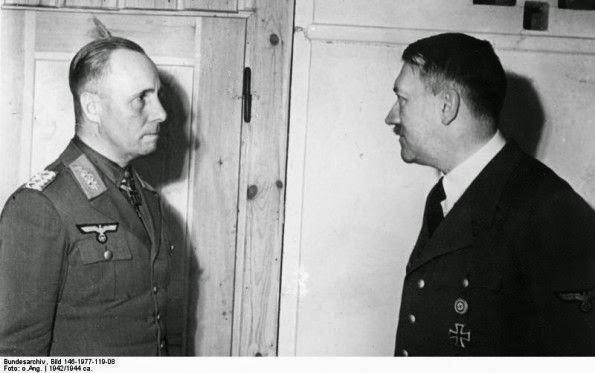 Rommel and Hitler (Federal archive)
Rommel's handcrafted field marshal's baton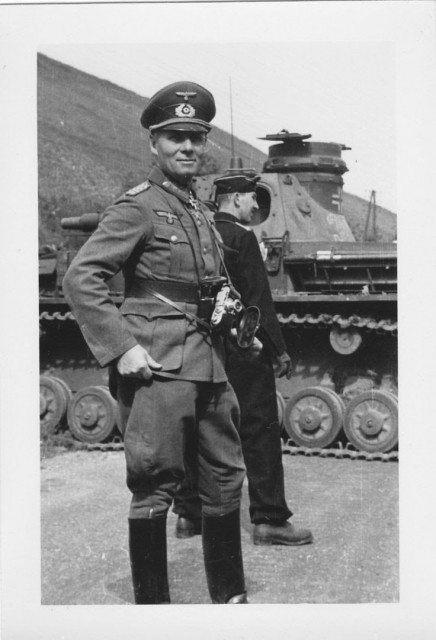 This is a rather rare photo of German Field Marshal Erwin Rommel carrying his Leica camera on the front (this photo was most likely shot during the campaign in France in the summer of 1940 when Rommel was still a genral). Rommel was an avid enthusiast photographer who must have amassed a significant number of WW2 photos, whose fate is still undetermined.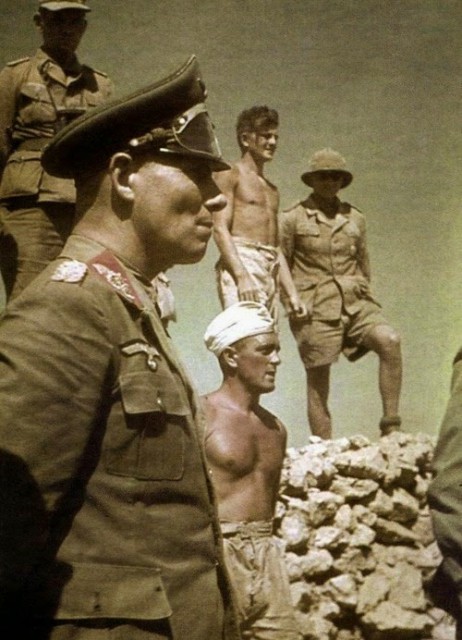 Rommel with his Afrika Korps men in North Africa 1942. This picture was taken by Hitler's personal photographer, Heinrich Hoffmann.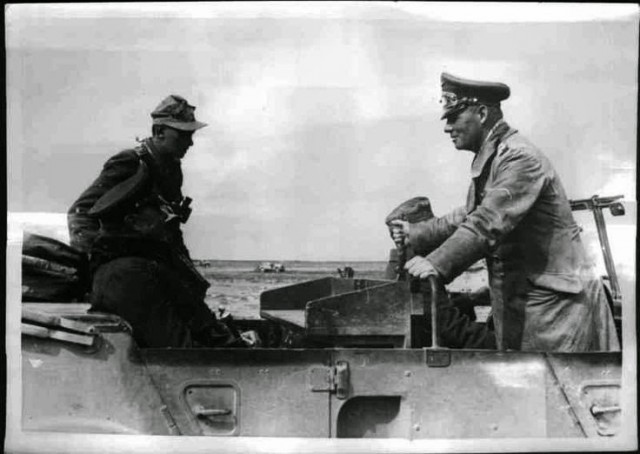 Rommel and Kesselring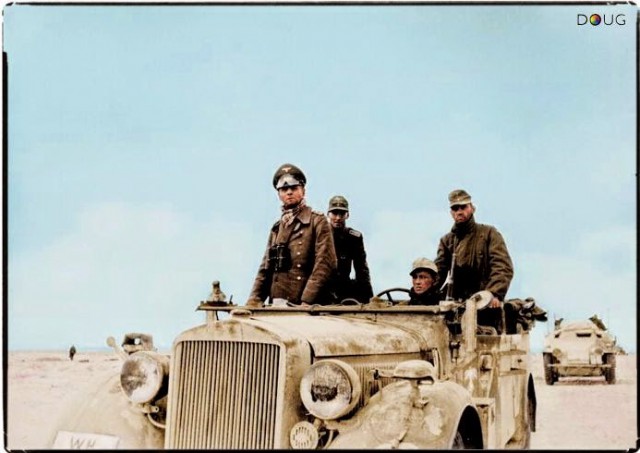 Field Marshal Erwin Rommel with the 15th Panzer Div. in Libya, 24/11/41, probably with Rommel's own camera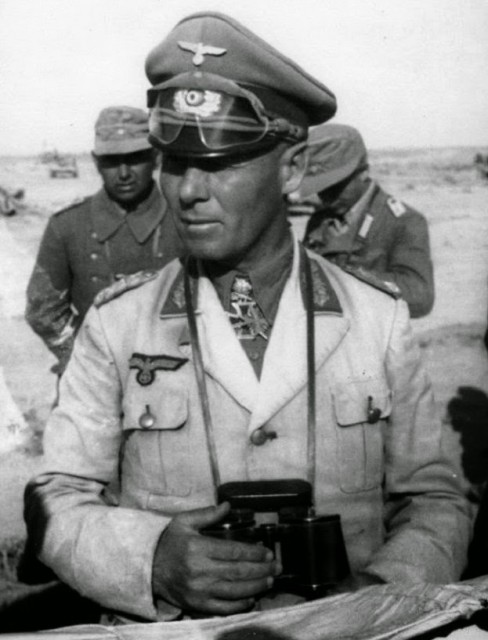 Rommel, Libyan desert, spring 1942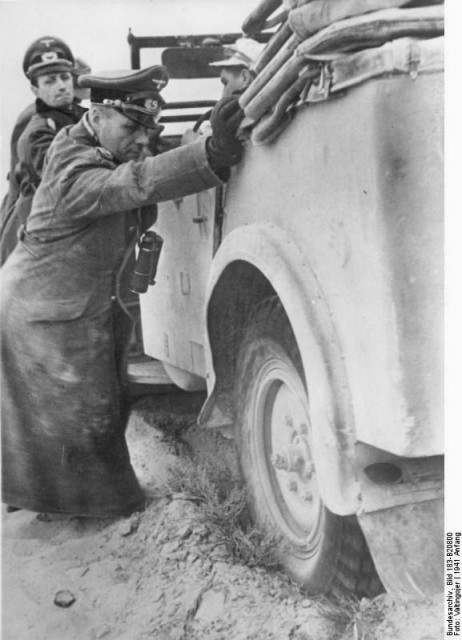 Colonel General Erwin Rommel and General Siegfried Westphal helping with pushing a stuck vehicle, North Africa, early 1941.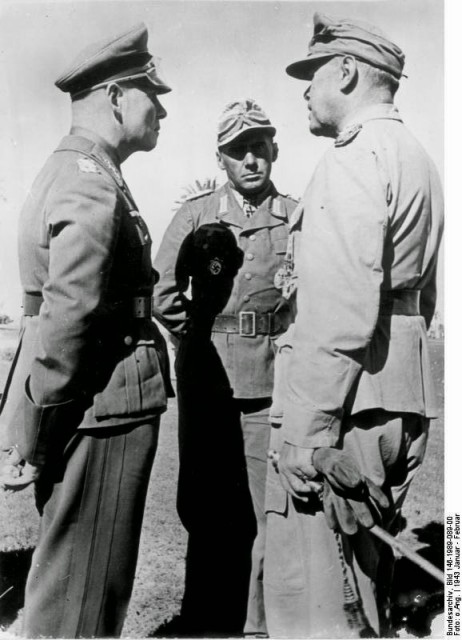 Field Marshal Erwin Rommel, Lieutenant General Fritz Bayerlein, and Field Marshal Albert Kesselring in North Africa, Jan-Feb 1943.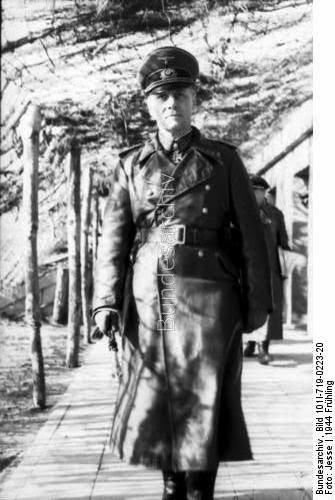 France – Just before the invasion, General Field Marshal Erwin Rommel with Field Marshal's baton during an inspection of the coastal fortifications of the Atlantic Wall.; KBZ OB West. 1944 spring.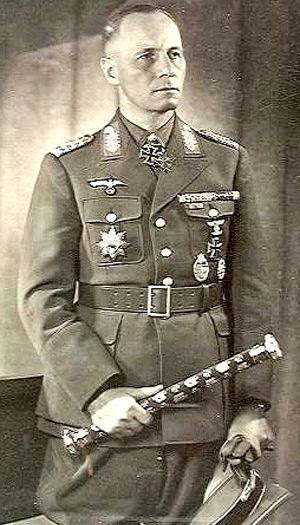 Field Marshal Erwin Rommel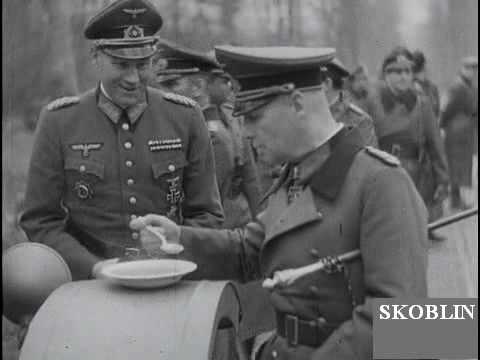 Erwin Rommel inspects the 21st Panzer Division in May 1944.
Erwin Rommel inspects the 21st Panzer Division in May 1944.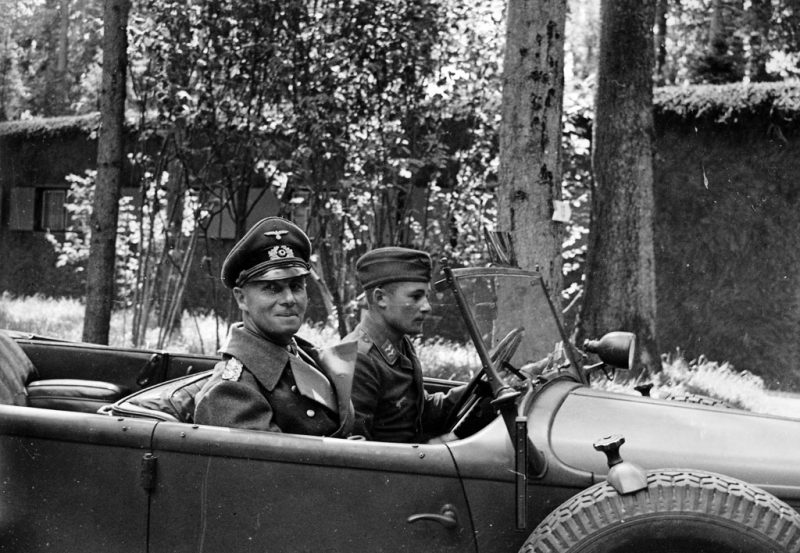 Field Marshal Erwin Rommel, commander of Army Group B in France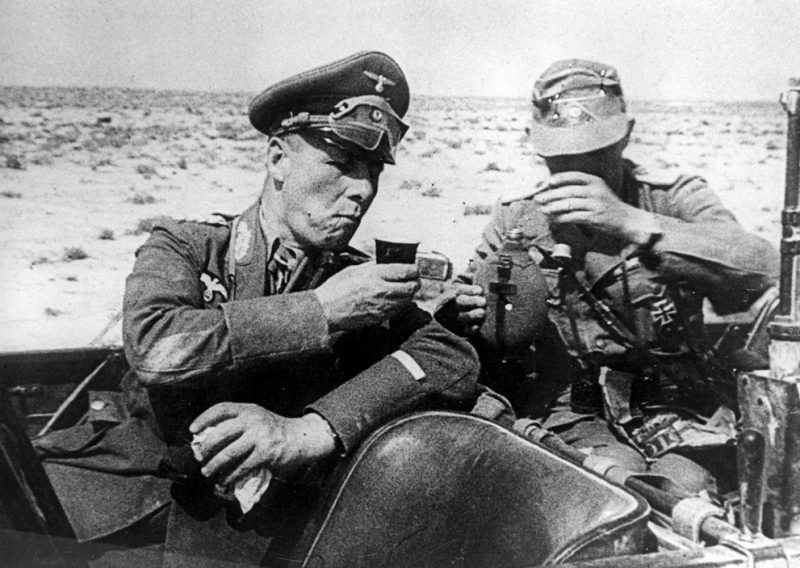 Erwin Rommel, commander of the German Afrika Korps, drinks out of a cup with an unidentified German officer as they are seated in a car during inspection of German troops dispatched to aid the Italian army in Libya in 1941.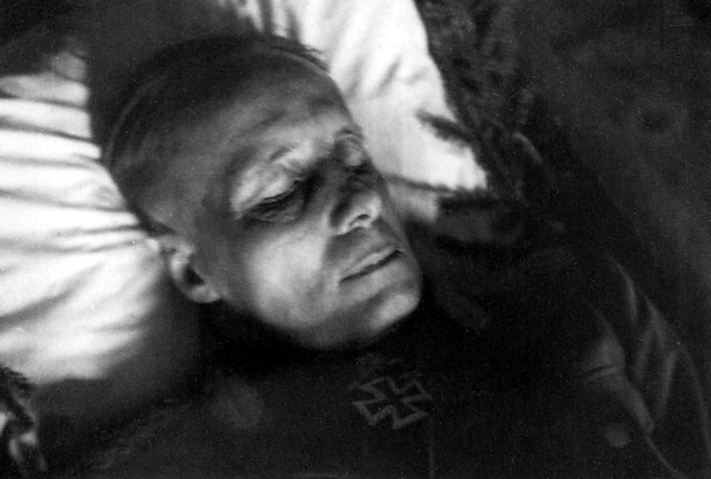 Laying in state.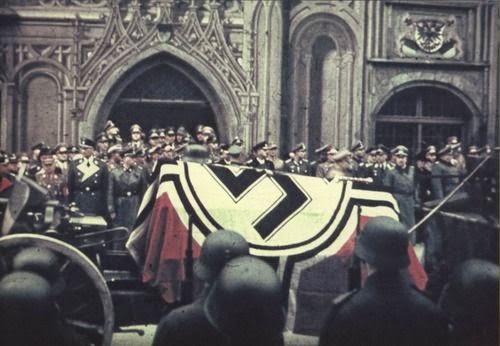 Rommel's Funeral
After the 1944 July Plot—an assassination attempt against Hitler that occurred on July 20, 1944—Rommel's contact with the conspirators was revealed, thus implicating him in the plot to overthrow Hitler. Rommel was then offered the option of taking poison instead of going to trial, and Hitler's generals brought him poison.
Rommel drank the poison, taking his own life, on October 14, 1944, at the age of 52, in Herrlingen, Germany. He was given a full military burial.
Rommel's simple grave in Herrlingen, Blaustein, Baden Wuerttemberg, Germany.