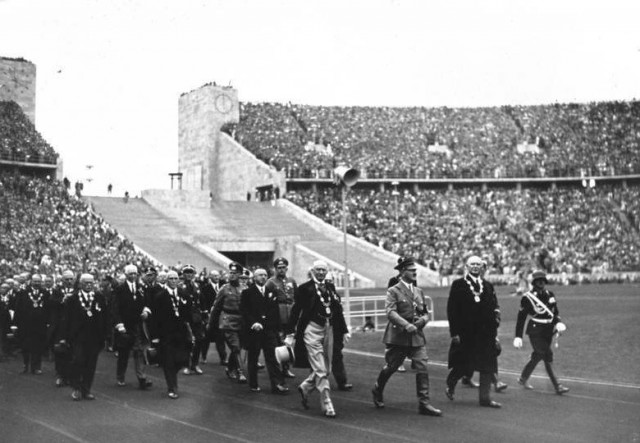 Berlin 1936, Hitler accompanies the international Olympic committees – Via Bundesarchiv
In 1936, the Olympic Games was controversially held in Munich, Germany, when Adolf Hitler was leader of the German people and within three years would be at war with the rest of the world.
Now, a story has been uncovered which suggests that while Jewish athletes were able to take part in the Games, the US 1936 Olympic team removed two American Jewish runners from the competition.
In Germany anti-Semitism had been on the rise during the previous 10 years before the Olympics. Just a year earlier the Nuremberg Laws had been past that severely restricted Jewish people who lived in Germany.
There were anti-German protests back in American and many believed that the US team should have boycotted the event. But the Germans had given the US Olympic Committee assurances that Jewish members of their team would be allowed to attend and compete in the Games.
RT @GlickmanTheFilm: Marty & Sam Stoller: only two U.S. Olympians who didn't get to run in 1936 Berlin Olympics pic.twitter.com/RXcA0gupps

— DigitalSportsDesk (@DigSportsDesk) August 11, 2013
Sam Stoller and Marty Glickman were both due to take part in the 4×100 relay, both some of the fastest men in the US. However on the morning of their race, a meeting was called and the team's coaches said that they were concerned that the Germans were going to race with a new team that was a surprise. They decided that Stoller and Glickman wouldn't be running and that Jesse Owens and Ralph Metcalfe would take their places.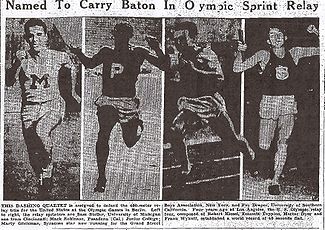 Newspaper announcement in July 1936 that Stoller (far left) and Glickman have qualified for the 4 x 100 relay team via Wikipedia
The team was unsettled but all went along with the decision and both Stoller and Glickman were devastated. They watched the race behind-the-scenes and were thinking to themselves that it should have been them racing. They were both angry and frustrated.
No surprise German team ever materialised and they came third, whilst the US team came in first to take the gold medal.
In interviews over the years, both runners believed that they were removed from the team because of pressure from the Nazis and to not embarrass Hitler who was in attendance, the CNN Edition reports.
The families of the two Jewish runners believe that the head of the US Olympic Committee was responsible for the decision back in 1936. They believe the committee came under pressure from the Nazis, but Brundage who led the committee said that they had just wanted the fastest men to race.
It wasn't until the 1980s that the US Olympic Committee stated that the situation had been an injustice and that the committee regretted the incident.