The 16th Irish Division was commemorated in France on the 100th anniversary of their participation in the Battle of the Somme during World War I.
There was a commemoration service held at the granite Celtic cross outside the Catholic Church in Guillemont, where the Irish soldiers fought during the battle. Schoolchildren read the names of the soldiers who died. A large shamrock was placed in a field.
The event was attended also by NI Secretary James Brokenshire.
The 16th Irish Division was made of the Royal Irish Rifles, Connaught Rangers, Dublin Fusiliers, and Munster Fusiliers – amongst others.
They gained fame for their involvement in battles around Guillemont and Ginchy.
Around 4,300 men were killed or wounded during the fighting from the division. Eventually, the two villages were recaptured from the Germans.
Joining Brokenshire at the ceremony were DUP MLA Alastair Ross, the Republic of Ireland's Regional Development Minister Heather Humphreys, the brigadier general of the Irish Defense Forces and other military personnel.
This was the first visit to France for Brokenshire as secretary of state, so he asked to see Thiepval Wood where the 36th Ulster Division made its charge to start the Battle of the Somme on July 1, 1916.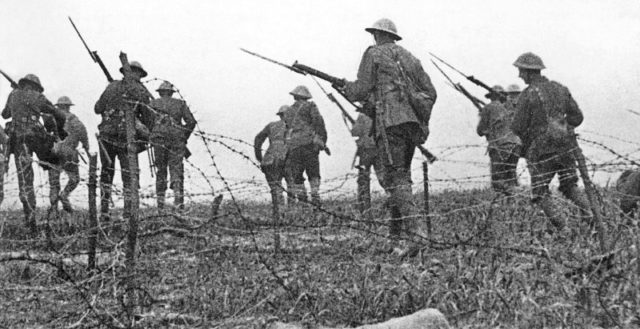 Within 24 hours, 19,240 British troops were dead. Almost 10% of those fatalities were from the 36th Ulster Division.
The Royal Irish Regiment and the Irish Defense Forces combined to provide a ceremonial cenotaph guard at the memorial.
An Irish piper played Limerick's Lament while the visiting politicians laid Laurel and poppy wreaths.
The 16th Irish Division contained members of the National Volunteers who supported Home Rule in Ireland. John Redmond, the National Party leader and MP, encouraged them to join.
At the end of August 1916, the division moved from Loos to the Somme.
The attack that eventually occurred on September 3 had been postponed many times due to weather conditions. Then, at 06:00 local time, the shelling began.
About 4,300 men were killed or injured over six days.
The loss of life was made all tougher considering that the division was made up of volunteers who grew up together, worked together, or possibly attended the same church.
The lucky ones that survived the Somme came back to a very different Ireland than the one they had left.
Historian Eamon Phoenix said: "The nationalist soldiers who came back in 1919 had been cheered on as they left, but in post-1916 Ireland, they were marginalized and ignored, spat upon, airbrushed out of history."