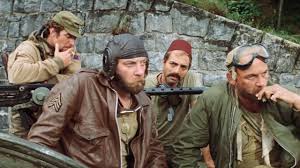 Monuments Men was a WWII film that's high on agenda and a bit more complicated than the rest though it's lined up as one of the WWII capers. Below are the rest of the classics that are breezier than the former but are so worth watching!
The Guns of Navarone (1961)
This 1961 action-adventure war flick goes first in the list of classic WWII capers. The film was based on the novel authored by Scot Alistair McLean of the same name. Both basically shared the same plot – an Allied commando team was assigned to destroy one strong German Nazi fortress which had set out to create amok on the Allied ships in the Aegean Sea and frustrated the efforts of rescuing some 2,000 British troops who were on the other island.
Unforgettable Scene: When actor Anthony Quayle's character ("Lucky" Franklin) got badly wounded, he told his buddies to go on and just leave him behind. David Niven's character answered him by saying, "You can buy me lunch at Simpsons when this is all over." proceeding to take his comrade away.
Significance: There were no hoards of artworks saved but the commando team along with several Greek partisans manage to save the day. As a result, Greece's geography was a little altered.
https://www.youtube.com/watch?v=Kuyme-U9-es
The Train (1964)
This 1964 classic war film is a strong contribution to the industry of WWII capers and like The Monuments Men, it centers on the Nazis' stolen arts! Its plot is based on the non-fiction book written by Rose Valland, Cate Blanchett's character in The Monuments Men, and inspired from real events surrounding Train No. 40,044 during WWII. As German Nazis headed by Colonel Franz von Waldheim tried to move a cache of stolen art pieces through train, French Resistance member Labiche went against it and the results were explosive.
Unforgettable Scene: The whole film is one unforgettable flick. The protagonist did not have any keen interest with arts but was willing to be shot at just so he could heroically save every piece of masterpiece in that locomotive.
Cultural Significance: Inspired by real events surrounding Train No. 40,044 in France during WWII and was based on the book Le front de l'art written by Rose Valland, a member of the Second World War's monuments men.
Where Eagles Dare (1968)
Kelly's Heroes (1970)
This comedic war flick brings WWII capers in a different light. For one, it is not dramatic as the first two or any other WWII capers in Hollywood. And another, it wasn't centered on American war heroism albeit it focused on a main theme anyone – soldier or not – can relate to: the want for money. The film followed the story of Clint Eastwood, Telly Savalas, Don Rickles, Carroll O'Connor and David Sutherland as they plotted on going behind enemy lines to rob a French bank vault which held a cache of gold bars. Like The Monuments Men, there was a stealing element but in this case, the Americans were the ones doing it.
Unforgettable Scene: These American soldiers were willing to go through all the blasts and the explosives just so they could get to their pot of gold and the results were hilarious!
Cultural Significance: There were none, but with a movie this funny, who would complain?