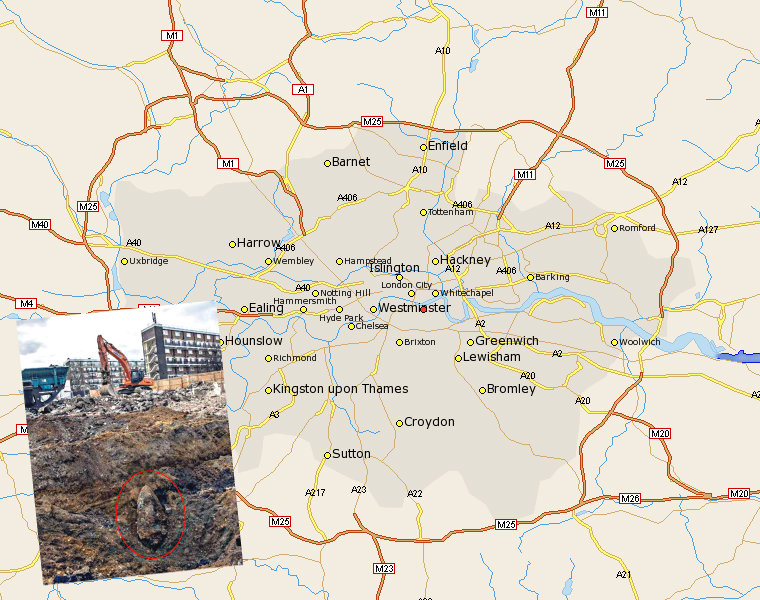 A 1000-pound WWII bomb said to measure about five feet long was unearthed by construction workers in Bermondsey Monday, March 23, sparking a massive evacuation with people from homes and business establishments around a 400 meter-wide belt sent to evacuation centers until the said explosive is safely disposed of. Authorities have also implemented road closures within the said area causing travel difficulties along the Tower Bridge Road.
Another quiet day in my neighbourhood MT @Rupert_Frere: what a 250kg 2nd world war bomb looks like #Bermondsey #bomb pic.twitter.com/NWfpPzqLYJ

— Nicky Edwards (@NickyEdwards) March 23, 2015
The Metropolitan Police warned that it would take "a very long time" to make the said 1000-pound WWII bomb safe.
"The device is huge – it is a big fuss. Self-evidently from the nature of the operation, it is a big one, it is being dealt with but it could be problematic," a Met official said.
They are already working with explosive experts from the army as well as the London Fire Brigade, the London Ambulance Service and Southwark Council to contain the situation. In a statement released on Monday just after the discovery of the vintage explosive, bomb disposal experts are planning on working in deactivating for the safe removal of the 1000-pound WWII bomb throughout Tuesday.
It can be noted that Bermondsey was an industrial area during the WWII-era and was, thus, bombed frequently during the war. In fact, it was one of the most heavily bombed areas of London throughout the Blitz, the Nazi assault campaign through air which went on from September of 1940 to May of 1941.
And though vintage bomb discoveries within London is not an everyday occurrence, the recent unearthing of the 1000-pound WWII bomb at a construction site in Bermondsey is also not a surprising matter. According to the Fire London Brigade, the discovery of vintage explosives is not that uncommon within the London area especially when there are ongoing building works.