https://www.youtube.com/v/OrLS2Kx-AdI
Divers from the Royal Navy detonated a 1000-pound WWII bomb underwater about one-and-a-half miles off the coast of Whitley Bay Thursday, February 26.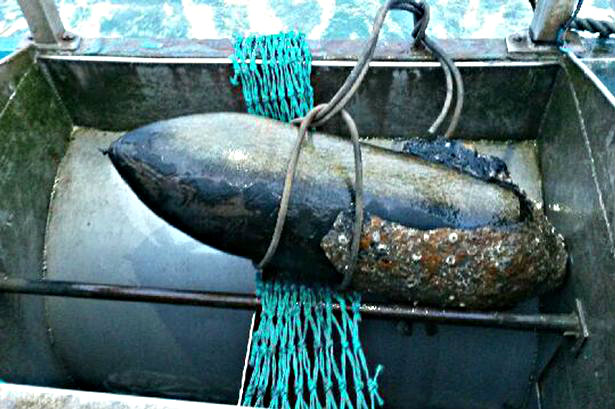 According to reports, the 1000-pound WWII bomb was discovered by a group of fishermen aboard the Ticino. They were fishing at about three miles off South Shields' Souter Point when the device got entangled in their nets.
The shocked crew brought up the 1000-pound WWII bomb from the water. It was, then, transported to Whitley Bay for examination. However, Royal Navy bomb disposal experts advised that it should be lowered back into the water.
A Royal Navy spokesman stated that members of their northern diving group, the ones who examined the 1000-pound WWII bomb, came to the conclusion that the vintage explosive was still dangerous.
He added that the fishermen who discovered the bomb did the right thing by calling the lifeguard and putting it back underwater where they found it. He finished by saying that vintage bombs are best left where they are especially if they are found off shore.
After divers inspected the device, the 1000-pound WWII bomb was promptly detonated.
Though a shocker, the 1000-pound WWII bomb was not the first one discovered on the North East coast.
Just November of last year, the Humber Coastguard spotted an unexploded bomb at the Seahouses beach. It was immediately taken off the beach and safely disposed of.
Finding WWII relics and unexploded ordnance within the area is not unusual as the North East was one of the prime targets for bombings during the Second World War due to the region's shipbuilding trade.
Oftentimes during the WWII-era, explosives were dropped off the North East coast and even into the North Sea. After WWII ended, it has been estimated that about  7,000 civilians residing in the region either lost their lives or sustained injuries because of the bombing campaigns.