A location where American prisoners and missing are remembered is at the Vietnam Veterans Memorial in Washington, where, since the memorial was consecrated in 1982, visitors have left many different items in memory of the imprisoned, the dead, and those still missing.
But what happens to those tributes after visitors depart?
The wall is under the purview of the National Park Service, and NPS staff that have kept and stored many of the items left at the Memorial. And although there are other memorials on the National Mall, the NPS only collects material deposited at the Vietnam memorial.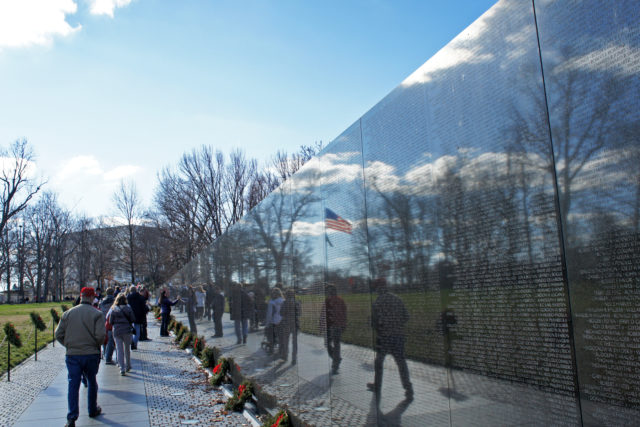 They were unsure how to treat the items initially. There were some maintenance people who felt very guilty about throwing away the things that they found there, and so they began holding onto the items, as NPS Museum Technician Janet Donlin told CNN. In 1984, their regional curator found out about this, and she determined to make an official collection of the items.
After collection at the wall by NPS employees, the items are deposited at the Museum Resource Center in Maryland State. The Center is the storage building for NPS collections in the National Capital region and has over 40 museum collections. So far, more than 1,400 boxes are earmarked for items collected from the Memorial, CNN Politics reported.
Donlin is responsible for preserving and cataloging the collection. She estimates that, for over 30 years, the number of items is in the hundreds of thousands. The only items not collected by the NPS are things like wreaths left by numerous school groups — they are too plentiful.
The largest category of things that are left at the wall is what they call 'documentary artifacts' – documents such as poems, pictures, notes and collages, Donlin said.
The collection also includes distinctive items as such as mannequins, a race car hood, a motorcycle, and a helicopter blade.
Following instructions from Wisconsin veterans who built and donated the motorcycle, it is to sit idle until all of the state's missing soldiers have returned home. More than 1,600 Americans are listed as missing from the war.
The President traditionally signs a proclamation the third Friday in September as POW/MIA Recognition Day.
In this short video, American History TV speaks to one of the curators of the collection and views some of the items.
https://www.youtube.com/watch?v=HNNaTasQ_CY