As with all conflicts, prisoners of war (POW) were commonplace during the Vietnam War. It's estimated that around 2,500 Americans were either missing in action (MIA) or taken as POWs, and one of them was Staff Sgt. Gail Kerns, who was captured and held for four years. Unlike many, however, he made it back to the United States, and an iconic and heart-wrenching image was taken upon his return home.
Gail Kerns was born in West Virginia on February 24, 1947. He graduated from Tygarts Valley High School in 1965, and two years later, after completing one year of study in electrical engineering, was drafted to fight in Vietnam. It wasn't long before basic and advanced training with the US Army occurred and he was assigned to a non-commissioned officer course at Fort Benning (now Fort Moore), Georgia.
A year after enlisting, Kerns was deployed to serve a 12-month tour in South Vietnam. He traveled from Cam Ranh Bay to Pleiku, where he was assigned to lead a squad with Company A, 3rd Battalion, 12th Infantry Regiment, 4th Infantry Division.
Aside from a brief leave in Honolulu, Hawaii, Kerns spent most of his time serving. On March 27, 1969, everything changed. He and his men were sent on a reconnaissance mission. Unexpectedly, a group of North Vietnamese Army (NVA) troops ambushed them. He remembers little of what happened afterward.
Survivors' reports say that heavy casualties forced Kerns' men to withdraw, and he was one of the first to go down from a shot to the left temple. He survived his injuries, writing, "When I regained consciousness, I was a prisoner of war. I lapsed in and out of consciousness for days. The other American prisoners of war in my camp took care of all my needs. I could not talk, except for very few words. I could not walk, and as a result of being shot, I had developed epilepsy."
His injuries extended beyond this, however, as the bullet caused paralysis in half of his body. Kerns was given little medical care, and any pleas for assistance from other POWs fell on deaf ears. It took between three and four months for him to move his legs again, and when he was finally mobile, he was moved into a cramped cage in their Cambodian prison camp with three other men. Two of his four years as a POW were spent there.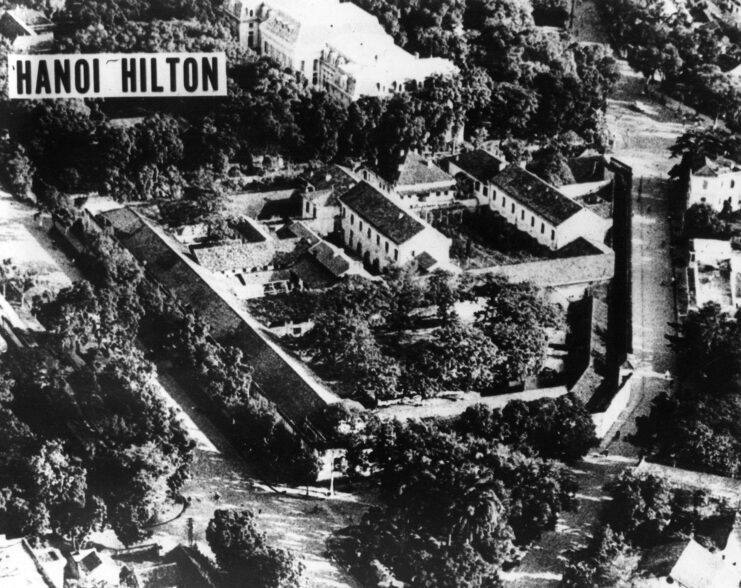 In 1971, the NVA moved all American POWs to Hỏa Lò Prison in Hanoi, better known as the "Hanoi Hilton." The men were forced to march there, something that was extremely difficult for the still-recovering Kerns. His comrades wouldn't leave him behind, however, creating a bamboo stretcher to carry him. He wrote that the hardest part of the march was the hills, "I had to slide down on my rear end. I don't know how I made it, but I really had no choice. It was either go or be shot."
Kerns' treatment at Hỏa Lò Prison was largely the same as his previous camp, and he continued to receive poor medical care. This meant his seizures continued unchecked for four years.
In March 1973, he was freed during Operation Homecoming. His family, who didn't even know he was alive, were informed that he'd be coming home, but they weren't told about his injuries.
Kerns was transported out of Asia with numerous other injured POWs on March 5, traveling first to Clark Air Force Base in the Philippines. The above photo was captured upon his return to US soil at Andrews Air Force Base, Maryland three days later. His captivity and injuries had taken a toll on his body, and he had to be transported onto his flight in a wheelchair. Despite this, he refused to do anything other than walk off the plane, with the assistance of two nurses.
When he was safely on the ground, Kerns stopped, so he could lean down and kiss the ground. On September 21, 1973, he was medically retired from the Army.
More from us: Why American Soldiers Had Human Skulls Watching Over Them In Vietnam
For his service, Gail Kerns was presented the Purple Heart, the Bronze Star with "V" and First Oak Leaf Cluster, the National Defense Service Medal, the Vietnam Service Medal, the Vietnam Campaign Medal, the Civil Action Medal, the Good Conduct Medal, the Combat Infantry Badge, the Vietnam Gallantry Cross, nine overseas bars and the M-16 Expert Badge.