Here we are again after a self-imposed absence. The in tray is literally bulging with books to tell you about but I needed a break and I hope that my time away has given things a bit of a pick me up.
I've told you before that I don't really do fiction that much, but I use it for a reboot every so often and this is one of those occasions. This time round I have jumped into the deep end far outside my comfort zone with this tale of the climactic days of the US Civil War. Author Jim Stempel takes us back to when Ulysses S Grant's army was bloodily repulsed by Robert E Lee at the Battle of Cold Harbor in 1864. It will be immediately apparent that my knowledge of the conflict is not the greatest. I am aware of some of the basic stuff and would like to know more. This book goes some way to propelling that idea into action.
Mr Stempel has written a solid and absorbing tale and uses real life characters to advance his story. It cannot be an easy thing to put words in the mouths of icons of military history such as Robert E Lee, Philip Sheridan and the colourful George Armstrong Custer, but he does it with panache. I was a little uncomfortable with the device at first. But it is clear that the author is using deep and passionately gathered knowledge of the war to flesh out and animate his characters.
The story builds slowly and it's fair to say the bloody battle washed over me in many ways. A million years ago I read Lyn MacDonald's popular account of the Battle of the Somme that happened to start a hundred years ago precisely. I am writing this on 1st July. My point is MacDonald described the unbelievable horror of that day in such a way it barely registered. It was a horrific shock to realise nearly twenty thousand men had died in a single day. This is no place for maudlin reflection on the Somme, but the style was similar to Mr Stempel's account of the death of thousands in front of the Confederate defences at Cold Harbour. It really works here.
The author also has to manage the difficulty of language. He treads a careful path between the myriad dialects of mid 19th century America and we hear many traces of countries across the sea. There is a formality in much of the important conversations it would be tempting to hustle along with modern idiom. Mr Stempel rejects this outright and he creates an authenticity I really liked.
The massive cavalry action close to the finale of this saga brings us into the sphere of an ebullient and attractive George Armstrong Custer. For me he is the embodiment of flawed military adventurist I find so appealing. I haven't read a word about him since I discovered one of my favourite books of all time; Son of the Morning Star by the late Evan S Connell but Mr Stempel's Custer has all the right stuff to make him a standout figure in this book. I expect poor old George would love knowing that!
I could have a go at writing a book like this, but it would be rubbish! Real knowledge of events, people and the times is essential to make a proposition like this work. I can't say it always had me on the edge of my seat but I read it from cover to cover in good time and have to say the details at the end are cleverly placed. I wish I knew more about the war and had a deeper grasp on the leading protagonists, but it is what it is.
As I said, this could serve as a really useful introduction to the US Civil War. It is not a simple story to tell. I am sure many people using WHO remember Ken Burns' ground breaking documentary series. Happily, it aired in Britain some years back and I caught a lot of it. If a work of fiction can make something that actually happened seem a little more real, then the author has done well.
Other authors have written their own tales of the war, including Bernard Cornwell, whose adventures of Nathaniel Starbuck are a bit of a hoot. This book by Jim Stempel has a wholly different feel to it, being a more sober form of faction than straight fiction. I don't have any problems recommending this as a poolside read for your summer.
Reviewed by Mark Barnes for War History Online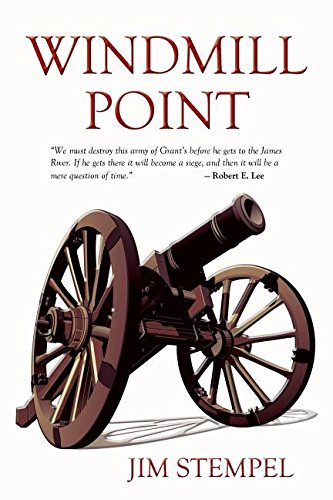 WINDMILL POINT
By Jim Stempel
Penmore Press
ISBN: 978 1 942756 50 7