I have made a point of abstaining from Great War books for some time now. There will always be exceptions, hence this review; but I have been largely successful. I found I was reading so many I eventually hit the buffers. It will wear off and I will go back, but as we have our own pukka bloke with a history doctorate on the reviews team, I have been leaving the majority of them to him. Cries of "Is there a doctor in the house?" are falling on deaf ears at the moment because has the modern day world to deal with. So as your Reviews Editor (no sniggering at the back, please) it my duty to review this book.
We have in front of us a double whammy – boy soldiers and VC winners combined in a very tidy compendium by Nigel Crawthorne. The book comes without illustrations, but it may have saved the author from the awkward dilemma of deciding who was in and who was out. I recently reviewed a whopping great thing of an illustrated fiesta on the Great War VCs and this indicates what an attractive subject it is for publishers. The underage or boy soldier field has been the province of Richard Van Emden and his books pretty much set the standard. But this centenary period is a sticky jam jar to the publisher wasp and it is too good an opportunity to avoid. There are Great War VC books for the aficionados and there are others for general readers, the kind of people who see something on one of the conflict history channels and think they'd like something a bit more substantial. All power to them, for this is how we gradually get sucked in to history in a very good way. With Christmas here a book like this can fill the void. In my house this would be stocking present material.
So, is it actually any good? The author has done his research and is an entertaining storyteller. Regulars know I like books I can enjoy with a cup of tea and this one definitely fits that bill. You won't get your brain mashed reading the individual episodes about some remarkable young men. Their world is light years from ours so I am always happy to support things that keep their memory alive. For a single sentence review I will say this: Mr Crawthorne has done a good job.
That said, To my mind the book needed a few snaps, but, there are soooooo many others to choose from in the field I have to be straight and say how this book will fair largely comes down to chance. It is a crowded market. I think I have around a dozen VC related books in my 'library' (I said no sniggering) but I know a number of people who would want this book and so it has a fighting chance of doing well.
Reviewed by Mark Barnes for War History Online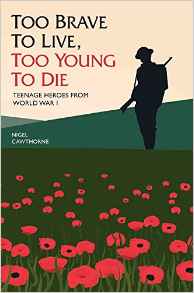 TOO BRAVE TO LIVE, TOO YOUNG TO DIE
Teenage Heroes From World War I
By Nigel Crawthorne
Metro Publishing
ISBN: 978 1 78418 811 5