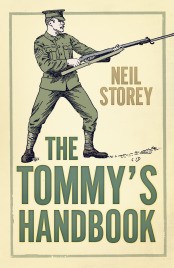 Spiffing!
Absolutely spiffing!
This book is a delightful somewhat tongue in cheek look at the WW1 Tommy. That's slang for a British soldier for those of you who have had their head stuck in the sand …… or shell hole!
This book is a fantastically presented and well laid out. With a great no nonsense cover it's as sturdy as a howitzer and as reliable as an Enfield. An awful lot of the text is drawn from the original pages of period manuals so expect to use your reading glasses as it's not all of the highest standard print. That said, I found this merely added to the great feel and atmosphere of the book.
It covers topics from recruitment and drill through to patrols and even gas. But how can a subject matter as serious as the First World War be humorous or even comical? Well, Blackadder Goes Forth was hardly a documentary and for those diehard WW1 buffs amongst you (puns galore) The Long Trail is hardly the most tactical of books. No, this book pretends to be nothing more than it is; funny, humorous, tongue in cheek  and in some cases both sad and naive.
It's written using excerpts from period training manuals and guides so expect to be both stunned and appalled! Some of the information is in depth and surprisingly advanced like the Final Assault whereby it describes the effect of nervous tension due to anticipation of attack on the body and thus foretells the need for supreme physical fitness and rest. Others, however, most notably in the chapter entitled Uniforms & Equipment tell of mind numbing aids such as the Angelo Shirt, basically a shirt with a jock strap attached invaluable to Horsemen, Cyclists, or Kilted Regiments. One needs not ask why !
There are also various adverts from Boots the Chemist. One offering is a curious fibrous plasticine ear insert to stop the effect of those pesky creeping gun barrages upon ones ears!
It makes light of what was otherwise a daily horror show for most concerned. It doesn't set out to educate or 'put right' tactical mistakes or blunders nor does it pretend to be a 'hell on Earth' type book full of convulsive shell shocked soldiers or the limbless corpses of no mans land.You can, however, glean interesting excerpts from the work as I reiterate the fact that the information used is, in most cases, from the War Department or Ministry of War or in the very least from period articles or adverts. So, as unbelievable as some of it seems, it's historically correct. If not much use to the wearer or purchaser at the time!
There are some great period full-page adverts in the book and rare photographs of a Tommy's WW1 kit or a soldier's burdenas it's called here. There are wonderful illustrations telling us how to assault a trench and know your Lee Enfield; if you should ever fall short or need reminding.
The book does of course have a serious side. When you read through you do sometimes wonder about the thinking behind some of the ideas and tactics that proved to be blood baths and little short of murder. The adverts are poignant; showing smiling, clean Tommies with a cup of hot cocoa or a Players cigarette in the mouth, drawn in a manner so they appear happy and contented. Adverts depicted what a parcel to a loved one at the front should contain, such as Gillette razor blades, tooth powder or a watch for the wealthier or officer class. A plea for items to send POWs via the Red Cross; books, magazines, tobacco are a million miles away from hell they were actually living.
For those that had to endure the horrors of the time, any item, no matter how small or irrelevant that reminded them of home or brought them comfort or escape was a welcome gift.
To them, hundreds sometimes thousands of miles away from their families in a relentless war that must have appeared to have had no end it, these things must have been a gift from the gods.
Lions lead by Donkeys indeed.
At just over pages one hundred and ninety pages and broken up into twenty chapters it's easily read and at £9.99 I think money well spent. If you want a light-hearted breather, as it were, from the hell of the Western front, this is the book for you. Just don't forget your ear putty.

Reviewed by Phil Hodges for War History Online

The Tommy's Handbook.
By Neil R Storey
The History Press
ISBN: 978-0-7509-5568-3