Hot on the heels of the majestic Silent Landscapes we have this impressive collection of images by Paul Shenton. The Great War centenary was bound to see the production of many books like these and it is one aspect of the Commemoration in print form I am happy to welcome with open arms.
Now, obviously, these books work on several levels. They are at once personal and really quite striking. They offer a window on places many people will never visit however much they would like to. They contribute to the solemnity of Commemoration, and finally, they add to the canon of battlefield photography.
This is a large format soft cover book with a small amount of accompanying text to go with an array of superb photographs depicting many of the best-known war cemeteries and memorials in Flanders. In addition to his ground level work, Mr. Shenton uses an elevated mast to produce stunning aerial shots. I'd be fascinated to see this sort of work in action because the results are really spectacular.
As with the best of collections, the photographer has visited several locations in a variety of weathers, and this is one element of battlefield photography that makes me very jealous. I will have to stop whinging and do something about that! Tyne Cot in the snow looks quite beautiful. For me, the mast brings the best out of Bedford House, one of the most serene cemeteries anywhere. The German cemetery at Langemark appears in all its autumnal melancholy.
Mast aside, the variety of imagery is impressive, and I really like Mr. Shenton's style. This book would appear to be one from a planned series if my guess is correct, and I look forward to more. I'll repeat my mantra that seeing the perspective of others is a brilliant aid to all photographers who spend time on the battlefields. Even if you are unlikely to do work like Mr. Shenton presents here, you will take something from it. If you have never picked up a camera in your life, then there is still much to absorb from this elegant and gentle book.
Not all Commemoration has to be a circus or media scrum. I prefer the quiet personal aspects of being on a battlefield and shy away from the big events. Pilgrimage is a positive experience, and I am pleased to see I am in tune with Mr. Shenton thanks to his use of lines from John McCrae. Books like this keep faith with those who died, and they can sleep in peace. Many wonderful war artists recorded the battlefields as they knew them a century ago and carried that mission on by showing those same fields as they look today is something to be treasured. Books like this keep the torch alight. Pass it on.
Reviewed by Mark Barnes for War History Online.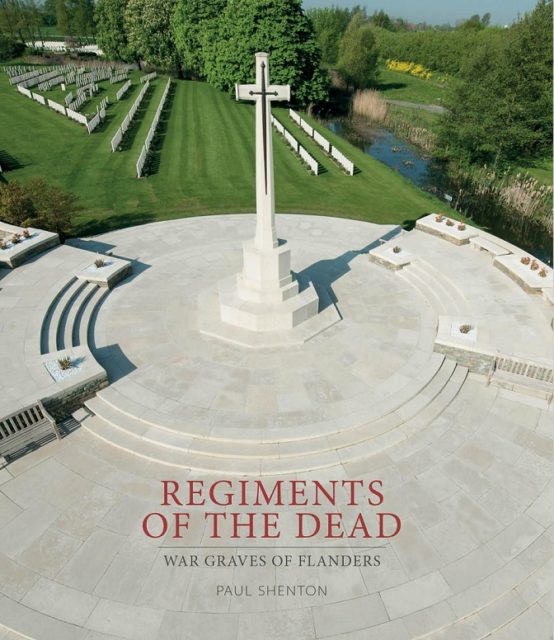 REGIMENTS OF THE DEAD
War Graves of Flanders
By Paul Shenton
Palimpsest International
ISBN: 978 981 09 4945 7