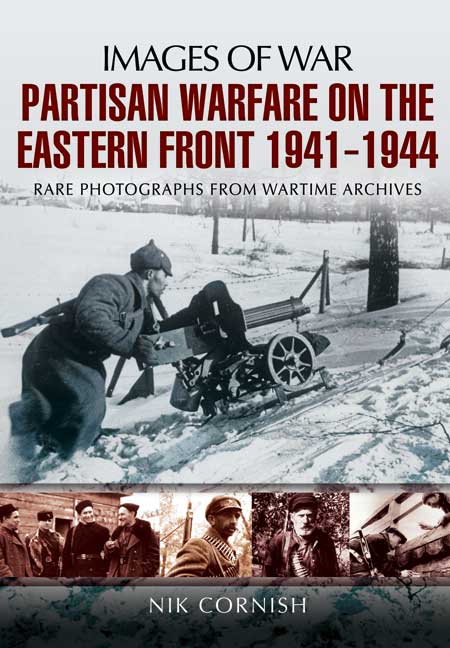 As someone who owns a modest collection of original photographs from the Eastern Front, I jumped at the opportunity to check out this recent addition to Pen and Sword's "Images of War" series. Nik Cornish's Partisan Warfare on the Eastern Front 1941-1944 contains over 150 images of Soviet partisans, most of which have been unpublished. This is not exactly a coffee-table book; instead, bound in softcover and containing 144 pages, it is medium-sized. While photographs with accompanying text make up most of this nine chapter book, each chapter begins with 3-4 page commentary.
In his commentary Cornish traces the role Soviet partisans (or as I prefer, "Soviet-aligned partisans") played on the Eastern Front. He begins by highlighting the "long and honorable lineage" of Russian guerilla fighters. Following the launch of Operation Barbarossa, Stalin immediately called upon partisan units to be organized for the purpose of disrupting the Nazi advance. They typically engaged in sabotage and other irregular methods of warfare from within Nazi-occupied territory.  The structure of partisan units is described. The Communist Party, the NKVD, and the Red Army all had a hand in the formation of partisan bands. The commentary covers important campaigns, tactics, and other issues related to partisan warfare.
Complexity surrounds the role of partisan warfare on the Eastern Front—a fact Cornish does not shy away from.  Undoubtedly the distinction between deserter, collaborator, and partisan was not always easily discernible—as readers find out. Cornish doesn't claim to present any new earth-shattering research, or propose a new thesis; instead, he aims to provide a "somewhat clearer picture of the tangled web" of Eastern Front partisan warfare. Cornish emphasizes the role Soviet-aligned partisans played, concluding by saying "There is no doubt that they made a definite contribution to the victory over the Third Reich by their very defiance." Though primarily a collection of images and not a scholarly work, this book provides a solid overview of partisan activity on the Eastern Front.
But what about the images? The images are pretty much what you would expect. Most are not official photographs, but "snapshots" recorded by partisans carrying along personal cameras. Most images are fairly interesting. Though I wouldn't consider the collection necessarily spectacular in terms of its uniqueness or artistic quality—once in a while you come across photographs that are unique because they depict something anomalous, or because they are aesthetically striking. Instead, the images in this book are relatively run-of-the-mill.  Typical images consist of mounted Cossacks, fighters eating or relaxing in the woods, executions, and units lined up in formation. There is a photo of the Warsaw Uprising (though I would have expected a few more). Most images are drawn from archives within the former Soviet Union.
A number of images are not of partisans, but of German units engaged in various anti-partisan activities. Army Group Center (AGC) receives substantial attention. These Axis images are drawn from Cornish's personal collection. Perhaps most interesting is the depiction of partisan weaponry and equipment. The Soviet PPSH-41 submachine gun is everywhere, but there are also images showing partisans with captured German weapons. Some photos show tanks, aircraft, railroad cars, and armored vehicles. In one interesting image, a dozen Polish fighters are shown crammed atop the tiny Soviet T-20 Komsomolets artillery tractor.
Partisan Warfare on the Eastern Front 1941-1944 is primarily useful to the specialist. General World War II readers will probably find it mildly interesting, but mediocre at best. The specialist, however, is likely to regard the images as valuable research material. The book is easily digestible (in fact, it could probably "read" in one setting). Still, its size may prove disappointing to some. With only 144 pages, it seems as though it should be longer and contain more images. Then again, this length is in accord with the rest of Pen and Sword's "Images of War" series. Although not without flaws, overall this book succeeds in most of its aims—namely in providing a well-rounded photographic telling of partisan warfare on the Eastern Front.
Reviewed by Nate Sullivan for War History Online
Partisan Warfare on the Eastern Front 1941-1944
By Nik Cornish
Pen and Sword Military
ISBN: 9781848843769