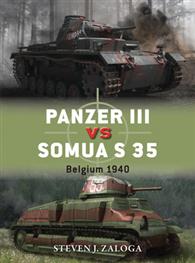 Ok, in our bit of the world liking tanks and other weaponry is not automatically considered weird and is part of the job description as it were, unlike the outside world where tanks can't really be judged evenly with, say, liking cats or cheese. Imagine being asked to choose betweena cruise round in a Challenger II or an evening enjoying a decent steak and a bottle of chateau de wherever with, say,Cameron Diaz. Do you see where I am coming from here? I bloody well hope so.Because I do like a tank and while I'm sure a meal and a chat with anyone who passes muster would be lovely, Osprey don't, as yet, publish books about steaks and or actresses.  Neither fall within our remit anyway and Steak History Online sounds utterly silly from where I am sitting.
The tank thing with me can be many and varied, but I do like the Blitzkrieg era stuff, especially the French tanks that were utterly outclassed by the panzers in 1940.Is my statement accurate and fair? Yes and no. The French tanks, especially the subject of this book, were pretty good bits of kit let down by some appalling ergonomics, especially for the hapless commander, who was expected to spin far too many plates to have any real hope of efficiency. He had to operate the main gun on his own and traverse the turret either electrically or by hand while getting on with commanding the thing. The poor sod just had too much to be getting on with. Compare this to that classic workhorse the Panzer III, which despite early frailties developed into a verypractical weapons system for its time. It had a sensible layout and was a primeexample of progress in tank design. You only have to put a Pz III and a Somuatogether and all this becomes clear.
Regardless of its eccentricities, the Somua S35 was not to be taken lightly. Unfortunately for it and all the other models in the French arsenal the problem was really one of tactics. Blitzkrieg demanded concentration of men and machines but the lads at the Grand Quartier Généraldidn't understand this idea at all and directed their response to it in penny packets and thus totally dissipated any advantage superior armour and armaments may have enjoyed. Other clues can be found in an apparent Achilles heal when we look at so many images of French tanks which had broken down.This same problem of reliability afflicted British Cruiser tanks and even the mighty Matilda II.  While we know the Panzer III was no stranger to mechanical problems, the image of it being like a consistently reliable Mk1 VW Golf in competition with a complicated 1970s Citroen kind of works as an analogy. What will happen now is we will receive a blizzard of complaints from Citroen fans and I take the opportunity, now, of wishing you both a Happy Christmas.
This book focuses on what the author bills as the first major tank battles of WW2 that took place in Belgium on May 12/13 1940. The Germans had correctly judged the Anglo-French would send the bulk of their armour into Belgium in reaction to the German invasion in line with a fixation on the strategy of 1914, allowing other panzer divisions the space to slice through the enemy in their race to the sea. The very pace of the German advance left the Anglo-French on the back foot from the outset and these encounters were in every sense reactive rather than proactive, with the Germans rarely deflected from viewing the big picture.
There are only eighty pages in this really nice book by the experienced Steven J Zaloga. Given the space provided, he doesn't muck about and gets right on with telling his story and it is easy to see why these Osprey books are so popular. For less than twenty of your American dollars or thirteen pounds sterling this book represents high quality value for money. Photography and superior artwork by Richard Chasemoreare used with skill and I can see why my colleague Phil Hodges danced a jig with his dazzling little legs when we arranged to review Osprey books. There will be more. This one is also available in eBook and PDF formats but I am a resolute print man and I will leave you to decide between ink and ether.
Blitzkrieg era armour has been relegated to be ugly sisters in comparison to the Cinderellas of the campaigns of 1944/45 in the west. It's panto season here in England and it's the right time to give these somewhat unloved old brutes a bit of the limelight.  The slipper fits and I have high hopes that the rest of the books we see from Osprey at WHO Central will be just as accommodating. Top marks.
PANZER III vs SOMUA S 35
Belgium 1940
By Steven J Zaloga
Osprey Publishing
ISBN: 978 1 78200 287 1