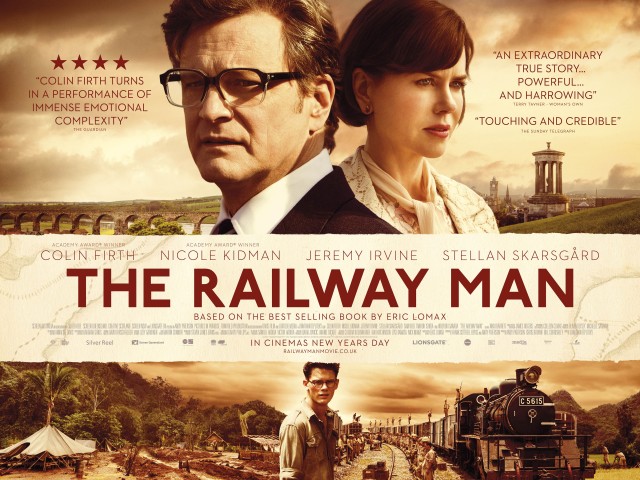 THE RAILWAY MAN
Directed by Jonathan Teplitzky. 116 mins.
On general release.
Review by Mark Barnes for War History Online
The story of Eric Lomax and his imprisonment following the fall of Singapore in February, 1942, is not one I have read much about. Some mates of mine have read his book and will tell you it is a tough but excellent read. Mr Lomax represents, it seems to me, something of an everyman for the many thousands of people who suffered terribly at the hands of the Japanese during the war, but in his own way he represents something more. He chose to face his demons head on and won. I've tried other books on this subject and I admit I find it particularly hard. Only recently I reviewed a history of the Lanarkshire Yeomanry and I found it crushed me. My only direct contact with those times is a visit to the British cemeteries in Hong Kong where many of the victims who died in a diverse number of territories overun by the Japanese are buried. The stories of some of these people are horrific in the extreme. It would be superfluous to comment on how I feel about this.
Why it is easier watching this history played out in the cinema is a mystery to me, but it is. I am no expert, but it seems obvious that much of the film output we've seen on the subject, from the obvious big guns like Bridge on the River Kwai and A Town Like Alice via picturesque vehicles for the likes of David Bowie right down to the almost comic cuts drama of stuff like those Blood Island movies only hint at the real horrors. The truth is things haven't really progressed that far with The Railway Man because we really don't want to see the absolute reality. The difference being this at times visceral movie is intensely personal and if you don't get the picture having seen it then I suggest you stick to the current trend for franchises of comic heroes.
This is a film about reconciliation and while it doesn't appear to move at a runaway pace there is no let up in the story building and the finale is rewarding. The actors are all up to scratch and the young Lomax played by Jeremy Irvine really stands out. Colin Firth adds his own authority to the film, as does Nicole Kidman and there is a, for me, surprise turn by Stellan Skarsgard who, along with Kidman, is the glue binding the story together. The principal Japanese actors Hiroyuki Sanada and Tanroh Ishida are excellent. I find myself wondering how difficult it must be for Japanese actors to play these roles. The most important thing is to not make them caricatures but instead to make them as real as the Europeans. This has been achieved with full effect in this movie.
The whole thing, from Scotland to Thailand looks stunning. I found all the POW scenes believable and in many ways uplifting. The prisoners' spirit of defiance is strong while their ordeal is ghastly.  I read recently of a man who came home from imprisonment to be told by a woman he must feel disappointed for having sat out the war. I'm sure I have it right that a good number of men who came back from captivity in 1945/6 were sent to the war in Korea presumably because someone in the bowels of the War Office decided they needed to pay the army back for time spent doing "nothing".
The wartime disasters of the British in the Far East killed off their imperial superiority over the countries they administered forever. But it took some years for this reality to become fact. The same thing is true of the Dutch and the French. Hard truths are difficult to stomach. This whole terrible experience, for the people at the sharp end, ordinary servicemen and many European civilians remains an open sore. There was a need to move on in the post-war world and the inevitable preoccupation with events in Europe cast a shadow over any hope of closure for the veterans of the war in the Far East. Reparations remain a thorny issue even as the number of survivors continues to wither. Eric Lomax himself passed away in 2012. The situation isn't helped by what we perceive as a continued sense of denial in Japan where even now some senior politicians ignore reality in pursuit of gaining narrow advantages.
Films like this one might create temporary bouts of anger towards modern Japan, but we have to be realistic. For all my own distaste at what they did, I still have my Japanese telly, my Nikon cameras and a Toyota to get me about. Just about gone are the days when you would hear of people who, like an aunt of mine, would never buy Japanese goods, but this line takes something of a pragmatic twist, the stance has not been helped by the sharp decline in British owned manufacturing. If we're being even handed, remembering the crimes of Nazi Germany, what is the difference with buying a BMW?
As said, this is a film about reconciliation and what it does for the people involved. For all his immense courage at the hands of his captors, the steps Eric Lomax took to save his soul and move on in his dealings with his tormentor go beyond mere bravery. He was a remarkable man and this world could do with a lot more like him. In a film short on humour, but so full of love and life the story of Eric Lomax is one we should all experience. Others movies will provide froth and awe; this one will let you in on a small slice of greatness. Mr Lomax and his comrades were heroic and we must never lose sight of this. When I got home from the cinema we found Saving Private Ryan was on the telly again. In that we see heroics of a different sort but however more palatable they may be for many of us there is much more to the Second World War story. Try watching these two films back to back and you will see what I mean.
http://www.railwaymanmovie.co.uk/html5.html