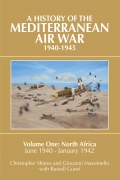 This is the first volume in an ambitious telling of the day-by-day story of the air war in the Mediterranean theatre of World War II. As you might expect much of this first instalment concentrates on the clashes between the British and Italians before the arrival of the Luftwaffe in North Africa.
There is an element of naivety about the opening contests as biplanes, British Gloster Gladiators and Italian CR42s do battle. There is a hint of an earlier conflict in this, but while it might seem a trifle quaint from this distance, this was not a game but a deadly encounter punctuated by odd moments of chivalry of the old school. The whole campaign in North Africa has been described as a war without hateand, it is true, the air combat element does seem to be imbued with this spirit.
But the casualties mount up as the British and Axis air forces vie for the all-important umbrella of air superiority. Once the Luftwaffe are on the scene and the Italians take something of a back seat the tension is ratcheted up. Thankfully, the format of this book allows us to follow the story with great ease and put ourselves in a position to get a strong feel of what was happening, who was dying and who was winning.
This is a bit of an unusual year with so much publishing output devoted to the money-spinning centenary of the Great War and while we are keen to highlight what is happening we don't intend to get bogged down in it. We have been discussing this and otherissues in the WHO staff room (the pub) and will continue to spread our interest across a wide history of conflicts. Happily, some publishers are giving us a lot of help. Here we have a truly superb, meticulous piece of historical research by the authors.
There is something deceptive about this weighty tome that almost sneaks up on you as you work your way through it. At first glance I had the impression it would be hard going and dry as a bone. Not a bit of it. This is a well-written and beautifully presented history. The layout is crisp and the amount of detail is immense. The photography, which is essential to a good history, in my opinion, is first rate.
I haven't seen any earlier work by the authors but they have a pedigree that invites a long hard look. You just can't produce this sort of stuff overnight. Decades of research, still on-going, is brought to bear with aplomb. This book exudes confidence and is the sort of volume you will find yourself dipping in to from time to time, or perhaps on specific dates, to look back at what was happening in the skies of seventy odd years ago. It serves to make the war in North Africa seem less distant than events in the skies over northern Europe and just as important.
I found myself enthralled by the details on the RegiaAeronautica, whose airmen were as brave and determined as anyone wearing RAF blue. There is something about the Italian aircraft, much like their cars, that I find so appealing and it takes me back to the time I bought an Airfix kit of a SavoiaMarchetti S79 from my local Woolworths in 1972. I can see myself a bit later seeing the Fiat CR42 displayed at Hendon and wondering how much front the Italians had to pitch planes like these against the likes of Hurricanes and Spitfires.
This book confirms the true history is a lot different, as the involvement of Gloster Gladiators suggest, but as the war progressed and the range of aircraftused by all sides engaged in battle expanded it is easy to appreciate that a huge and multifaceted story such as this needs a genuinely big book to do the telling any justice. We get it here.
The Luftwaffe add another dimension altogether and while it is useful to highlight the developing story of Hans-Joachim Marseilles it is not difficult to see there were many other aces and immensely brave airmen from Britain, her Dominions and Empire and the Axis powers. The story will expand as future volumes appear. I can't wait!

Reviewed by Mark Barnes for War History Online
A HISTORY OF THE MEDITERRANEAN AIR WAR 1940-1942
Volume One: North Africa June 1940 – January 1942
By Christopher Shores and Giovanni Massimello with Russell Guest.
Grub Street
ISBN: 978 1 90811 707 6