I have a good number of books from the publisher of this little gem that tell the story of the great battleships of the Dreadnought era. It is easy to forget that some of the most important naval vessels were not bristling with guns, nor did they weigh in at tens of thousands of tons. The supreme example of this is the mighty Higgins boat.
This excellent book by Charles C Roberts, Jr, ticks all the boxes for me. It is full of excellent archive photos, original publicity material, technical diagrams and CAD drawings. This is not a book you will get bogged down in under the weight of a thousands facts and hyper detail. Instead, the author sets out to tell a straightforward story and he does a pretty good job of it.
At the shallow end of the history, just about everyone reading this will know the Higgins LCVP from countless war films and dramas. All the Spielberg stuff comes to mind instantly and let us be honest and say those chunks of celluloid are an honest point of reference for us. But this book takes into the guts of the Higgins boat to show the superior nature of its design and construction and it takes time to marvel at the vast industrial power of the wartime United States.
I've never been much of a techy person and prefer the general history stuff and the stories of people and in this case we have the boat-builder Andrew Jackson Higgins of New Orleans and the equally important figure of an engineer named Francis W Beasecker, a marine engine specialist who had worked for Chrysler and a man who knew about operating ships on the Great Lakes. Beasecker is essentially the sort of unknown who should probably appear on postage stamps and have a warship named after him, but the quiet people usually slip under the radar and he appears to be one of them. As an officer in the Corps of Engineers he was heavily involved in the construction of Higgins boats and actually wrote the manual of how to build one. He was awarded the Bronze Star for his efforts.
This being a Seaforth book there is a fair degree of technical stuff that usually goes in one eye and out the other as far as I am concerned, but it isn't too arduous to get my head round and it all makes sense. Pictures of the construction phase help things along. I have to admit to finding all this detail quite interesting.
Aside from the boat itself we also get a look at it's power plant and details about the armament, performance and handling. Mr Roberts leaves no stone unturned in this respect and he goes to lengths to illustrate the qualities of the Higgins LCVP, there is even a parts inventory at the end!
It is a testimony to the quality of the design that over 23,000 were built and the combat history of this remarkable little boat should need no attempts at hyperbole from me.
Who will this book appeal to? Without doubt anyone with a fixation on amphibious operations will take much from it. The range of diagrams and drawings will be of great use to model-makers or perhaps you have a Higgins boat tucked away and could do with a set of plans. Look no further.
All in all this is a solid book well up to the standards I have come to admire from Seaforth Publishing. The author took his title from a quote by Dwight D Eisenhower and the great man obviously had a point. The Higgins LCVP was as vital to the Allied victory over the Axis Powers as any other piece of hardware we can name. This book will help us understand why and, as such, it is an essential addition to your naval warfare library.
Reviewed by Mark Barnes for War History Online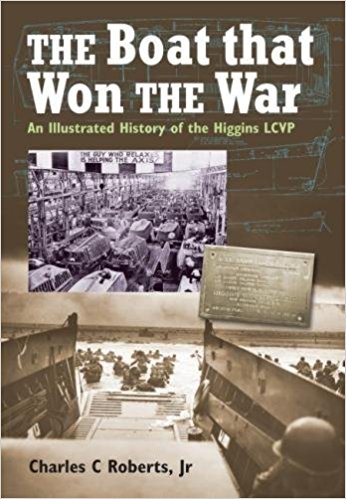 THE BOAT THAT WON THE WAR
An Illustrated History of the Higgins LCVP
By Charles C Roberts, Jr
Seaforth Publishing
ISBN: 978 1 5267 0691 1