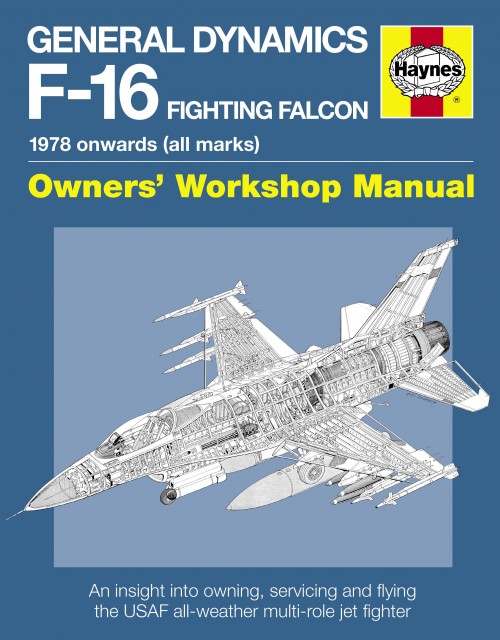 Here we have another Haynes manual that doesn't give you the gen on how to get covered in oil fixing something on your car. Once again I can make a cheesy and, let's be fair, redundant comparison to times past so park your Hillman Avenger or Plymouth Cricket in the garage, put the kettle on and settle down to look at this book.
I have a bit of a problem on this occasion because I am entirely unfamiliar with much of the history of the F-16, so had to get seriously into the detail of Blocks and other matters that are immensely important to the story. I don't think I'd even actually seen one of these aeroplanes in the flesh, as if that matters, until a recent trip to Belgium was punctuated by one screaming over my holiday residence; but it illustrates my point.
Thankfully, I am in the safe hands of Steve Davies who has produced a genuinely fascinating history of the aircraft and he presents it in such an easy-going style that I was able to grasp all the important stuff quite quickly.
The F-16 is one of the most important military aircraft of our era and has been in use with the United States and a plethora of other nations for some considerable time now. The way the aircraft has been adapted to fulfil several roles is fully explained by the author and it is interesting to see how it fits in to a range of aircraft in US service post Vietnam.
As ever with a Haynes book we get a full technical breakdown in addition to information on weapons and descriptions of the aircraft's combat experience. Both a pilot and a technician explain what it is like to work with the plane and there is much more besides including two pages of acronyms!
The use of photography is up to the usual high standards and I particularly appreciated the chapter explaining the uses and statistics for the aircraft in the hands of foreign buyers or production partners. For instance I did not know that the Italians took the F-16 on as a temporary measure while waiting for their Eurofighters.
All this sort of stuff serves to make this a very useful reference book and much more than a bit of fun.
It is nigh on impossible to dislike these books in my opinion and I always look forward to more. I always seem to end with the same open question wondering what the publisher will do next.
I would be pleased to see more like this that take me out of my comfort zone. For others the F-16 will be as familiar as the earlier types I expect to see covered, but it is a mix that makes this range of books so popular. Crack on!
Reviewed by Mark Barnes for War History Online.
GENERAL DYAMICS F-16 FIGHTING FALCON
1978 onwards (all marks)
Owners' Workshop Manual
By Steve Davies
Haynes Publishing
ISBN: 978 0 85733 398 8