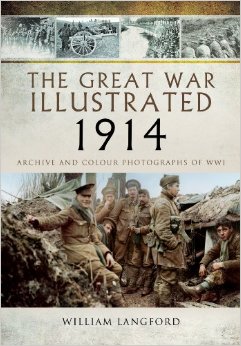 I've spent practically all my working life in the field of photographic archives. The way I work has changed immensely over the past decades, not least since the general use of computers washed over my world. I remember well when the first one arrived and we used it as little more than a word processor for a long time. But nowadays I have digital archives and vast resources at my fingertips. New systems come and go and this is where I begin to lose interest and look back on simpler times and console myself with the knowledge I still have to do a lot of my stuff by hand using my human eyes and through it my connection with the images (we don't call them photographs any more) and the people who made them is unbroken. This is very comforting.
We've already seen photographic books on the Great War and I have to be honest, they preach to the converted and any book would have to get things seriously wrong for me not to engage and recommend it to you.
This book by William Langford chucks in a blizzard of photographs. None of them stand alone and give themselves leg room for you to absorb them in isolation. They are not generally presented for their photographic merit. They are records crammed into a kaleidoscope of incidents and actors of a drama now well and truly back in our faces. I love it.
The IWM book I reviewed before had a theme that ran from first to last and it would be silly to assume this is an entirely different proposition. A lot of thought has gone into this book. The effect is diametrically opposite to the work I mention but they are closer to each other than is immediately apparent. This book is as subtle as a flying chainsaw and confronts the reader with so much information it takes time to gather it all in. Perfect! This means you can dip in and out and take your time with it. Best of all, this is just one year of the war and signals further volumes, well I at least I hope it does. It is a bit of a no brainer.
The colour image section is for those predominantly colourised images that some people like and some don't. I am in the latter group, but they do occasionally work and the skill involved impresses me.
Ultimately the book works on several levels. We see the people, great and small, who had their war; like it or not. We see events and places, ships and weapons. There are great photos and simple records all juxtaposed in a huge tapestry of history. Grand words – but, the proof is in the photography and the brilliance of the men (for they were mostly that) who carried the cameras. They are giants to me, they did fantastic things and so many of them are anonymous; with only their work left to connect with us. The more of this we can share the better. William Langford has got hold of the idea and I can't help get that bit of comic nonsense from Tommy Steele out of my head. Hold it! Flash bang wallop! What a picture!  Yeah, right! What a picture, what a photograph. There are hundreds of them here and the promise of more of this crash, bang wallop style of presentation makes me smile.
Review by Mark Barnes for War History Online
THE GREAT WAR ILLUSTRATED 1914
Archive and Colour Photographs of WW1
By William Langford
Pen & Sword Military
ISBN: 978 1 78159 346 2