You may remember a short while ago we saw the book of pivotal aircraft in the care of the Smithsonian.
That fine book only considered the exhibits in the museum's collection and not all aircraft since the days of the Wright Brothers.
This time round the focus is on the cockpits of important military aircraft and once again the author dodges the awkward bullet of blurring lines over great with greatest.
He is helped in some measure by reaping the benefit of a forward written by Eric 'Winkle' Brown, the most prolific military pilot of all time. With such a short time passed since his death, this book is a bit of an epitaph to the great man.
So, come on list lovers; let us Segway down the well-trodden path of merry pointlessness together. Hold on tight and mind out for that cattle grid.
The array of cockpits includes the Nieuport 28, SE5, Fokker Tri-plane, Camel, SPAD VII, Fokker D.VII, Martin MB-2, Hawker Hind, Boeing P-26, PZL P.11, Lysander, Spitfire, Bf109, P-51, Handley Page Halifax, Fw190, B-17, B-29, Wellington, Do 355 Pfiel, Me 262, F-86 Sabre, B-52, Harrier, F-14, MiG 29, B-1, Nighthawk, Raptor and F-35 Lightning II.
Phew! Are you still with us? These are only some of the cockpits illustrated and explained in this whopping great book.
The author takes a look at the layout and ergonomics of each cockpit and what the knobs and buttons do.
He invites people from the wide world of aviation to comment on many of the cockpits and this all adds depth. The photography by Dan Patterson is superb.
The use of archive imagery is well managed and doesn't distract from the main event. The impact of the design is as stylish as we have come to expect from Zenith Press.
You might look through the demi-list of subject matter I have offered up and think of several more aircraft you would like or expect to see.
We can all do it. I would like to have seen the Avro Lancaster and the English Electric Lightning or even the beautiful TSR2. I would expect to have seen a Zero or a MiG 15. But that is all froth.
You only have to look at the breadth of cockpits from a century of military aviation to see how careful the author has been in picking his subject matter.
This is a very intelligent and extremely rewarding book. It informs and it really looks fab.
I don't have the technical nous or any piloting skills to attempt to pick holes in the text. All I know is this is the sort of book I really enjoy for reasons oft repeated here.
You can pick it up and put it down at whim and take your time over it.
Working out the aircraft you would have included is just a bit of fun. It is not something to get hung up about.
The trick is to appreciate the knowledge of the author and understand you are getting something pretty special for your hard earned dosh.
They are a clever lot at Zenith Press. They are finding niche subjects and much bigger, simpler stuff to do and it all gets done with the same amount of vision and skill.
There is a consistency to their output it is impossible to fault. This one is definitely for serious aviation buffs and perhaps also for the more general reader.
It isn't a book I would have thought of doing and yet it makes so much sense.
I am sure Eric Brown, a man who flew close on 500 different types and made over 2,000 landings on aircraft carriers, would approve.
He was a bloke who knew all about variety. You will get plenty of it in this excellent book.
Reviewed by Mark Barnes for War History Online.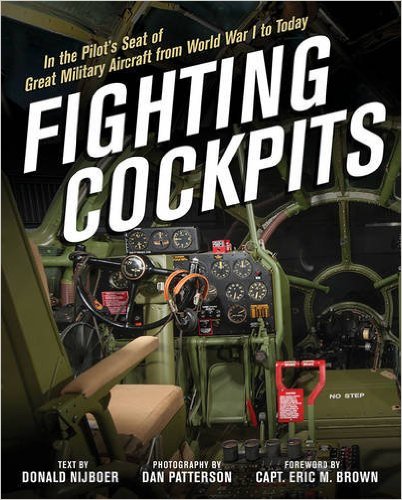 FIGHTING COCKPITS
In the Pilot's Seat of Great Military Aircraft From World War I to Today
Text by Donald Nijboer and photography by Dan Patterson
Zenith Press
ISBN: 978 0 7603 4956 4