I didn't start my battlefield pilgrimage in earnest until 2003. I went to Normandy that year with my family and friends. It was an outstanding trip filled with history and a lot of laughter. We mixed flying kites and running on sandy beaches with the more reverential stuff at cemeteries and monuments.
The image of my kids eating cakes and giggling in the rain on Omaha Beach is a fond memory. In 2004 we sought out the Great War battlefields and the trip did not go as well.
Our accommodation was too distant, and I wanted to do too much in the time allowed. I broke my camera. But despite the minuses, the big plus was being on the Somme.
There is a beauty to the place I have loved ever since, and I think about it all the time and cherish the many trips I have made since. On a later visit we took my finicky M151A2 out to drive round the familiar lanes and tracks we had come to know well. It was a hoot.
My photo of the MUTT on the Schwaben Redoubt with Thiepval beyond remains a standout image amongst thousands.
But the Somme means much more than just frolicking in old jeeps. It is a place fought over by practical historians and their emotional counterparts looking to interpret events of a century ago.
Because the first day of the battle has come to mean so much it has effectively swamped the following four months of valour, endurance, and immense sacrifice.
The Somme is shorthand for the futility and crass slaughter so many writers and class warriors seek. One awful July day is all the ammunition they need to trumpet the evil of the generals and the establishment in contrast to the resolute spirit of the men who died. There was much more to it than that.
The Somme was as complicated as any battle bedevilled by circumstance and events beyond the battlefield. Britain's role in the Great War goes much deeper than lions, donkeys or a menagerie of other convenient critters. It has to be seen in context with the years that preceded it and what was to follow.
Sadly in Britain, even the state is caught up in the futility of remembering futility. It chooses not to commemorate success or victory. For too many, the Somme is seen as a defeat, a disaster. It was murder.
Make no mistake, it was not a roaring success on a strategic level, but it was a place where an uneducated British Army picked up the challenge and began to learn how to fight in ways that would see outstanding victories in the last year of the war.
Nothing can be taken away from the near twenty thousand who died on day one. But their loss was not as unprecedented as many believe and while the figures are awful and an indictment of contemporary leadership they are not a finality. The education of tactics did not end on 1st July 1916.
But that is the big picture. The cemeteries of the Somme tell separate stories in the thousands. They keep the men who died a thousand different deaths in rain or shine, mud or dust, in valour or by happenstance.
The entire vista of casualties of war is on the Somme. It doesn't make the place stand out. You can go to Flanders and Verdun and see exactly the same thing. Like Passchendaele, the Somme is glued to a consciousness agitated poets and dreamers still find attractive.
They don't even have to form a physical connection with the battlefield getting blisters from new boots walking up Jacob's Ladder or crashing bikes in a bloody mess by High Wood. They can do it all from their tablet in a London coffee shop.
I can take you to places on the Somme that really matter for the history, or because of the men who died there and for what they mean to me. All battlefields are personal. For proof of this look no further than this gentle book by Sarah Wearne. I like it because it lacks any judgement.
Quite clearly she has deep feelings about the war, but they do not intrude. The book is borne out of a social media project, and I know from experience that maintaining them takes the discipline my own subsequently lacked. But the author sticks to the personal inscriptions of the bereaved made a century ago.
Their grief, their tributes do not need further enhancement. Explanation: yes. Interpretation: no. The device is simple as it is brilliant. Take an inscription from a soldier's grave and make him real for a new generation. A teacher friend of mine defines success on battlefield tours her 'A' Level students make in how many of them connect with the men whose graves they see by the thousand. The author achieves this here.
On a long battlefield trip, we would sometimes visit too many, and one of our number made the point it was too much, he was cemeteried out.
This lovely book removes all that and drives the impetus on to the individual in as fine a way as I can remember and it goes deeper than Trefor Jones' impressive On Fame's Eternal Camping Ground, a book I treasure because it includes my great uncle Les.
It is important to understand how the poetry and religious texts of the age impacted on the people writing the inscriptions.
We live in a very different world, but there is no doubt we would reach for popular and deeper verse of our own era if we had to do the same thing as the loved ones of the men lost a hundred years ago.
You would have to be a particular fish to make a book like this poolside reading for your summer holiday. But if the memorialisation of our war dead, on the Somme, or anywhere else, is important to your connection or understanding of the conflict then this is an essential little book.
I joined Twitter at the behest of a mate so I could share a photo of a sunset over a local fish and chip shop, but I don't do a lot of tweeting and have not seen the author's page.
This book evokes the mundane imagery the fallen knew as well as any other I have seen and it reaches out in a more permanent way than social media appears to manage but that is changing rapidly.
My son often says he hopes to be able to look back over the thousands of photos we've put on Facebook when he is my age so he can track our lives. I like to think the likes of Twitter and Facebook will not replace books, and this one shows they can work hand in hand.
But only time will tell. Imagine telling a man from 1916 that his epitaph could be shared by millions on a pocket sized telephone wherever they happened to be. He would be as shocked as many of us are today that he might climb up a ladder and walk into the storm that swept him away because he accepted it had to be done. We are so much cleverer, aren't we?
Reviewed by Mark Barnes for War History Online.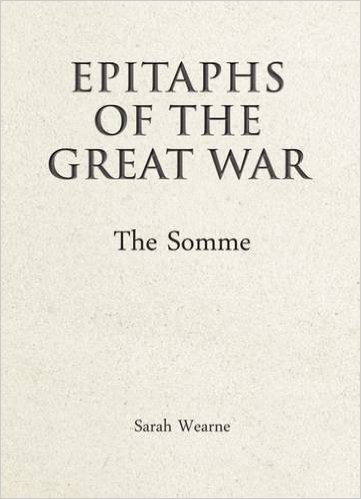 EPITAPHS OF THE GREAT WAR
The Somme
By Sarah Wearne
Uniform
ISBN: 978 1 910500 521
Visit @wwinscriptions