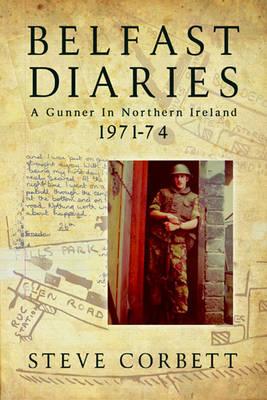 It was only a few books back I was describing the life of a man who was present in a series of pretty much forgotten counter insurgency operations in southern Africa.
Here we have a book which covers a relatively short period of time from a long conflict which, for some, is not entirely over.
Steve Corbett was a soldier who completed two tours in Belfast during some of the worst years of the Troubles forty years ago. He has written a well paced and absorbing account of what was a most trying period of his life. With the aid of contemporary diaries he has brought to life the best and worst of his service with a huge slice of panache.  The book sits well alongside AFN Clarke's Contact, a remarkable book for it's time and as powerful today as it was when first written during the eighties.
The author's method is fairly straightforward. He recounts noteworthy episodes from his service in a diary format. It is inevitably episodic, but the whole thing fits together as the tension is ratcheted up and then released. This formula works well and draws the reader in. It's only natural his perspective is strongly in favour of the mates he had with him at the time, but he achieves an element of balance when he describes injustices encountered by the civilian population. This is a story of countless personal tragedies. The book is accompanied by a good number of original photographs depicting the sometimes benign looking world events unfold in. Appearances often deceive.
Books such as this will present difficulties for some people, but a personal account like this must surely be valued. It's a period of a counter insurgency conflict that was never officially a war. It just felt like one. The tension and stresses of doing the author's job were immense and it really hits home how unpleasant things could get. But the camaraderie and bonds between mates was strong.  Going on leave could present unexpected problems and the author draws parallels with men home from the Western Front who found themselves in what seemed like an alien world and how they often couldn't wait to get back to where they felt they truly belonged. It's a premise we have seen many times before in print and on celluloid.
An important admission is the intense commitment and sheer ingenuity of the people Steve Corbett was up against. They were never underestimated and failure to be vigilant was sometimes disastrous. An awful lot was learned about counter insurgency operations and this was taken forward to later conflicts.
There is a thread linking the events covered here to the Falklands and on to the conflicts in the former Yugoslavia and Iraq. It forms part of a series of separate but, in essence, very much connected accounts of the major conflicts at the end of the 20th century and into the next. Without doubt Steve Corbett has done a good job describing the experiences he lived through forty years ago.  This might not, at first glance, be a conflict you had considered reading about, but if you place value on soldiers' stories this is a book for you.
Review by Mark Barnes for War History Online
BELFAST DIARIES
A Gunner in Northern Ireland 1971-74
Helion & Company Ltd
ISBN: 978 1 909384 07 1