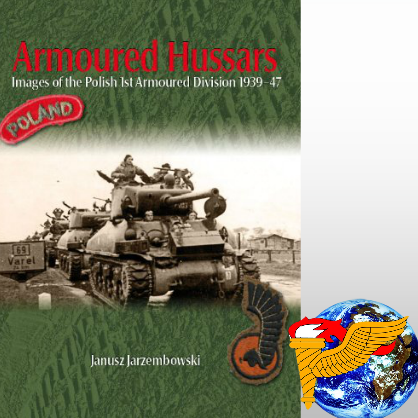 Here we have an eagerly awaited book that does not take much reviewing.  The author's father Alexsander was a warrant officer who gave a life of service to Poland. The book is made up from the photographs he collected over that time, in this case concentrating on the Second World War period up until the grim reality of Soviet dominance hit home.
The photographs are a delight and in the initial phase we see the juxtaposition of Polish soldiers wearing French uniforms while operating British tanks.  After a while things become standardised with the French kit set aside, but the identity of the Poles with their insignia and style is always evident.
Tank lovers will enjoy the progression of Renault R35s, Valentines, Churchills, Shermans and M10 Achilles and the inevitable images of knocked out German hardware including numerous StuG IIIs. The book begins with the Nazi invasion of Poland and while there are not a huge number of images they are all very interesting.
Ultimately, there is an awful lot to like here. The captions are excellent and the format is clean and tidy without any distracting elements.  I really like this book and it was well worth the wait from the time it first appeared in the publisher's new releases calendar.  It has plenty to suit the living history and model making fraternities and ticks all the right boxes. There really isn't any point in saying much more. Great stuff.
Review by Mark Barnes for War History Online
ARMOURED HUSSARS
Images of the Polish 1st Armoured Division 1939-47
By Janusz Jarzembowski
Helion & Company
ISBN: 978 1 909384 43 9