There is good news from Donington where a rare Goliath tracked mine has gone on display. The Goliath, used by German forces in World War Two, is the latest addition to the ever-expanding Wheatcroft Military Collection at Donington Park, Derbyshire, England.
The new addition is a petrol-driven derivative, and joins an electric powered version already on display at the collection. Having been unearthed in Germany, the Goliath has been restored to full working order, and it is believed that Donington Collections is the only museum to have versions of both the petrol and electric driven machines on public display.
For more information about the Wheatcroft Collection, visit www.donington-collections.co.uk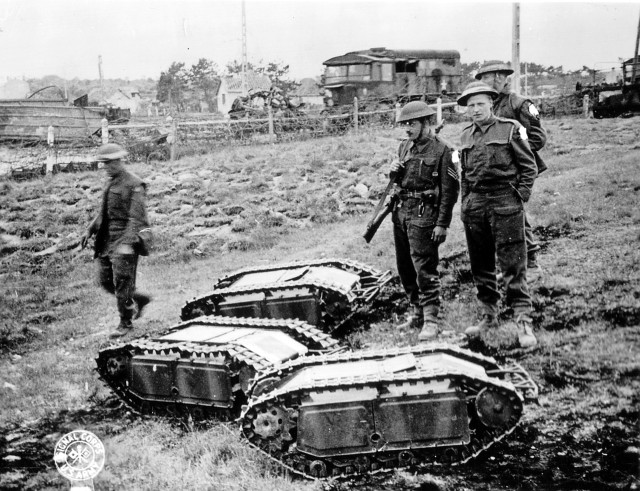 Goliaths were used from 1942-1945 and could carry up to 100 kilograms (220lbs) of high explosives, and were capable of destroying tanks or demolishing buildings and bridges. They were controlled remotely using a joystick control box attached to the rear of the machine by 650 metres (2,100 feet) of triple strand cable. Given their purpose, each Goliath was disposable; built specifically to be blown up to damage enemy targets.
Only around thirty original examples are now believed to remain in existence from over 7,500 produced during the war. With just a handful to be found in the UK, this addition is another rare artefact on display in the Wheatcroft Collection.
Kevin Wheatcroft commented: "I get immense personal satisfaction in sharing more and more of my collection with the public. This Goliath now joins its sister and spare display engine and we are now working on the ultra-rare trailer to complete the ensemble".
Having made a number of visits to Donington, the WHO team can attest to the outstanding quality of restoration work and the fascinating range of vehicles and equipment on view, in addition to a vast number of fabulous racing cars. The place has to be seen.
The Wheatcroft Military Collection is a world-renowned assortment of memorabilia and artefacts from World War Two and pays tribute to Donington Park's military past. The collection includes a range of tanks, armoured vehicles and incredibly rare motorcycles. As well as the Wheatcroft Military Collection, the Donington Collections also house the Grand Prix Collection, the world's largest display of Formula One and Grand Prix cars.