The Kakhovka Dam has been in the news as of late, over allegations the Russian military was behind its collapse on June 6, 2023. Along with allowing 72 percent of the water from the Kakhovka Reservoir to spill over nearby residential areas, the collapse has caused an environmental disaster, impacting food supplies, animal life and the safety of drinking water. As the water recedes in Ukraine, a completely unrelated discovery has been made: skulls of WWII-era German soldiers.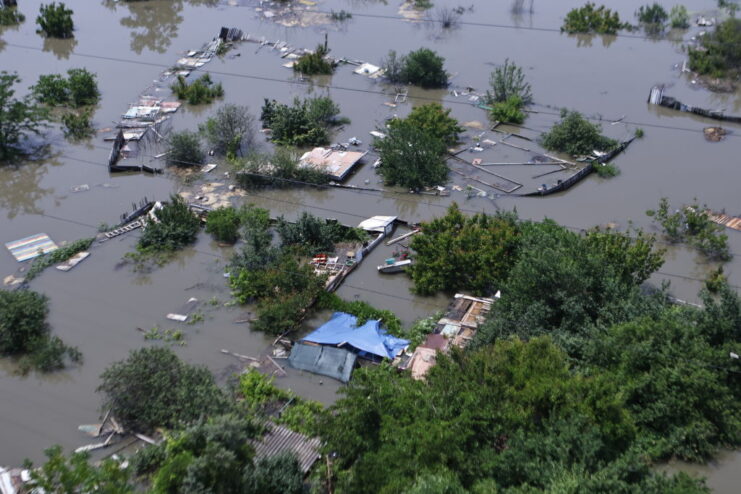 According to the Telegram channel Politika Strana, the skeletal remains were found in the mudflats at the bottom of the reservoir, in the Kherson oblast. The video footage shows that some of the skulls are wearing military helmets, which are similar to those worn by Wehrmacht soldiers during the Second World War.
Historians in Ukraine have suggested the skulls may date back to the Battle of the Dnieper, which was fought in the region during WWII. One of the largest campaigns to have occurred during the conflict, in terms of manpower, it saw 2.6 million Red Army soldiers take on just 1.1 million Germans.
Over the course of four months, from August-December 1943, the Soviets won themselves a hard-fought victory against Germany.
Speaking with The Guardian, Oleksii Kokot, a Ukrainian German military relics expert, said "dead German soldiers were just left lying in the fields," meaning "these could really be German soldiers." Andrii Solonets with the National Museum of the History of Ukraine in the Second World War added, "The losses of German and Romanian troops were up to 20,000 people. So in theory this video showing the helmet and skull could be linked to those events."
The flood of the Dnieper washed away the German military graves of the Great Patriotic War pic.twitter.com/ldu3zEnKAW

— Sprinter (@Sprinter99880) June 11, 2023
The discovery of the skulls has yet to be verified, with Ukraine's government not yet having commented. This has led some to speculate the video is a hoax, with one Twitter user saying, "What makes me suspicious is the skull with helmet. I can't see how the helmet could stay attached to the skull."
While the skulls' authenticity has been put into question, there have been other WWII-era relics discovered in the same region of Ukraine. In fact, the country's interior ministry had previously warned people to not walk along the reservoir, as ammunition had been unearthed. A controlled explosion to remove the hazards was conducted on June 10, 2023.
More from us: Retired Soldiers 'Strenuously Object' to Removal of Confederate Names from National Ranger Memorial
According to The Guardian, if the remains prove to be Wehrmacht soldiers, their recovery will involve the German War Graves Commission. For officials to visit the site, it's likely they'll have to wait for the Russo-Ukrainian War to conclude.