Virgin Galactic, the spaceflight company founded by billionaire Sir Richard Branson, is raffling off two tickets for flight aboard the VSS Unity spacecraft. Individuals worldwide can enter for a chance to win while supporting the non-profit Space for Humanity.
Virgin Galactic's historical spaceflight
On July 11, 2021, Branson and his crew became the first civilian astronauts to reach the edge of space. The flight took off from Spaceport America in Sierra County, New Mexico at 10:40 a.m. EST, marking the fourth test flight for the VSS Unity.
After reaching an altitude of around 45,000 feet, the plane dropped from its carrier craft, the WhiteKnight, ignited its single-rocket engine and flew 53.5 miles above Earth to the edge of space. According to the Federal Aviation Administration (F.A.A.), the edge of space is located at 50 miles above Earth.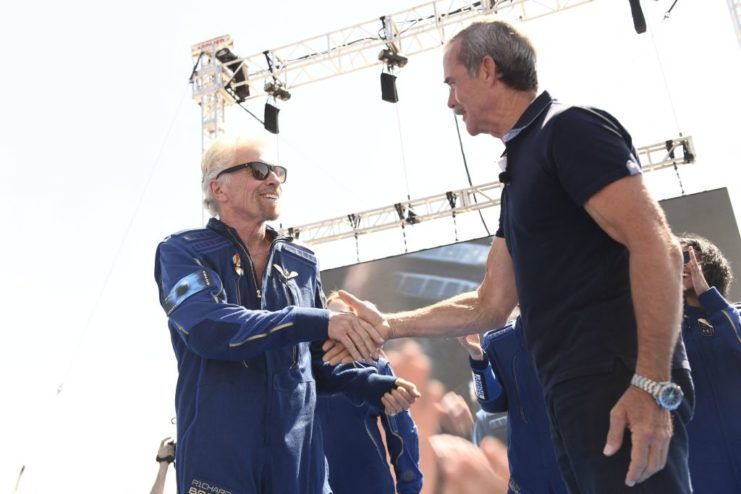 By 11:30 a.m. EST, the plane had touched back down. After disembarking from the plane, the six crew members of the VSS Unity were awarded pins by Canadian astronaut Chris Hadfield, inaugurating their new status as commercial astronauts.
A once-in-a-lifetime sweepstake
Branson has announced Virgin Galactic is holding a charity sweepstake with fundraising company Omaze for two tickets on one of the VSS Unity's first commercial spaceflights. Along with the grand prize, the winner and a guest will be joined by Branson for a personal tour of Spaceport America and will be given free accommodations and travel.
"Having flown to space, I can see even more clearly how Virgin Galactic is the spaceline for Earth," said the billionaire. "We are here to make space more accessible to all and turn the next general of dreamers into the astronauts of today and tomorrow."
Entrants are suggested to donate a minimum of $10 to enter the sweepstake, although payment isn't required. Each $10 donation is equivalent to 100 entries, and a cap of $300 has been set.
The sweepstake is in support of Space for Humanity, a non-profit organization aiming to send citizen astronauts of diverse economic, racial, and disciplinary backgrounds to space. They would like civilians to experience the Overview Effect, described as "the cognitive shift in awareness that occurs when a human looks down on the Earth from space."
Speaking with USA Today, Omaze CEO and Co-Founder Matt Pohlson said, "Richard [Branson] and Space for Humanity are pioneering in democratizing access to space, making it something not just available to the ultra-high net worth individuals or astronauts, but available to all humans. It's really about making it available for everybody."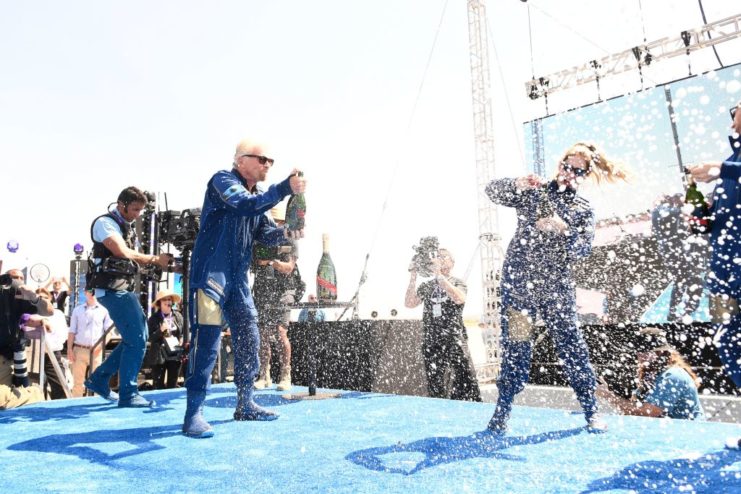 The sweepstake is open to those worldwide who are above the age of 18. It runs through August 31, and the winner will be announced on September 29. They and their guest will have to prove they're vaccinated against COVID-19 to be eligible for the prize.
The future of commercial spaceflight
In the lead-up to the July 11 flight, Virgin Galactic was selling tickets for those looking to book a seat on the first commercial flights to space. They were temporarily put on hold, but Branson plans to eventually resume sales.
More from us: Gamer Leaked Classified Information To Prove Developer Got Tank Wrong
The spaceflights are set to begin in 2022 and will take a total of 90 minutes to complete. Thus far, approximately 600 reservations have been made, with tickets being purchased for $250,000. According to Branson, prices likely won't drop for another decade.