The U.S. Senate has passed legislation requiring the Department of Veterans Affairs to introduce a program to measure the effectiveness of service dogs on veterans with post-traumatic stress disorder. The Puppies Assisting Wounded Servicemembers (PAWS) for Veterans Therapy Act will now be sent to President Joe Biden to be signed into law.
Support for veterans with PTSD
The PAWS for Veterans Therapy Act requires the VA to create a five-year pilot program that would train service dogs to be adopted by veterans with PTSD. It also allows – but does not require – the department to provide service dogs to veterans suffering from other mental health conditions.
The bill is different from one recently introduced in Congress, which would require the VA to create a grant program to pay for service dogs for veterans with PTSD.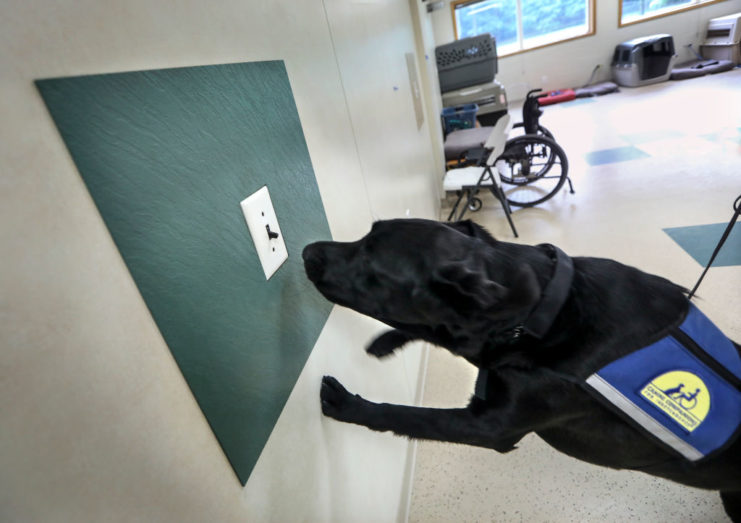 The program must be launched by early 2022 and be carried out by at least five VA medical centers. The facilities will partner with accredited service dog organizations to aid in the training of the animals.
After the five-year trial period, the VA must report its findings to Congress, after which a decision will be made regarding whether the program should be extended or made permanent. If proven to be successful, Congress will consider expanding the program to address other mental health conditions.
Bipartisan legislation
The bill saw bipartisan support in both the House and the Senate. It passed the House in May and was voted through the Senate on August 6. It is currently awaiting signing by the President.
"Many veterans with mobility impairments have had their lives changed – in some cases, saved – by service dogs," said Sen. Ken Cramer, R-N.D. "Our bill will expand this treatment by launching a pilot program to make veterans with mental health issues such as depression eligible to receive service dogs."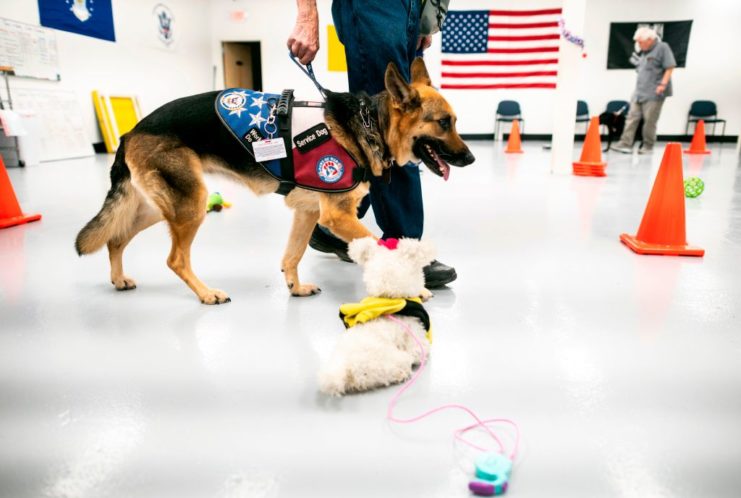 Sen. Thom Tillis, R-N.C., has made the passing of such legislation a priority of his. Speaking in a press release, he shared that he aims "to do everything to combat veteran suicide," and that "this legislation adds another tool in the toolbox for our men and women who served."
The legislation also has support from service dog organizations, including K9s For Warriors, a non-profit that pairs service dogs with veterans. "The pilot program will prove, again, the life-changing impact a service dog can make in mitigating a veteran's symptoms associated with post-traumatic stress," said Rory Diamond, the organization's CEO.
Service dogs and veterans
At present, the VA covers the veterinary costs of service dogs belonging to veterans with physical disabilities. The new legislation does not require it to do the same for those trained to provide mental health support, but does allow the VA to do so if the funding allows.
Service dogs trained to assist those with PTSD can learn a range of skills, including turning on and off lights, sweeping a room, and fending off crowds or approaching individuals by standing in front of or behind their handlers.
BREAKING: We unanimously passed the PAWS for Veterans Therapy Act, which will create a pilot program connecting service dogs to veterans. I'm glad to see this PAWSitive outcome.

— Sen. Maggie Hassan (@SenatorHassan) August 6, 2021
Supporters of the PAWS Therapy for Veterans Act say the use of service dogs in helping veterans with PTSD could reduce the amount of veteran suicides each year.
Between 2005 and 2018, nearly 90,000 died by suicide, while a 2016 VA study found an average of 20 veterans die by suicide each day. Today, more than 1.7 million veterans receive mental health care and support through the VA.
Decade-long study
Congress directed the VA to conducted a scientific study to assess the effectiveness of service dogs, as opposed to companion dogs, on those with PTSD. The decade-long study involved 227 veterans, 153 of whom were paired with their dogs throughout its duration.
Versions of the PAWS Therapy for Veterans Act have been introduced in Congress in the past, but failed to become law due to the VA's assertion that it was awaiting the results of the study.
The results were released in March and show that while both animals were effective, specially-trained service dogs better decreased the severity of PTSD symptoms in their handlers. The veterans paired with service dogs also experienced fewer suicidal behaviors and less suicidal ideation after 18 months.
More From Us: Dogs of War: New Memorial for Unsung Heroes of The Battlefields
It was noted that while both groups showed improvements in their mental health, there was no difference in physical health, nor a change in the level of disability of participants upon the study's conclusion.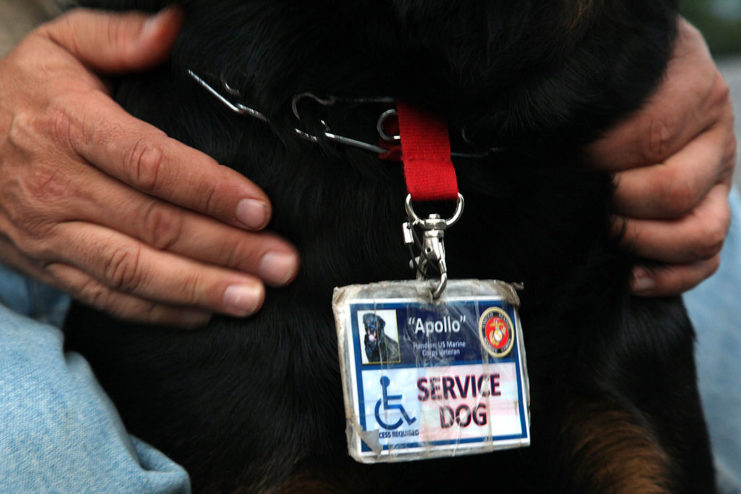 More results, including the cost-effectiveness of service dogs in regards to the treatment of PTSD, are expected in September.