Pearl Harbor, the morning of December 7th, 1941, nineteen-year-old Eddie Bloch, who had enlisted in the Army Air Corps in March of that year, had just finished Kitchen Patrol duty when he heard the roar of a fighter plane's engine.
Thinking it was an early morning exercise he and his crew decided to see what was going on.
To their horror they saw a formation of bombers diving across the harbour dropping bombs. In his diary Bloch reported, 'billows of black smoke and flames filled the air.'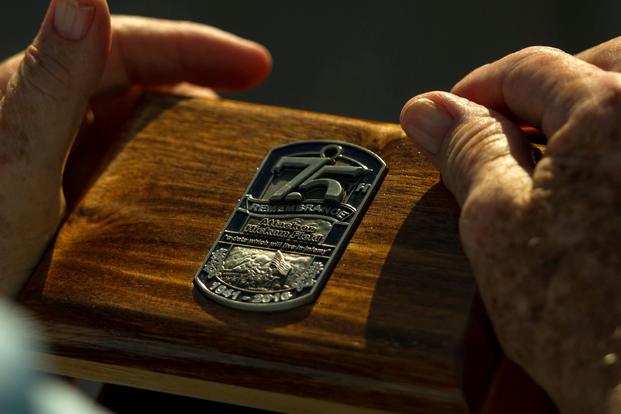 As soon as the dive bombers pulled up, they headed straight for where Bloch and his buddies were watching at Hickham Field, flying at a very low altitude.
Bloch judged they were flying at just seventy-five feet, 'not until then would we see the insignia of the rising sun on the side of their (air)ships,' he said.
As US soldiers slept the Japanese destroyed a hangar and row upon row of parked US aircraft.
Bloch described all of this in his teenage soldier's diary remarking that an armament store was 'blown to hell,' and that the firehouse was damaged so badly that it was impossible for the men to sound the alarm, besides, by that point there was no water pressure left with which to fight the fires on the base.
There were a few minutes of mayhem following the first wave of the attack as soldiers began to take stock and then another air attack arrived.
Bloch scrambled for cover under a building as soldiers on either side of him fell.
'I don't know how I was lucky enough to live through it,' Bloch said in his diary, which unflinchingly described the carnage of that fateful morning.
Edward Bloch, Pearl Harbor survivor who described the bombing in a diary, dies at 97 https://t.co/OOZ7HUe2Qn via @phillyinquirer

— George Tunstill (@GeorgeTunstill) March 27, 2020
As men escaped the burning barracks the Japanese pilots took aim and mowed them down, 'strafing everything in sight'.
Six men were gunned down trying to fight back with a machine gun. 'Some of the sights I saw made me sick at the stomach,' he wrote.
At one point the enemy flyers flew so low that Bloch says he was able to make eye contact with the bombardier, his most chilling memory.
The seven-hour assault on Pearl Harbor by the Imperial Japanese Military was designed as a preventative measure to dissuade the US from becoming involved in the Empire's ambitions in the Pacific.
However, the loss of 2,335 personnel and ten ships sunk and the destruction of 188 aircraft prompted the US President Roosevelt to call for a formal declaration of war.
The survival of the US navy Aircraft Carriers, repair docks and fuel depots meant that Pearl Harbor could be maintained as a strategic port throughout the war in the Pacific, supporting the Battle of Midway and the Battle of the Coral Sea.
Reliance on submarine warfare to blockade fuel deliveries to Japan and strategic air attacks meant that the Imperial Navy was pushed back, unable to advance.
Following the Pearl Harbor attack, Bloch remained in the South Pacific and served as a radio operator on B-17 and B-42 bombers, flying more than thirty missions and rising to the rank of technical sergeant before being honourably discharged in July 1945.
He enlisted with the idea that he would train as an aircraft mechanic but instead trained as a high-speed radio operator.
After the war, his technical skills won him a place at the Temple University Technical School, where he went on to teach for ten years after graduation.
Later he made a career in the emergent television industry as an engineer and cameraman before retiring to Florida.
In December 2016 Bloch returned to Pearl Harbor for the 75th anniversary commemoration of the attack. He died on March 9th, 2020, of cardiac arrest in a hospital at Pembroke Pines, Florida.
Star Trek's Mr Sulu Pleased California Will Apologise for the Treatment of Japanese in WW2
Details of his funeral are yet to be released.