The majority of military enthusiasts are aware of the importance of bomb-sniffing dogs, especially in times of war. One recently received state honors from Ukrainian President Volodymyr Zelenskyy for helping neutralize hundreds of Russian explosives.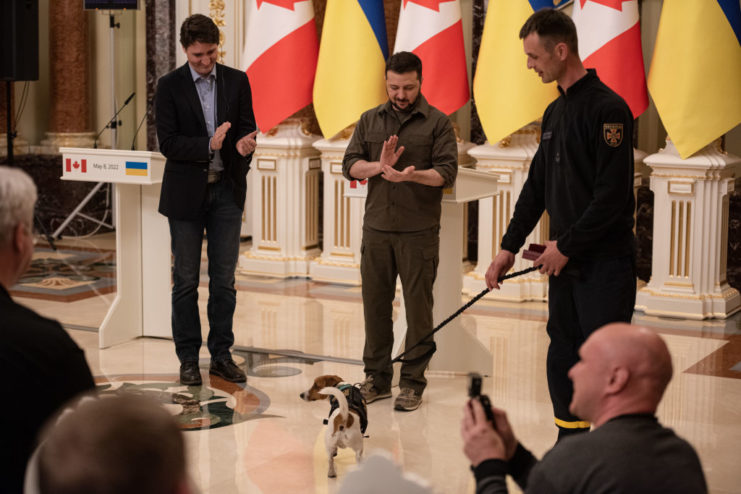 During a news conference held on May 8, 2022, Patron, a two-year-old Jack Russell Terrier, and his owner, Myhailo Iliev of Ukraine's Civil Protection Service, were presented with a medal. According to Reuters, Patron, whose name means "cartridge" in Ukranian, has detected over 200 explosives since the beginning of the Russia-Ukraine War in late-February 2022.
Also present at the news conference was Canadian Prime Minister Justin Trudeau. During the medal presentation, he jokingly searched for treats in his suit pockets, while Patron excitedly barked and wagged his tail.
Speaking in a statement later in the day, Zelenskyy noted how important Patron's work is. "A dog who helps clean our land from the tracers of the occupier, and who also helps teach children mine safety," he said. "Due to the Russian invaders, this is now one of the most urgent tasks – to teach children to recognize and avoid explosive objects."
Patron received his recognition. Among those who save the lives of 🇺🇦 every day are four-legged heroes. The most famous among them is Patron, a bomb-sniffing dog. In the presence of @JustinTrudeau, @ZelenskyyUa presented him an award "For Dedicated Work in the #UAarmy". pic.twitter.com/mssSTlfIKW

— Defense of Ukraine (@DefenceU) May 9, 2022
Iliev initially purchased the Jack Russell Terrier from a work colleague, with the intention of giving him to his son as a pet. He was professionally trained by cynologists to show how dogs can be conditioned to perform certain tasks, and when the war started was taught how to sniff out mines.
Patron was trained to sniff out the smell of gunpowder. Once the scent has been detected, he gives Iliev a signal, who, with his teammates, works to locate the explosive devices and defuse them.
Since the start of the war, Patron has become a national symbol in Ukraine, having been posted across the country's social media channels. His work has also inspired fanart, and his official Instagram account has amassed over 244,000 followers.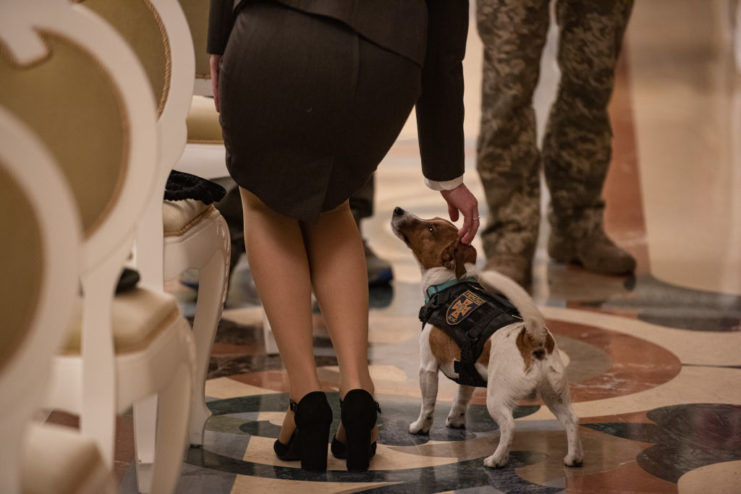 More from us: War Dog That Served in the Pacific Theater Awarded Distinguished Service Medal
Speaking with The Washington Post, a spokesperson with the State Emergency Service said at least 54,000 unexploded ordnances and mines have been found and deactivated in Ukraine since February.
Due to the amount of explosives, over 600 de-miners are working around the clock, with more being recruited to work across the country.