A recent row in small town Australia has prompted calls for a change in the law regarding the rights of an individual to fly flags on their own property.
The controversial decision of a middle-aged couple from Beulah, Cheryl Lawdorn and her partner Bill, to fly a Nazi flag in their back yard has prompted reaction from the Victorian State Premier Daniel Andrews.
SCROLL DOWN FOR VIDEO
The couple from Beulah put up their reproduction flag despite their eighty-three-year-old neighbour, living just across the street, being a Holocaust survivor who lost both parents to Hitler's gas chambers.
Locals told reporters that he was now frightened to leave his home fearing the Nazis had returned.
Neighbours speaking for the elderly resident told reporters how he still had the tattoo from when he was interned during World War Two.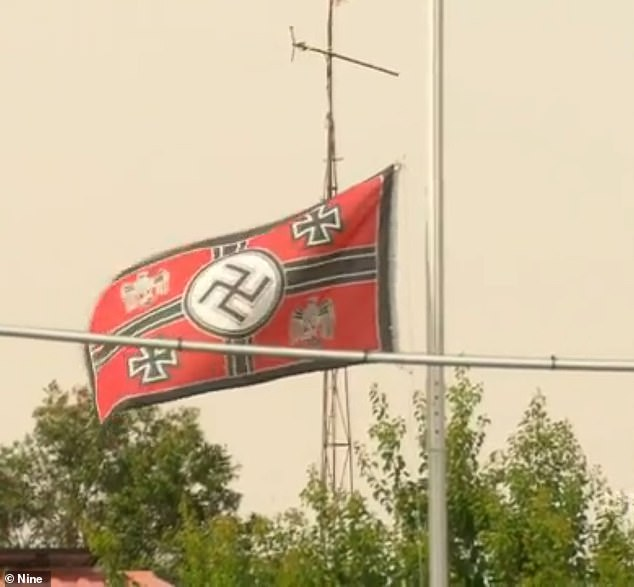 Yarriambiack Shire Council chief executive Jessie Holmes said yesterday there was little the council could do, except for asking the residents to remove the flag, which was adorned with swastikas, iron crosses and other powerful symbols of Hitler's Nazi regime. It was similar to the Wehrmacht flag used between 1935 and 1938.
'It's absolutely disgusting behaviour, and if there's any decency in that household they will take that flag down immediately,' said Premier Andrews.
Dr Dvir Abramovich, Chairman of the Anti-Defamation Commission has also lent his voice to the chorus of disapproval prompted by the couple's actions and their refusal to acknowledge the upset caused in their neighbourhood, which has spread across Australia.
'There is no perfect cure to this disease of intolerance, but a good step is to send the unmistakable message that Nazism has no place in Australia.' Said Abramovich.
Meanwhile a defiant Bill and Cheryl refused to take down the Nazi Flag despite pleas from neighbours saying they were pleased to have put Beulah on the map while pointing out that there was no law against their actions.
This was confirmed by the Local Police department, who had also made requests to the couple to remove the flag from public display.
Cheryl Lawdorn's statement that she was simply celebrating her German ancestry was rebuffed by neighbours determined to see the flag come down.
One told reporters he was contemplating 'jumping the fence' to take the flag down himself before burning it in the couple's driveway, such was his strength of feeling.
The couple have also had angry, foul-mouthed exchanges with reporters, which has endeared them to no-one.
'Nobody has come here and even said anything about the f****** flag, not even a neighbour, not even nobody so just f— off,' said Lawdorn.
The couple eventually gave in to pressure from their neighbours and allowed Police to lower the flag for them before leaving town for an impromptu getaway.
Townsfolk have come together in the days since the incident to promote inclusivity with a world flag event attended by sixty or so out of the three-hundred and twenty-nine strong population of Beulah.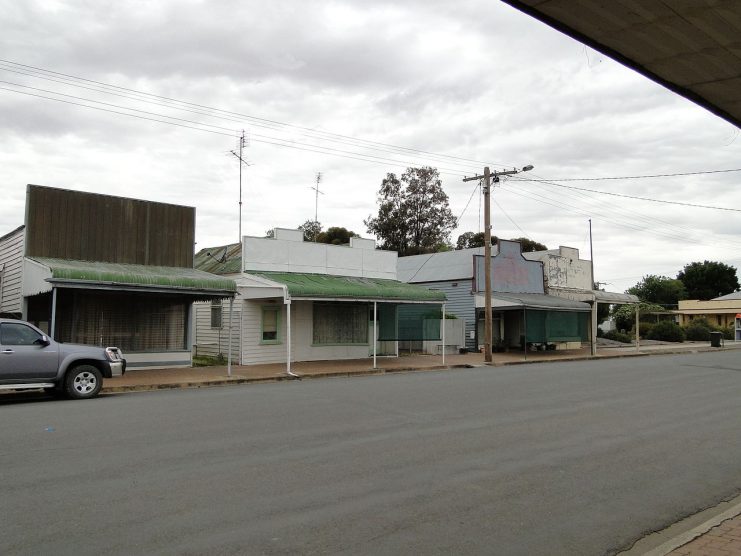 Flags from South Korea, Afghanistan, Canada, India and the Aboriginal flag were put on display by the local Historical, Learning and Progress Association.
Association Secretary Barb Moore said, '(We) just wanted to get together to show that we're a great town here and it's all good.'
The incident has sparked a debate concerning the public display of the Nazi flag and swastika.
Sales of flags and even T-shirts displaying the distinctive symbols adopted by the Third Reich have been questioned by those leading the campaign against what they see as a resurgence of Fascist ideologies around the world – the Nazi Flag being one of them.
The Australian State of Victoria is currently running an inquiry into race hate and is focusing on the worrying trend seen recently of increased reporting of antisemitic behaviour across the territory.
Another Article From Us: French Couple Discovered WWII Cache of Weapons Hidden in Their Home
Amendments have been tabled to the Legal and Social Issues Committee in the hope that such gaps in legislation can be closed, making the public display of such items an offence.