The last surviving participant in one of World War II's most daring air raids passed away Tuesday at the age of 103 years old.
Richard E. Cole was the co-pilot in the lead plane of the "Doolittle Raid" which was launched to retaliate against Japan's attack on Pearl Harbor months before.
General David L. Goldfein, chief of staff of the Air Force, announced Cole's death.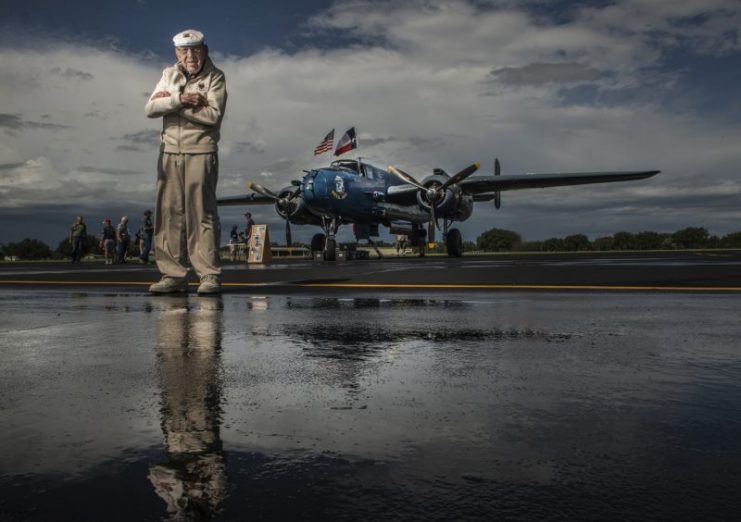 The Doolittle Raid took place in April 1942. It only caused light damage to military and industrial targets in Japan but it was a significant boost to morale back in the US after the shock and devastation of Japan's surprise attack at Pearl Harbor on December 7, 1941.
It also proved false the Japanese government's assurance to their people that they were not vulnerable to an attack by the American air force.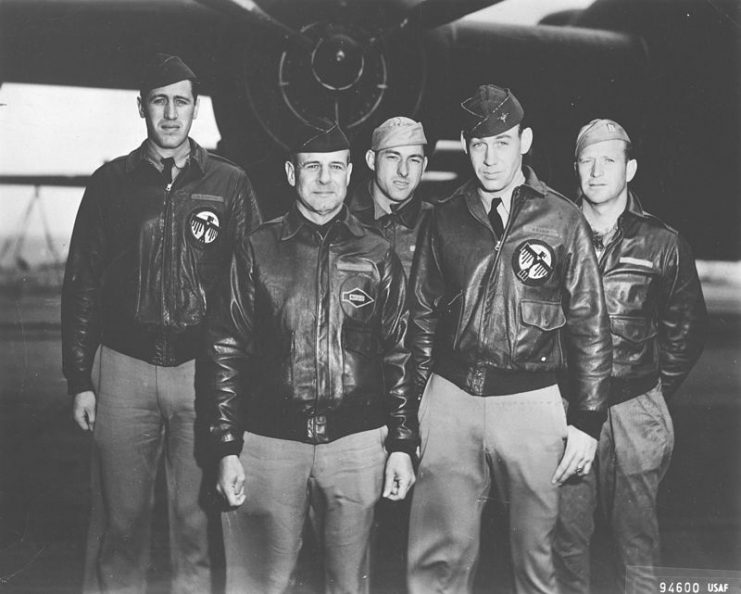 Japan mistakenly believed that the bombers in the Doolittle Raid had departed from the American base on Midway Island so they launched an attack of their own in June 1942 but were soundly defeated after the Americans had broken their code and were fully prepared to defend against the attack.
The raiders had actually taken off from aircraft carriers 650 miles from the Japanese coast. Colonel James H. Doolittle was the commander of the raid and he alternated flying to Japan with Cole.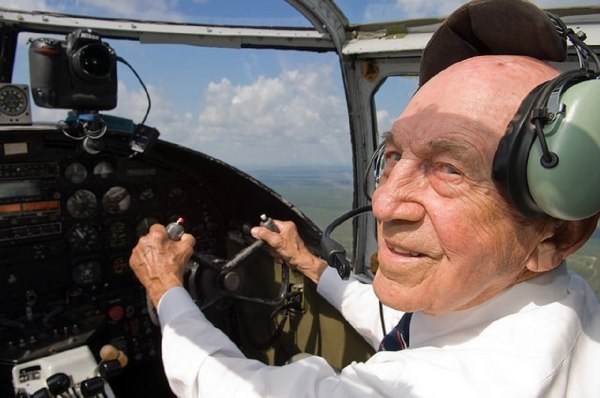 The crew noticed more than 80 Japanese aircraft on their way to Japan but were not engaged by any of them. Anti-aircraft fire left only a few bullet holes in the tail of their plane. This lack of a response from the Japanese is attributed to their belief that they believed the Americans were incapable of launching a full-scale air strike against their homeland.
After releasing their bombs, the crew flew at treetop level to avoid anti-aircraft fire. Civilians thought that they were part of a civil defense drill scheduled for that day and many waved at the plane as it flew overhead.
Once they had made their bombing runs, the planes were supposed to fly to China to land at airstrips prepared for them by the Chinese. The bombers were not capable of landing on the aircraft carriers they had taken off from. In fact, they had barely cleared the 500-foot deck of the Hornet aircraft carrier when they took off.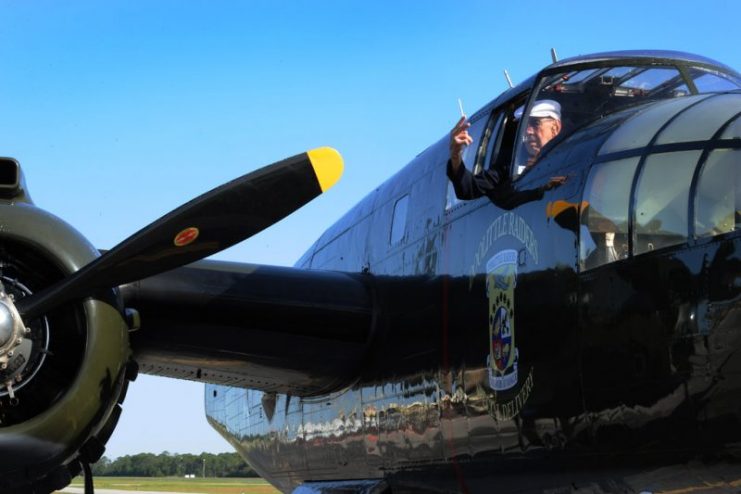 Low on fuel, none of the planes actually made it to China. Fifteen of the bombers crashed in Japanese territory or ditched into the ocean just off the Chinese coast. One of the bombers made it to the Soviet Union before running out of fuel.
Sad news today as we learn of Lt Col Dick Cole's passing. Rest easy, sir. You're legacy won't be forgotten. #DoolittleRaiders pic.twitter.com/3WcVacZ1Ii

— A-10C Thunderbolt II Demonstration Team (@A10DemoTeam) April 9, 2019
The five men in Doolittle's crew bailed out of their plane at dusk just after crossing the Chinese coast. Cole landed in a tree on the top of a mountain with no injuries apart from a black eye. He slept that night in a hammock fashioned from his parachute and then began walking at dawn until he met up with Chinese rebels.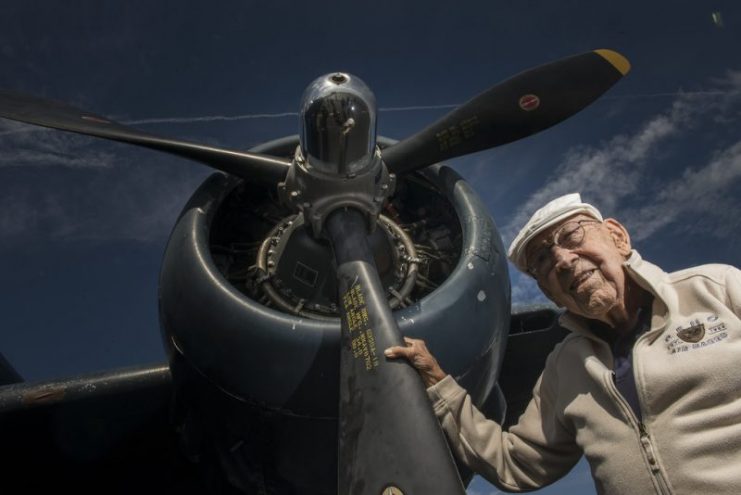 The entire crew from Doolittle's plane reunited and hooked up with other American airmen who had been rescued. They were led by the Chinese to an airstrip where a US military transport plane picked them up.
Of the 80 men involved in the Doolittle Raid, 3 were killed in crash landings or while parachuting from the planes. Eight were captured by the Japanese. Three of the captured men were executed and one died of starvation. The other four survived over three years of solitary confinement and brutal treatment.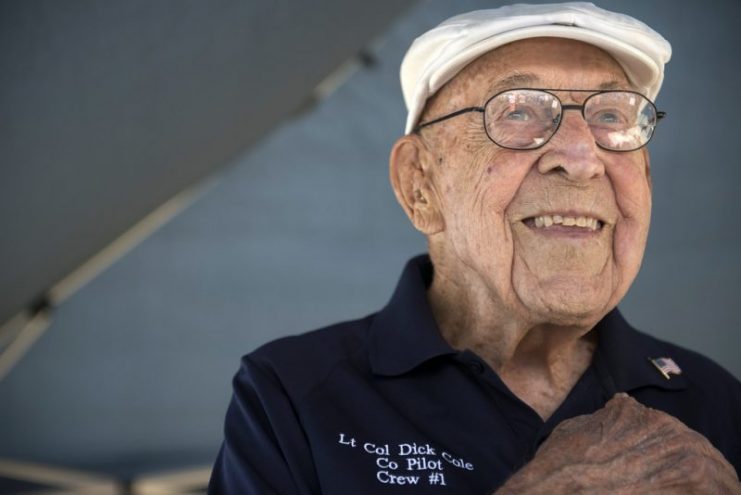 The surviving members of the Doolittle Raid gathered each year for a reunion where they retold the tale of their successful mission. Cole was one of three members to attend the final reunion on November 9, 2013 (Veterans Day weekend), at the National Museum of the US Air Force near Dayton, Ohio.
Cole flew transport planes over China for the rest of his time in the war. He retired from the military in 1967 as a lieutenant colonel. He was awarded with three Distinguished Flying Crosses for his service.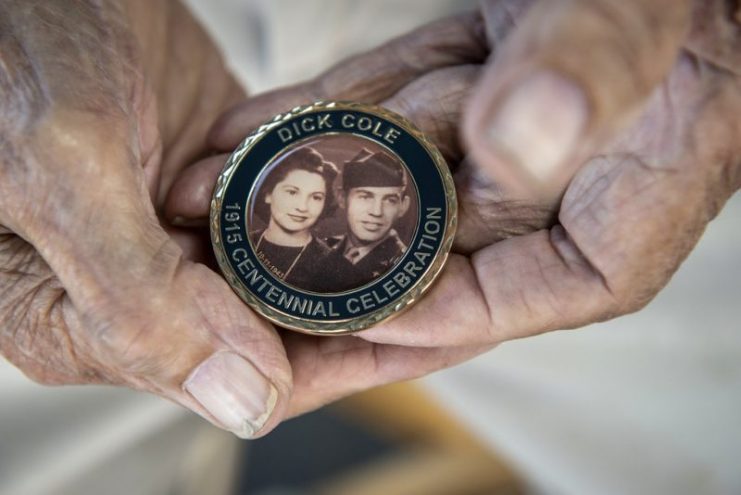 Read another story from us: The Doolittle Raid – American Planes Take Revenge For Pearl Harbor
After leaving the military, he settled in Comfort, Texas, near San Antonio. He owned a citrus farm.
In 2015, a book about him was published. It is called "Dick Cole's War: Doolittle Raider, Hump Pilot, Air Commando" and was written by Dennis R. Okerstrom.
We hope you enjoy our content. We think it's important to keep war history alive. If you do too, please consider becoming a supporter. Thanks.
Become a Supporter