Polish national, Krystyna Skarbek, was said to have possessed a near pathological enjoyment of dangerous situations. Her reported actions during WWII certainly bear out such an assessment, but without such disregard for her own personal safety it is believed many British agents would have lost their lives.
The English Heritage Blue Plaque, set on the wall of 1 Lexham Gardens, Kensington, London bears both her Polish name and the name Christine Granville, her English nom de guerre, which she decided to keep at the end of the war saying, 'I want to keep the name Granville that I have made for myself, and of which I am rather proud.'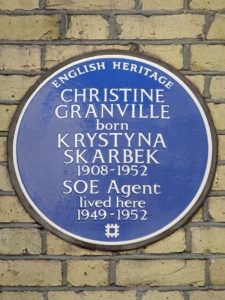 She had a lot to be proud of, as her biographer Clare Mulley said Granville, 'was one of the most effective special agents to serve Britain during the Second World War, male or female.'
Her dark-eyed beauty was legendary, and she had a talent for 'bewitching' men, which she used to great effect on many occasions. Ian Fleming is reputed to have based the double-agent Vesper Lynd, a leading female character in the first James Bond novel, 'Casino Royale' on the exploits of the wartime spy.
Granville preferred grenades to a pistol because she could defend herself against five men, 'or perhaps ten,' rather than just one at a time with a gun. She wore a razor-sharp knife strapped to her thigh and carried a map printed on silk so it would not make a noise if she was stopped and searched.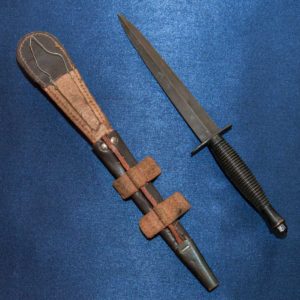 So where did such a remarkable woman come from? Born in Warsaw in 1908 into an aristocratic Polish family she learned to hunt on horseback, shoot, ski, and was a born linguist. In 1922 her need for excitement meant she was expelled from her convent school for setting light to the priest's cassock while he celebrated mass.
At the mountain resort of Zakopane, a magnet for the fashionable Polish set, she learned the local smuggling routes and would frequently ski back and forth into neighbouring Czechoslovakia, bringing back cigarettes. In 1931 she won a Miss Ski beauty pageant in Zakopane and became runner-up in the Miss Poland pageant too.
Her restless heart took her to London in 1939 just after the outbreak of war, leaving behind her second husband, a Polish count. She found her way to the headquarters of MI6 and presented her services where, despite reservations regarding her flamboyance and love of danger, she was accepted as Britain's first female spy.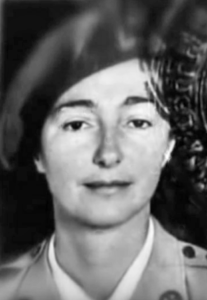 British author of the acclaimed novel 'War Horse', Michael Morpurgo, paid tribute to Granville saying, 'She fought for the Resistance in Poland …and saved countless lives including that of my uncle, also in the SOE.'
Polish Ambassador in London Arkady Rzegocki, said, 'I am proud and pleased that English Heritage is honouring Krystyna Skarbek with a Blue Plaque.'
She was awarded an OBE and the George Medal by the British government for her actions during WWII, which included convincing an entire Alpine garrison of Polish Nazis to defect, and saving a number of resistance fighters from execution in a French jail by convincing the Gestapo she was the god-daughter of Field Marshall Montgomery.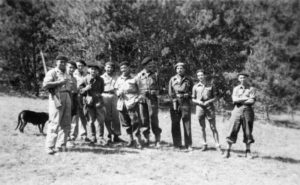 Along with the expertise in the use of grenades, her sharpshooting skills and resilience during extreme weather conditions or during torture, Granville's other effective weapon was her charm, said to be akin to a beam of light that could blind the most ruthless Nazi to her real intentions.
When the war was over, Granville found it difficult to find meaningful work, spending time as a waitress on cruise ships. The Shelbourne Hotel (now 1 Lexham Gardens) became her home in 1949. It was run by the charitable Polish Relief Society, and it was where she was murdered in 1952 by a disaffected former lover, who was himself hanged for the offence.
Another Article From Us: A Friend Asks For Cards To Make Veteran's Birthday Special
Biographer Claire Mulley asserted that Granville was more 'Bond than Bond-girl' and full details of this woman's remarkable story can be found in her book, 'The Spy Who Loved.'