Don Shula died on May 4th with his winning record with the Miami Dolphins still intact with 347 wins and six Superbowl appearances.
He started out as a player, but his career was interrupted when he was called up to train in preparation for deployment in Korea in 1952 with the 145th Armoured Regiment, Company C of the Ohio National Guard.
Shula spent almost a year at Camp Polk in Louisiana before the unit was disbanded. On his return to the game, his first outing almost lost him three teeth.
Whatever his strengths were as a player it was in coaching that Shula found his talent eventually being described as 'the winningest coach' in the history of American Football.
He took the Miami Dolphins and coached them through the only perfect season in the entire history of the NFL, forcing his rivals to wonder whether he could take any team in the league and turn them into winners, such was his reputation.
He was born in Grand River, Ohio, on January 4th, 1930 and was raised in Painesville, Ohio.
At the John Carroll University in Cleveland he played running back position, switching to cornerback as a professional player with the Cleveland Browns, then later with the Baltimore Colts and Washington Redskins over seven seasons. In 1958 he landed his first assistant coaching job in Virginia.
In 1960 Shula became the defensive coordinator for the Detroit Lions and then in 1963 returned to the Baltimore Colts as head coach at the age of just 33, making him the youngest man to hold the position in the history of the NFL.
Ten years later he took the recently formed Miami Dolphins and almost immediately turned them into a winning machine. He stayed with the Dolphins for the next twenty-five years, eventually retiring at 68.
With his reputation for inspiring teams to go the extra distance and to take belief in themselves to the winning level Shula found himself back in military service in 2009 at age 79.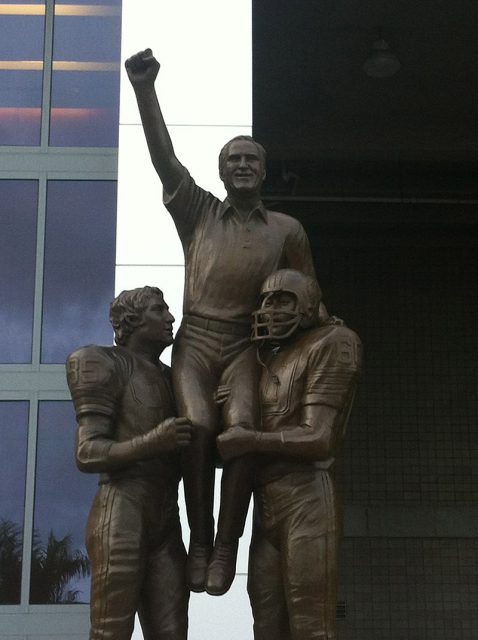 Along with Admiral Mike Mullen, chairman of the Joint Chiefs of Staff and NFL running back Warrick Dunn, Shula headed out to Afghanistan and Iraq on a morale boosting tour of American Armed Forces.
Shula was flown in a US Blackhawk helicopter across the desert, which was patrolled by the Taliban, wearing an army helmet and a forty-pound bulletproof vest, determined to do his patriotic duty and cheer on the troops.
His tour of duty started on the USS Ronald Reagan in the Gulf of Oman and took in Bagram Airfield in Afghanistan and Kandahar.
'Looking into the eyes of these young men and women, you saw so much hope,' said Shula of his week-long trip that July.
'The morale was unbelievable…you'd be amazed how many NFL fans there are among the soldiers and even more amazed how many Dolphins fans I saw.'
Shula met hundreds of servicemen and women as he travelled from base to base.
A planned trip to Baghdad was cancelled due to a sandstorm, but the indomitable coach just observed that, along with snowstorms in Foxborough and the rain storms that hit South Florida, it would be impossible to play a decent game of football in those conditions.
He set up the Don Shula Foundation to support breast cancer research after his first wife, and mother of their five children died in 1991.
He remarried in 1993. He promised his new wife he would take her travelling, but she didn't expect to be riding with her husband in a Blackhawk helicopter.
'When you think about seeing what those young people are doing to defend our freedom, it really is remarkable,' said Shula.
How a Mobster's Son Became a Medal of Honor Hero, New Video From Yarnhub
His family reported that Don Shula died peacefully at home and had not been ill. A private funeral will go ahead with a public memorial service to be held at a later date yet to be announced.