TikTok isn't just a place for fun dance trends and story times that get a bit too TMI (too much information). It's since grown into a platform with its own communities, among them veterans who are using their newfound followings to share their wartime stories. One of them is Jake "Papa Jake" Larson, who stormed Omaha Beach on June 6, 1944 as part of the D-Day landings.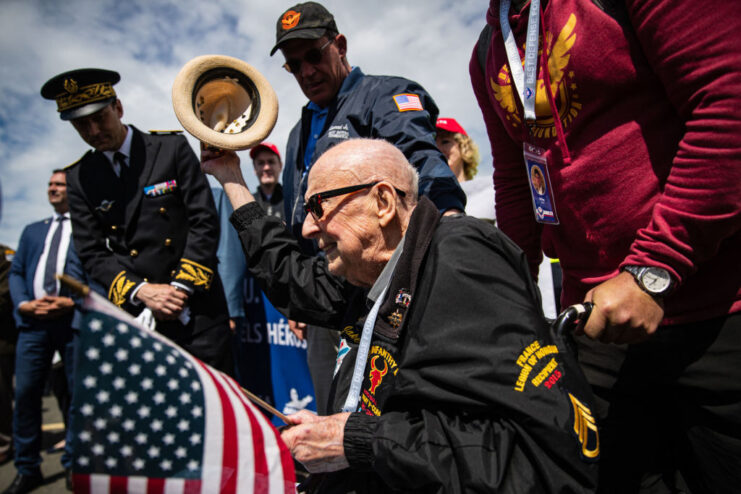 D-Day, which served as the opening stage of Operation Overlord, saw the amphibious and airborne landings of hundreds of thousands of Allied troops into German-occupied France. On top of personnel, the invasion force included 7,000 ships and landing craft, as well as Douglas C-47 Skytrains that dropped paratroopers right into Normandy.
Over 10,000 casualties were reported by the end of June 6, with over 4,400 being troops who were killed in action (KIA). Among those to have survived was Jake Larson, who, at 100 years 0ld, doesn't quite understand why he survived and so many others did not. Speaking with The New York Times in 2019, he surmised that he must be "the luckiest guy in the world."
Nearly 80 years on from that history-defining day, Larson is one of just a few remaining veterans to have served in the Second World War. Part of the "Greatest Generation," he's opened up about his wartime experiences to a TikTok following that, as of publishing, sits at over 618,000 followers.
Under the username @StoryTimeWithPapaJake, Larson uploads a mix of fun videos and recounts of his service in the conflict. He even shared the story of how the war brought him and his late life, Lola, together, in a touching even-part series.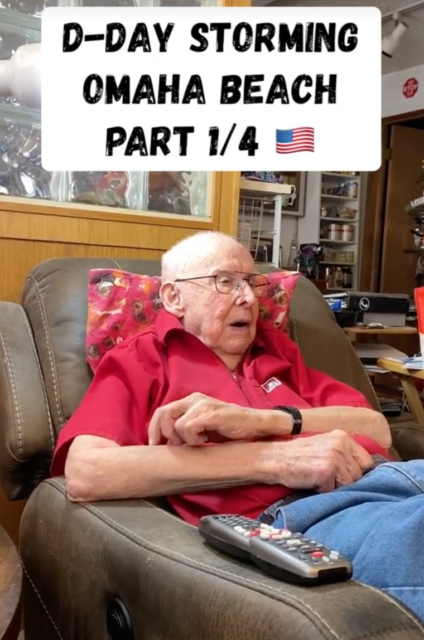 Jake Larson lied about his age to enlist in the National Guard when he was just 15 years old. He was subsequently deployed to Northern Ireland, where he was promoted to operations sergeant and tasked with assembling the planning books for D-Day. Following the Normandy invasion, he continued in his role until after the Battle of the Bulge.
He was 21 when he stormed Omaha Beach. He recalls hiding in a hole while German machine gun fire rained down all around him. Larson even remembers asking himself, "What in the world are you doing here, Jake?" For his service during the invasion, he was awarded the Bronze Star and the French Legion of Honor.
Speaking about his newfound TikTok fame, Larson told the Associated Press, "I'm just a country boy. Now I'm a star on TikTok. You can see me all over; 'Papa Jake.' I'm a legend! I didn't plan this, it came about."
More from us: Malaysia Accuses Chinese Barge of Looting World War II-Era Shipwrecks
Jake Larson recently commemorated the 79th anniversary of D-Day in Normandy. He even made a point of visiting the Pegasus Memorial, which serves as a reminder of the successful taking of Pegasus Bridge.