JAGDPANTHER TO APPEAR AT TANKFEST
The Weald Foundation and The Tank Museum are pleased to announce a last-minute addition to the TANKFEST 2019 line-up – the foundation's World War Two Jagdpanther.
The Jagdpanther, of which there are just three running examples in the world, was a German tank destroyer based on the chassis of the Panther tank.
The Tank Museum's Director, Richard Smith said; "We are very pleased to welcome the Weald Foundation and their Jagdpanther back to TANKFEST. We are all looking forward to seeing this beautifully restored vehicle in action again and running alongside an impressive line-up of tanks from World War Two.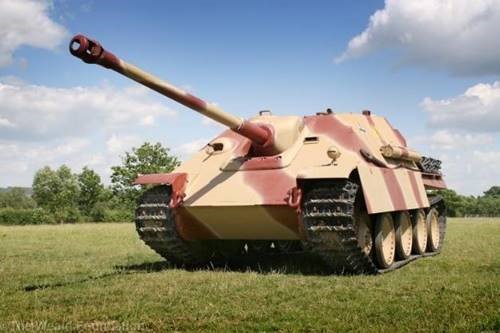 "This will include the Panther tank from Le Musée des Blindés in France – and the opportunity to see these two vehicles running together is something we know our visitors will be very excited about."
It will be the first time that a Panther and the Jagdpanther will have been seen in action together in the UK. It will be running on all three days of the event in a parade of World War Two tanks.
Around 400 Jagdpanthers were built in total and went into action later in the war, serving on the Eastern and Western Fronts. It was a formidable weapon – but fortunately for the Allies production of these vehicles was limited by shortages of raw materials and disruption caused by Allied bombings.
The Jagdpanther, which has been lent to the Museum by the Kent based Weald Foundation, last appeared at TANKFEST in 2017. The Foundation oversees a rare and unique collection of important tanks, armoured and soft skin military vehicles.
It is one of the finest working collections in the World and displayed two newly restored First World War French FT tanks at TANKFEST 2018.
Another Article From Us: Drunk Man Joyrides in a T-55 Through a Polish Town