One of the last of the heroes of Iwo Jima Williams said he was humbled by the Navy's decision to name the newly designated ship after him.
The Expeditionary Sea Base USS Hershel 'Woody' Williams was commissioned recently, at the US Naval base in Norfolk Virginia, with the 96-year-old Marine and Medal of Honor recipient present at the ceremony.
"May all those who serve aboard this ship that bears my name be safe and proud," said Williams.
Rear Admiral Ron Kitchener, commander of the Naval Surface Force Atlantic said, "This ship…is intended to go over the horizon and into harm's way… combat-ready and battle-minded."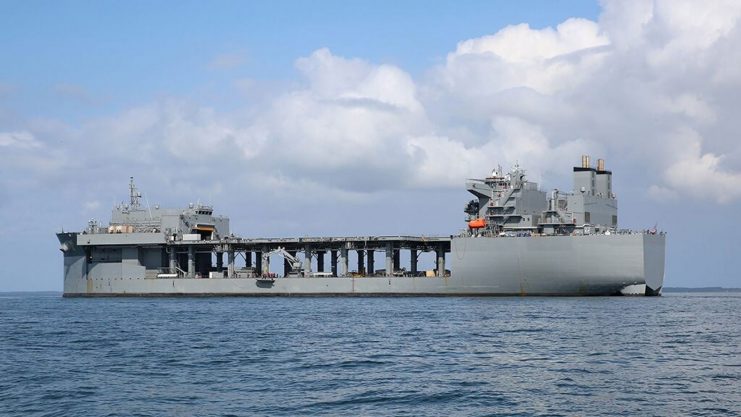 The ship was built as a support vessel and launched in 2017 but was since transferred from Military sealift Command and re-designated as a warship and is expected to be active in special operations and in the support of aerial anti-mine missions. This activity will free up other Naval assets for combatant roles.
Hershel 'Woody' Williams won his Medal of Honor when he was a demolition sergeant in the 3rd Marine Division by putting seven Japanese defence 'pill-box' positions out of operation.
US Army tanks were trying to force a way through an area littered with mines and peppered with Japanese machine-gun positions.
Williams supported by just four riflemen went forward on his own on a number of forays armed with demolition charges and a flamethrower.
He repeated this action several times, inserting flamethrowers into air vents and blowing up the concrete bunkers until the threat from the machine gunners had been considerably reduced.
The Imperial Japanese Army had spent a good deal of time building up their defences on the island with a vast network of bunkers and eighteen kilometres of tunnels while the US forces were able to dominate the airspace.
The US forces were bound to prevail however, as the Japanese had no way of resupplying or reinforcing their positions as the Americans had cut off all supply lines.
But it was not without loss on the US side with the aircraft carrier the USS Bismarck, lost at sea.
The Battle of Iwo Jima is considered by historians to have been the bloodiest battle in the Pacific theatre during World War Two.
Between February 19th and March 26th, 1945, the American invasion was won with overwhelming firepower but at a terrible cost with 6,800 US dead and three times as many Japanese killed.
The US casualties outnumbered those suffered by the Japanese at 26,000 men killed or injured.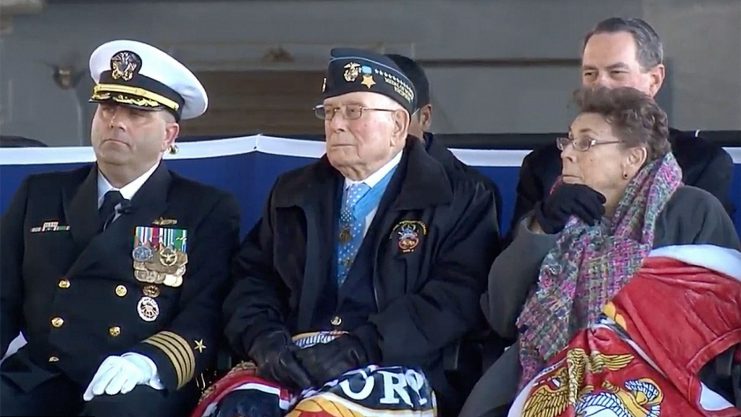 After the main battle was over the mop-up operation began in the Japanese tunnel system with up to three-thousand enemy combatants remaining active.
Two men, Yamakage Kufuku and Matsudo Linsoki continued to resist the US occupation of Iwo Jima until January 6th, 1949 when they were finally caught and forced to surrender.
The Expeditionary Sea Base USS Hershel 'Woody' Williams is a Lewis B Puller class ESB (Expeditionary Mobile Base) and was named in honour of Williams in an announcement by Navy Secretary Ray Mabus on January 14th, 2016.
The contract to build the vessel was awarded to NASSCO and her keel was laid in August 2016 with launch scheduled for October 2017.
Delivered to Military Sealift Command in February of 2018 she was put into service immediately and is expected to be deployed in the Mediterranean Sea in support of US and NATO missions.
Apart from the Littoral Combat Ship she will also be the first Navy vessel to deploy the Northrop Grumman MQ-8 Fire Scout rotary-wing UCAV. She is currently undergoing mine countermeasure equipment testing.
Army veteran becomes first African American woman aviator in U.S. military
The US Navy awarded the Medal of Honor to twenty-seven US Marines and US sailors following the Battle of Iwo Jima. Fourteen were posthumous awards.