The Royal Thai Navy has announced the warship HTMS Sukhothai (FS-442) has sunk in the Gulf of Thailand after getting caught in a storm that produced four-meter high waves and strong winds. As of publishing, 31 members of the vessel's 106-man crew are still missing.
ชี้แจงกรณี #เรือหลวงสุโขทัย (ต่อ) ทร. สั่งการเรือหลวงอ่างทอง เรือหลวงภูมิพล เรือหลวงกระบุรี เฮลิคอปเตอร์จำนวน 2 ลำ พร้อมชุดป้องกันความเสียหาย เข้าช่วยเหลือเป็นการด่วน ปัจจุบัน เรือหลวงกระบุรี ได้เดินทางไปถึงจุดเกิดเหตุแล้ว อยู่ระหว่างเร่งให้ช่วยเหลือกำลังพลของเรือหลวงสุโขทัย pic.twitter.com/CWUZQzfjHt

— กองทัพเรือ ROYAL THAI NAVY (@prroyalthainavy) December 18, 2022
The sinking occurred while the HTMS Sukhothai was on a routine patrol about 20 miles east of Bang Saphan district, Prachuap Khiri Khan province, in central Thailand. Earlier in the day on December 18, 2022, the Thailand Meteorological Department had issued storm warnings, which spoke of the possibility of high waves.
During the storm, the 252-foot long Ratanakosin-class corvette took on seawater when strong winds tilted it into the high waves. The water entered an exhaust pipe, shutting down Sukhothai's electrical system and causing the main power systems to fail. This meant the ship's crew members were unable to maneuver or pump out the seawater that had entered the vessel.
Three Royal Thai Navy frigates and two helicopters with mobile pumping machines were dispatched to the scene, but after three hours had to call off their mission, due to the weather. At approximately 12:02 AM on December 19, Sukhothai tilted further and sank below the water's surface.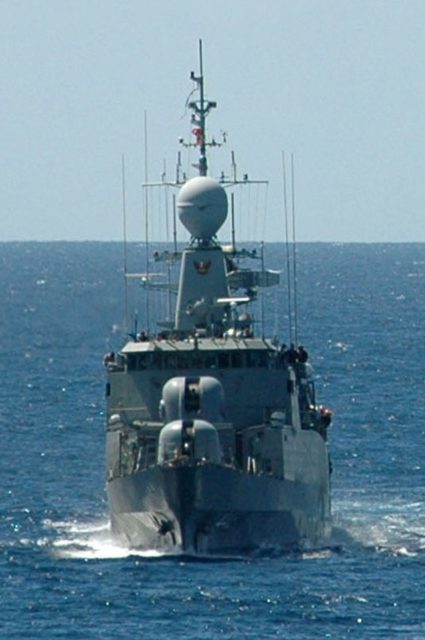 Following the HTMS Sukhothai's sinking, a search and rescue operation was underway to save the sailors stuck on the warship. These efforts were also hampered by the bad weather, meaning 31 crewmen remain missing. It's reported that 11 were taken to hospital, with three in critical condition.
Those who survived the sinking described the events onboard as chaotic, with Royal Thai Navy Commander Adm. Choengchai Chomchoengpaet revealing there weren't enough life jackets onboard for the 106 crewmen, as there were more people on the ship than usual.
"This operation, they added staff from the Marine Corps and Air and Coastal Defense Command, about 30 people," he explained. "This is why I think there were not enough life jackets." He added, "We have not found any dead yet. The 31 sailors remain missing persons. We have not found anyone dead from where the incident occurred and from the search area."
กองทัพเรือ ชี้แจงกรณี #เรือหลวงสุโขทัย

กองทัพเรือ ร่วมกับ เรือบริเวณใกล้เคียง ทำการค้นหากำลังพลของ เรือหลวงสุโขทัย ตลอดคืน ณ ปัจจุบันสามารถช่วยเหลือกำลังพลได้ 78 นาย จาก 106 นาย เหลืออยู่ในน้ำ 28 นาย ในจำนวนนี้ สาหัส 3 นาย pic.twitter.com/3WgQJWFk8s

— กองทัพเรือ ROYAL THAI NAVY (@prroyalthainavy) December 18, 2022
The 960-ton HTMS Sukhothai was ordered by the Royal Thai Navy in 1983 and constructed in Tacoma, Washington. She was commissioned four years later, with the intention being for her and the rest of the Ratanakosin-class to provide surface-to-air (SAM) and surface-to-surface missile capabilities within a highly-maneuverable platform. They were also intended to serve as flagships for the Navy's fast attack craft squadrons.
Sukhothai featured two diesel engines and two propellor shafts, which provided a maximum speed of 30 MPH and a range of 3,500 miles when traveling at 18 MPH. She was designed to house a crew of 87, of which 15 were officers, plus a contingent of flag officer's staff.
In terms of armaments, the warship featured two quadruple McDonnell Douglas Harpoon surface-to-surface missile launchers, one OTO Melara 76 mm naval gun, an octuple Selenia Alsag Aspide surface-to-air missile launcher, a twin Breda 40 mm cannon and a Rheinmetall 20 mm autocannon. In terms of below-water armaments, she was equipped with two Mk 32 Surface Vessel Torpedo Tubes with Sting Ray torpedoes.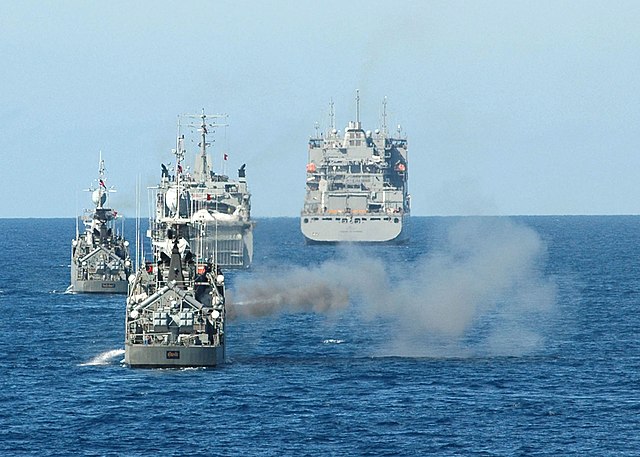 More from us: USS Arizona (SSN-803) Submarine Will Be the First Named After State Since Pearl Harbor
According to Thai news outlet Khaosod English, the loss of the HTMS Sukhothai is the first sinking of a Thai warship since World War II, when the HTMS Samui was sunk by a torpedo launched from the American submarine USS Sealion (SS-315) off the coast of Malaysia, killing 31 sailors.