Military game enthusiasts place a lot of stock in the authenticity of their online play, especially when it features real-life events and equipment. That was evident last week, when a player of the popular MMO game War Thunder posted classified information in an attempt to prove the game's developers incorrectly designed its Challenger 2 tank.
Design complaints
War Thunder bills itself as "the comprehensive free-to-play, cross-platform MMO military game dedicated to aviation [and] armoured vehicles from the early 20th century to the most advanced modern combat units." According to its Steam description, it has "over 2,000 highly detailed aircraft, helicopters, tanks, warships and other combat vehicles crafted carefully from historical documents and surviving sources."
Apparently, some of their military vehicles aren't accurate enough. Recently, a user by the name of Fear_Naught wrote on the official War Thunder forum that the game's developers, Gaijin Entertainment, made some errors when designing its Challenger 2 tank.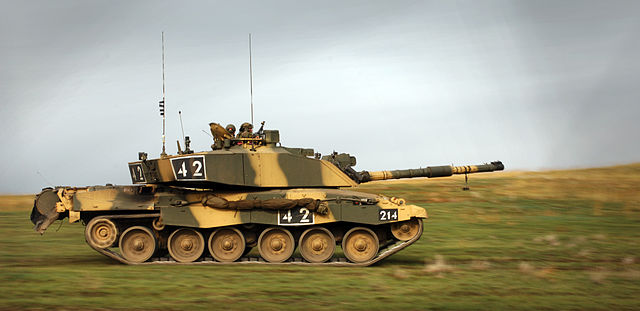 The Challenger 2 was introduced in 1994 and has been one of the British Army's go-to battle tanks. It was developed and built by Vickers Defense Systems (now BAE Systems Land & Armaments), and has seen battle in Iraq, Kosovo, and Bosnia and Herzegovina.
Fear_Naught claims to have been a Challenger 2 tank commander, a gunnery instructor, and a former member of the British Army's Armoured Trials and Development Unit. While it's currently unclear if this is true, their claimed location of Tidworth, Wiltshire, is home to the Royal Tank Regiment, which operates the Challenger 2.
Providing the evidence
According to Fear_Naught, the issue in War Thunder's design of the Challenger 2 relates to the gap between the base turret structure and the armor array. They claim the gap in the game's version is too wide and that in real life it's much narrower.
To further prove their point, they uploaded altered screenshots of documents they claim are from the official Army Equipment Support Publication (A.E.S.P.), a maintenance guide and manual for the Challenger 2. This is where issues arose, as the documents are currently classified.

"As I've stated a fair few times now, the complexity of the construction is sometimes difficult to see/show with pictures," wrote Fear_Naught. "It is so complex in [the Challenger 2's] case that I don't completely blame Gaijin [for] getting it incorrect.
"All I try to do is point out the areas where they are incorrect," they concluded.
It's illegal to share classified information
The document was swiftly removed by Gaijin Entertainment. According to a senior technical moderator, the company received "written confirmation" from the U.K.'s Ministry of Defence that it's classified and therefore illegal to post, as it violates the Official Secrets Act. The penalty for violating the act is a prison sentence of up to 14 years.
"Of this you are already aware," the moderator wrote. "As a service person you have signed a declaration that you understand the act and what actions it compels you to take. Every time you post this you place us (international representatives of Gaijin), especially any U.K. citizens, in hot water as the warning so helpfully states that unauthorized retention of a protected document is an offense."

Gaijin Entertainment community manager Scott Maynard also weighed in, writing the developers wouldn't make any changes to the way the Challenger 2, as the studio doesn't base its designs off "invalid source material."
More from us: Video Game Studio Makes Virtual Reality Training Simulator of the B-52
"Before any discussion, handling or bug reports are even made, proof of a document's declassification will be required, as well as where it was sourced from," Maynard wrote in the forum. "We make it very clear that we will not handle any source material unless it is publicly and fully declassified with the rights to prove that."
Fear_Naught received an official warning, and the forum thread was closed.