Incredible as it may seem, up until now the 4.7 million American service personnel who served in World War One never had their own dedicated National War Memorial. That all changed on Friday, April 16th, 2021, when the first colors ceremony took place in Washington D.C.'s Pershing Park to open the national WWI memorial.
Flag raised for the first time at DC's WWI Memorial
President Joe Biden made a virtual address at the ceremony saying, "Let's remember all that was sacrificed, all that was sanctified by our proud, brave Americans who served in World War I."
"The commitment and valor of the American women and men who stepped up to serve, whether here at home, or on the front lines in Europe was the same spirit that has always defined American service members."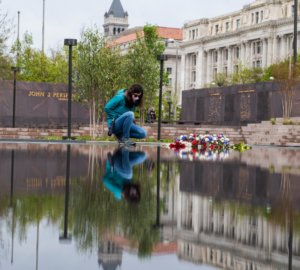 The particular flag used for the ceremony had been flown before in Washington D.C. on April 6th, 1917 to mark the 100th anniversary of American service in WWI. It had also been seen during commemorations on flagpoles at U.S. War Cemeteries in Europe.
A total of 116,516 U.S. service personnel lost their lives on the battlefields of Europe during World War I, and while there were memorials built in separate states in the U.S., there was never any momentum for a national WWI memorial until this century when, in 2015, the National Defense Authorization Act gave the World War I Centennial Commission permission to build the memorial in Pershing Park.
The Liberty Memorial in Kansas City was the first major WWI memorial constructed. It was a 217-foot high tower with a burning pyre on its top level. The tower was opened to the public in 1926 but fell into disrepair and was closed in 1994. It reopened in 2002 following a hundred-million-dollar renovation.
The District of Columbia built their own memorial on the National Mall in 1931, but it took until the 1970s before any further plans for national memorials were put forward, which WWI veterans found hard to stomach.
Telling their stories to remember them
The new memorial, located at 14th Street and Pennsylvania Avenue, was selected following a competition by the World War One Centennial Commission design team. They picked the 'Weight of Sacrifice' submission drawn up by Joseph Weishaar, Sabin Howard, Phoebe Lickwar, and GWWO architects. It is expected to be completed by 2024.
Lead designer Weishaar had said that looking through record photographs in the National Archives, he realized that he would have been among their number a century ago. "That would have been me," he said, and so was inspired to pass on the stories of the young soldiers to future generations.
"The only way that we can remember them is by telling stories," said Weishaar.
American soldiers arrived on European soil shortly after the U.S. declared war on Germany on April 6th, 1917, and then at a rate of 10,000 men a day all through the summer of 1918. The American Expeditionary Force was led by General John Pershing, for whom the park where the memorial sits was named.
The U.S. Army underwent a massive transformation during this time, with more than 4 million service personnel drafted into the war effort. President Woodrow Wilson hailed the war as the forefront of a progressive era that was expected to bring democracy and greater reform to all nations, despite much opposition at home.
More from us: Clayton Schenkelberg, Oldest Survivor of Pearl Harbor, Dies at 103
Another revolutionary change for the American armed forces was the enlistment of 11,000 women into active duty in the U.S. Navy. They served in non-combat shore roles, freeing male soldiers to join the fleet. After the war, they were demobbed and enjoyed the same status as WWI veterans.
With the memorial in Pershing Park, the brave men and women who participated in World War I now have a place of honor where we can remember their tremendous sacrifices.