Last week Thursday 22 August, a PBY-5A Catalina, a WWII-built Flying Boat/ Amphibian came over from The Imperial War Museum, Duxford, Cambridge, UK. to visit Lelystad Airport, The Netherlands.
Sweet memories for me, as the Cat owner Plane Sailing LTD was the Company that supplied us in the summer of 1994 their first Catalina VH-BPS, in which we flew over the Atlantic to the Americas  (see photos)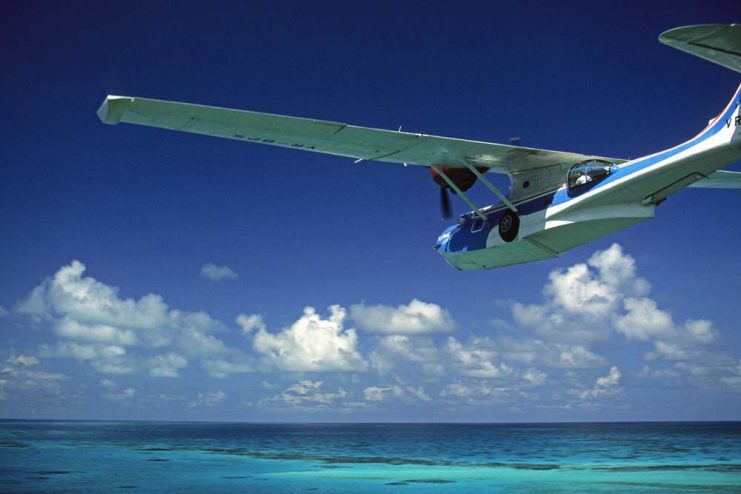 That was for all on board the 'Flight of a LIfetime', with water landings in Rio de Janeiro, in the Caribbean and finally in the Bimini Blue Lagoon.
The Golden Age of the Flying Boat was revived for a short while, with destinations and romantic water landings in remote Lagoons, next to faraway Beaches and in forlorn Lakes, small-scale outback resorts so unknown that you can not/no longer find them in any Travel Catalog.
The photos in my book and soon the video will give you an idea, this way of traveling is no longer existing in the World ruled by 747s and Monster Cruise ships, that bring in 500-3,000 people per day!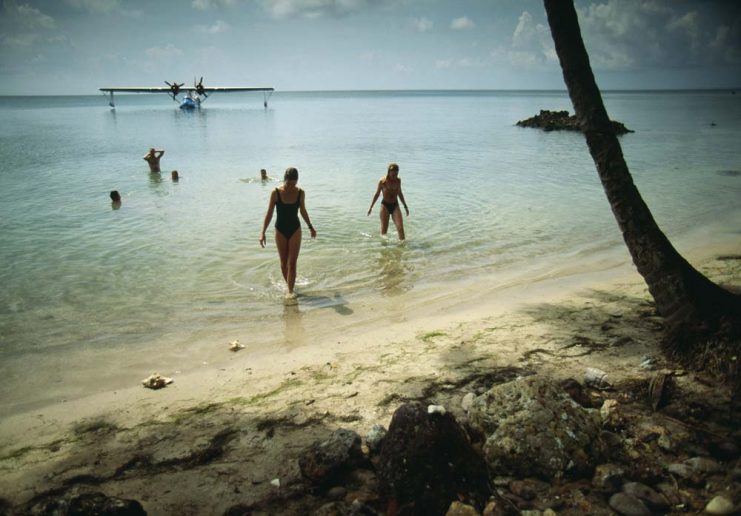 We flew in with only 18 people, landed in a spotted lagoon, and stepped out for a Lobster lunch. Soon, we took off again as if we had come with a local bus.
But our transport was faster and flew us, like on a Magic Carpet, to the next stopover at 100 mph /160 km/h at the shore of an unknown lake, where our unannounced appearance with a low flight overhead plus the ensuing water landing, left everyone totally perplexed!
That was Traveling of the Third Kind, I was brought up as a kid in such travel mode with Catalinas and Dakotas way back in the 1950s in the Borneo Jungle, that intense feeling never faded from my memory.
It made me conceptualize the 'Catalina Odyssey' TV-format and that was a most intriguing experience. One day, we should maybe do it again, such a trip is not for sale. not anywhere in the World.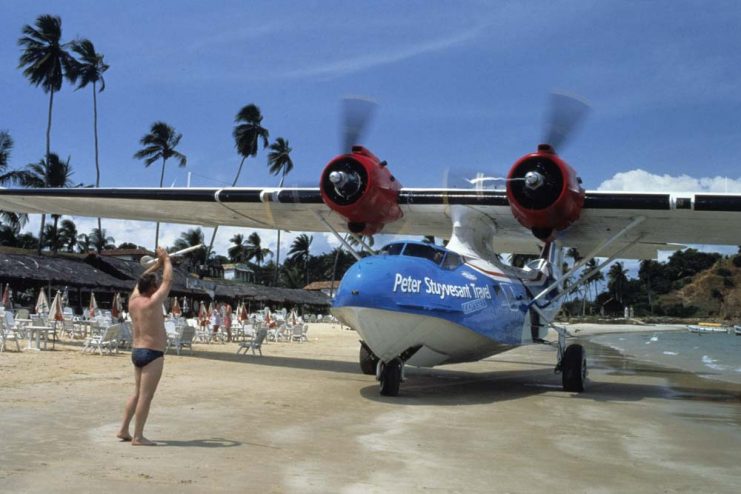 Veronica TV made from those 8 voyages a most fascinating TV-series out of the 80 hours-footage, named the PST Catalina Odyssey, with in total 8 episodes of the two 6-weeks trips that we made over the Atlantic Ocean.
I recently found back many of the original camera tapes of that magic voyage, tons of footage that will be re-edited to a version of 60 mins final edit on Video, named the Catalina Odyssey.
Over 100 photos of the Odysseys are to be found in my new Lounge Table Photo Album. "80 Years, a tribute to the PBY Catalina".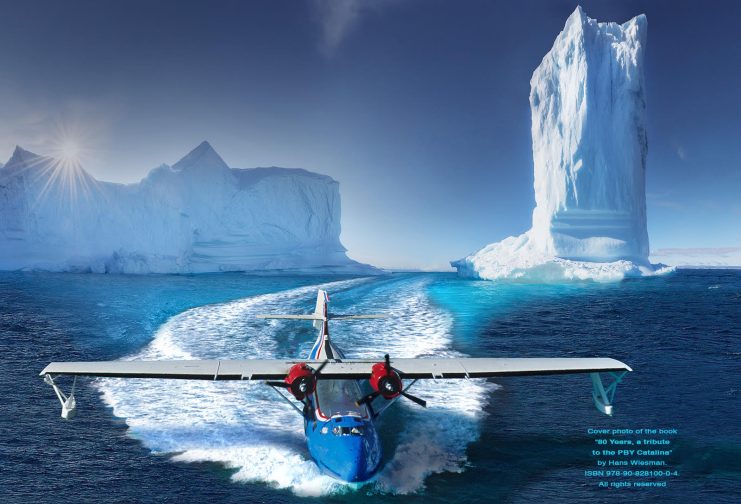 Last week's Catalina visit to Lelystad was also filmed and might be used for a TV program, I will keep you informed about the follow-up.
Please see my Facebook post here with photos and more info about the recent visit
Best regards,
Hans Wiesman
For more information about my 2 books, see my websites above for photos, reviews, random-pages previews, and order form.