When Captain Tom Moore started walking laps of his garden on the 6th April 2020, he had no idea that his fundraising campaign for the NHS in England would reach such astronomical heights.
He also had no idea of the accolades that would be heaped upon his head as a result.
Thomas Moore was born on the 20th April 1920 at Keighley, in the West Riding area of Yorkshire. He was raised and educated on Keighley, and he completed an apprenticeship in civil engineering.
Soon after, war broke out, and he was conscripted to join the 8th Battalion of the Duke of Wellington's Regiment. The army was quick to recognize the potential of this young recruit.
In the same year, he was selected for officer training. He completed his training and was promoted to Second Lieutenant on the 28th June 1941.
Shortly after becoming an officer, he was transferred to the Royal Armoured Corps. He continued to serve in armored vehicles for the rest of the war.
He served with distinction during World War II in India, Burma, and Sumatra, ending his service with the rank of Captain.
Captain Moore was an avid motorcycle racer. While he was stationed in India, the army made use of his skills by asking him to set up and run a training program for motorcycle riders.
When he returned to England, he worked at the Armoured Vehicle Training School based at Bovington Camp, where he was an instructor.
On leaving the army, Captain Moore worked for a concrete company.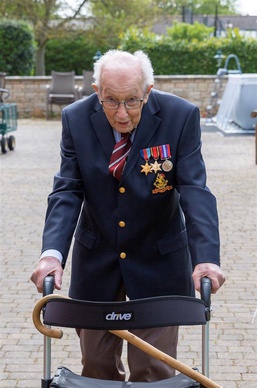 He led a quiet life, and earlier this year, at the age of 99, he decided to raise a modest £1,000 for the NHS.
He was so impressed with the care that he had been given during treatment for cancer, and for a broken his hip, that he decided that he would walk 100 laps of his garden, Marston Moretaine, Bedfordshire.
Each lap was 25 meters, and the plan was that he would walk in sets of ten at a time, completing the final lap on his 100th birthday. This was later extended to 200 laps.
He could never have imagined that by the time he reached the finish line on his 100th birthday that he would be a media sensation and that he would eventually have raised over £32 million from around one and a half million donors from all over the world.
The image of Capt Tom Moore smartly dressed and proudly wearing his campaign medals on his chest while gripping the handle of his walking frame is indelibly imprinted in the minds of millions of people.
His effort came at a time when people all over the world needed a hero, someone that they could rally behind to help them through the Covid-19 pandemic.
His efforts came to the notice of the public at a time when medical staff worldwide were struggling to provide services to millions infected by this insidious virus. His wish to raise money for the NHS resonated with millions of people.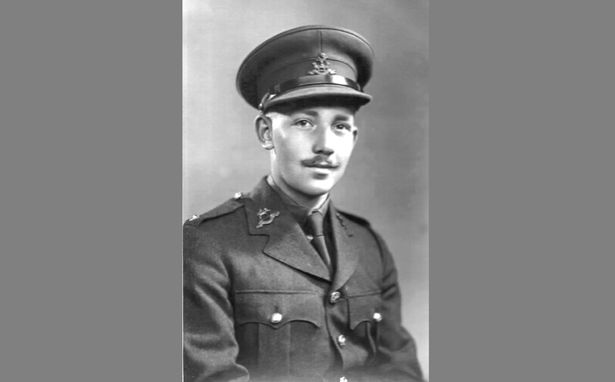 This elderly gentleman captured the hearts of millions, and the army and air force were no exception.
His final lap was honored with a Guard of Honor mounted, at a socially safe distance, by the 1st Battalion of the Yorkshire Regiment. He also enjoyed a flypast undertaken by the RAF, flying Hurricanes and Spitfires.
In addition to being honored by Britain's armed forces, he was also sung to by Michael Ball on the BBC Breakfast show.
The well-loved song, You'll Never Walk Alone, was converted within 24 hours to a digital rendition accompanied by Captain Moore speaking and the NHS choir, Voices of Care.
Captain Tom was astonished when it shot to the top of the UK Official Top 40 charts, and in the first 48 hours, it sold around 36,000 copies. Decca Records said that the proceeds would all go to NHS Charities.
Britain's children also fell in love with this iconic figure. On his 100th birthday, he received over 140,000 cards, mostly from children.
The Royal Mail also granted him a special postmark. On the 30th April 2020, all mail, stamped by the Royal Mail, bore the postmark, "Happy 100th Birthday Captain Thomas Moore NHS fundraising hero 30th April 2020."
He was also honored by the 1st Battalion, the Yorkshire Regiment, who promoted him to an honorary colonel.
The British Prime Minister, Boris Johnson, said that Captain Tom was a national treasure and that he had inspired an entire country.
The prime minister recommended to Buckingham Palace that Captain Tom be formally recognized for his incredible contribution to the fight against Covid-19.
The prime minister's appeal was echoed by the heads of all the major political parties in Great Britain.
It was announced on the 19th May that Captain Tom will be knighted for his services in fundraising.
In addition to recommending that Captain Tom be knighted, the British Government is also investigating how to reward all those that worked on the front line during the pandemic.
Police Swoop on a 'Suspicious' Medieval Swordsman…He Was Doing Daily Exercise
A spokesman for the Government said that they were aware that the public was eager to have these people formally rewarded.