Corporal Eldon Bob Roberts was only 5ft 3in, but he stood tall in his army boots and was the second man to set foot on Juno Beach on that fateful June D-Day in 1944. A sniper's bullet missed its mark by millimetres, whistling past his head.
With another soldier, Roberts took out a German machine gun post located on a cliff side. It was focused on the advancing Allied Infantry but was silenced by Roberts using firearms and a flamethrower.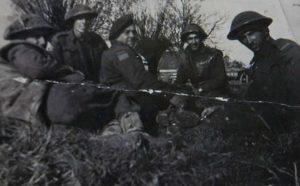 Bob Roberts was born in St John, New Brunswick, Canada and enlisted with his younger brother, Ernie Roberts in 1942 in the North Shore Regiment of the Canadian Army. Soon after, they were sent to Britain for training and were deployed as part of the D-Day Allied Invasion of Normandy, France. Sadly, Ernie didn't make it home after the D-Day landings as he was killed just 24 hours after relieving his brother at post.
Later in the campaign, having advanced with his regiment along the coast to Calais and destroyed a gun battery, Corporal Roberts was involved in one of WWII's more bizarre encounters. On September 26th the troop he led captured a gun crew. Roberts, known for his short stature was then confronted by the tallest German soldier on record, Private Jakob Nacken.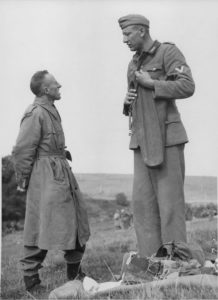 Nacken spoke excellent English, having travelled extensively with circus and other travelling shows to the United States, appearing at the World's Fair in New York in 1939 and on American television as the World's Tallest Santa. At 7ft 3in he cut a remarkable figure wherever he went. On his return to his homeland in Germany at the end of 1939 Nacken was immediately drafted into the Nazi war machine.
The German gunner had to have uniform especially made and sported size 17 boots.
It is true to say that the meeting between Roberts and Nacken caused some mirth that day with the 23-inch (59cm) height difference meaning that neither man would ever see eye to eye. Nacken and his comrades were dispatched to England as prisoners of war to wait out the rest of WWII.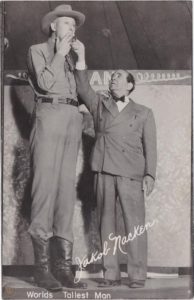 After the end of hostilities Nacken left Germany for the USA where his sister had already settled. Once in America
he became well known through the newsreels and spent one season appearing as the World's Tallest Santa, with children able to walk between his legs. He appeared on many television shows under the stage name, Germany's Long Jake.
In 1955 he became a citizen of the USA and in 1959 appeared on Broadway, New York, as part of 'Ripley's Odditorium' in the role of 'World's Tallest Man.'
By contrast, Bob Roberts returned to Bournemouth, Dorset in the South of England after the war for a quiet life. He married his 'English Rose' Vera, and together they had four children, ten grandchildren and nineteen great-grandchildren. So, perhaps, not such a quiet life after all?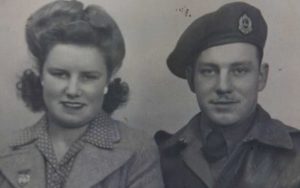 He died in his sleep after a short illness at Bournemouth Hospital on the 1st August 2020. The nursing home, Bournemouth War Memorial Home, flew the Union Jack Flag at half mast as a mark of respect at his passing, and on the day of his funeral, the 13th August.
In an interview, many years after the event Mr Roberts enjoyed re-living the remarkable memory, 'My mates who were watching the rest of the men saw this giant of a guy approach me and I was aware they and the Germans were having a good laugh.'
Speaking after his death, his daughter, Dorothy Savill said of her father that, 'although it was his bravery during the war that he was famous for, Bob was first and foremost a wonderful dad, grandad and great-grandad.'
Another Article From Us: Panther, the Big Cat is Heading Down Under
Corporal Bob Roberts was awarded the Legion D'Honneur from the French government in 2014.